Aretha Franklin's Casket Arrives At Detroit Museum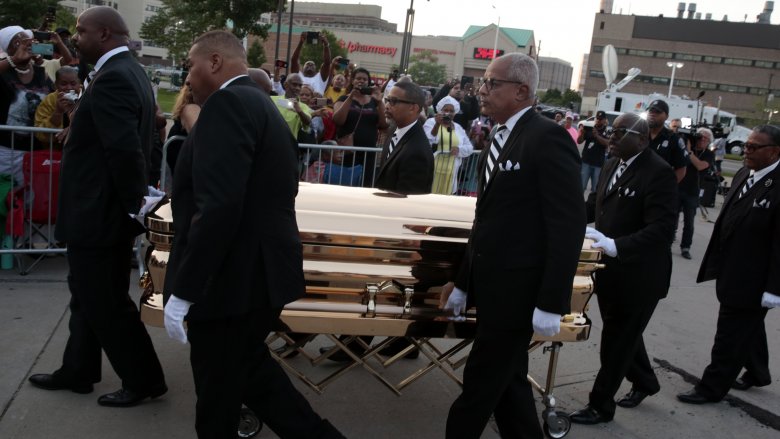 Getty Images
Aretha Franklin's body was displayed at a Detroit museum on Tuesday, Aug. 28, 2018.
Page Six reports that the late Queen of Soul's body arrived at the Charles H. Wright Museum of African American History in a shiny, gold casket, which was transported via a white 1941 Lasalle. A crowd of the late singer's fans reportedly erupted in applause as six pallbearers wearing white gloves wheeled the casket into the museum.
Once inside, fans could see the legendary singer's body starting at 9 a.m. that day. Reflecting just how fabulous she was in life, Franklin's body was dressed in a red sleeveless dress embellished with sequins and lace and wore matching Louboutin heels. Franklin's nails and lips were also painted red, which was "one of her preferred colors," according to Swanson Funeral Home owner O'Neil Swanson II. Swanson Funeral Home has arranged Franklin's funeral services.
Red wasn't just a favorite color of Franklin's. It was also reportedly a color of the sorority Delta Sigma Theta, of which Franklin was an honorary member.
However, the red dress won't be Franklin's final outfit. Swanson told Page Six that Franklin's body will wear a gold dress on Thursday, Aug. 30, when there will be a public concert at Chene Park amphitheater, and a gown on Friday, Aug. 31, when there will be a service for Franklin's loved ones at the Greater Grace Temple (via The Detroit News).
According to CNN, a number of celebrities will perform at Franklin's funeral, including Ariana Grande, Jennifer Hudson, Stevie Wonder, Faith Hill, Pastor Shirley Caesar, and The Clark Sisters. There will also be a number of speakers at her funeral, including Rev. Jesse Jackson, actress Cicely Tyson, record producer Smokey Robinson, and former President of the United States Bill Clinton (via CBS News). Rev. Jasper Williams Jr, a pastor at Atlanta's Salem Baptist Church, will deliver the eulogy.
Though Franklin's funeral is invitation only, fans can watch the funeral online, as the Associated Press will reportedly livestream the event, starting at 10 a.m. ET (via Deadline). Local TV stations in Detroit are also said to be broadcasting the event live, while CNN and Fox News will be sharing parts of the funeral with their viewers.
Franklin will later be entombed at Detroit's Woodlawn Cemetery, where many of her late family members were previously laid to rest.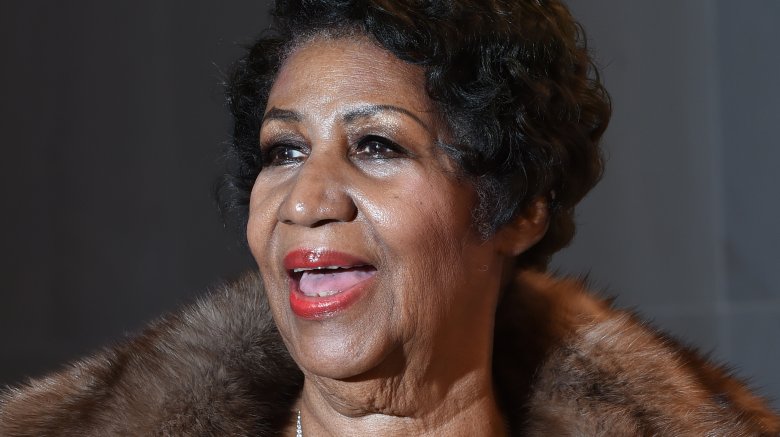 As Nicki Swift previously reported, Franklin passed away on Aug. 16, 2018, after a battle with pancreatic cancer. She was 76 years old.
"In one of the darkest moments of our lives, we are not able to find the appropriate words to express the pain in our heart," Franklin's family shared in a statement released at the time. "We have lost the matriarch and rock of our family. The love she had for her children, grandchildren, nieces, nephews, and cousins knew no bounds."
The statement went on, "We have been deeply touched by the incredible outpouring of love and support we have received from close friends, supporters and fans all around the world. ... We have felt your love for Aretha and it brings us comfort to know that her legacy will live on."
As a way for fans to mourn Franklin's death, her body will be on display for the public until 9 p.m. on Wednesday, Aug. 29, 2018. As Page Six described, Franklin's casket at the public viewing featured a white interior with the words "The Queen of Soul" written in gold and was surrounded by "a spray of soft-pink and lavender-colored roses."
ABC News reports that about 200 Aretha Franklin fans "camped out on sidewalks overnight" in order to make sure they'd be able to see the late singer's body on Tuesday. As they waited to enter the museum, many sang and danced to Franklin's songs.
"We're just going to miss her," one fan named Debra Wallis told the news organization. "But, we got her music. Yeah, we got her music."
Clearly, Aretha Franklin was able to leave her mark on the world.