Neil Young Ties The Knot With Daryl Hannah In Private Yacht Wedding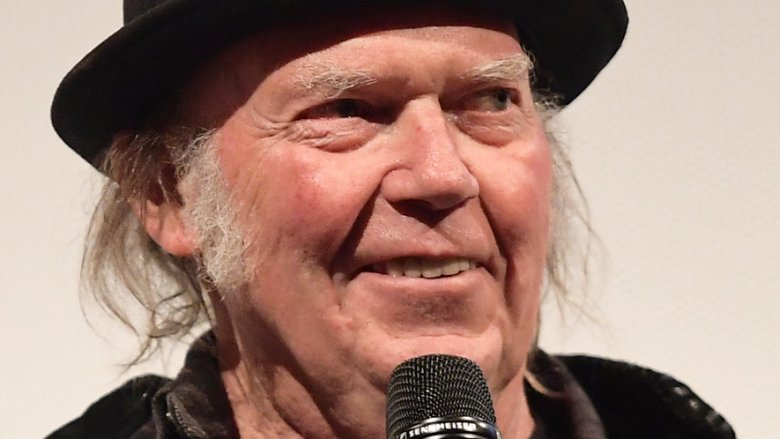 Getty Images
Singer-songwriter Neil Young married movie star Daryl Hannah with two — yes, two! — wedding ceremonies.
According to People, Young and Hannah first wed while on a yacht in Washington State in late July 2018. Ron Fugere, the captain of NorthWest Sailing Adventures, told the magazine that he saw a "small, intimate gathering" take place on Young's own boat, a yacht from 1913 called the W.N. Ragland. Fugere, who was with a friend at the time, noted, "All we could really see was the officiant and the couple because we were some distance away. ...They threw some flower petals and wrapped it up."
Soon after the sun set, Fugere revealed that they were able to see the blood moon. "It's kind of an exciting time," he said.
Young, 72, and Hannah, 57, then reportedly had a second ceremony in San Luis Obispo, Calif. on Friday, Aug. 24. Page Six reports that there were about 100 guests in attendance, including singers Joni Mitchell and Stephen Stills. When the blood moon rose, Young is said to have serenaded his new wife with his song "Harvest Moon."
The couple had reportedly wanted to keep their big day — or, rather, days — from the press, as they asked guests to not say anything about their wedding to hotels when booking their rooms. A wedding planner also allegedly urged guests to leave their phones and cameras behind at their hotels.
As a keepsake for attending Young and Hannah's wedding, guests were given heart-shaped lockets. Inside were reportedly separate photos of the bride and groom smiling.
At the time of this writing, neither Young nor Hannah have publicly commented on news of their wedding. Hannah did, however, post a fuzzy photo of an owl on her Instagram account on Saturday, Aug. 25, with the caption, "Someone's watching over us.... love & only love."
Others have since congratulated Young and Hannah on their marriage on social media. "Congratulations to Daryl Hannah and Neil Young on their wedding today," guitarist Mark Miller wrote in a Facebook post. "May they have a long and happy relationship."
Young and Hannah started dating back in 2014, making headlines after being caught kissing that September (via Us Weekly). They'd reportedly been friends for years and had worked together on the 2009 documentary Petropolis: Aerial Perspectives on the Alberta Tar Sands. News of their relationship came just one month after it was reported that Young had filed for divorce from his wife, Pegi Young, whom he'd been married to for 36 years.
Young and Hannah later worked together on the movie Paradox. Of their experience on set together, Young told Yahoo!, "She says I'm unruly, and I think she's too tough, but aside from that, we're great!"  He added, "We're pretty real. As artists, we support each other and understand, because we both have an element of fame. We understand what that means."
Some fans had criticized Young for dating Hannah, who had previously been romantically linked to singer-songwriter Jackson Browne and to lawyer John F. Kennedy Jr., so soon after he split from Pegi. Some, including "Eight Miles High" singer David Crosby, believe that Young left his wife for the Kill Bill actress. Without naming names, Crosby once bashed Young's then-girlfriend — believed to be Hannah at the time — calling her "a purely poisonous predator" (via Ultimate Classic Rock).
But it would appear that Young doesn't care much for what others have to say about his romance with Hannah — and the iconic rock musician never has. "We didn't pay any attention to that. It doesn't matter. We don't give a s***," he said plainly. "We don't care, because they don't know what they're talking about. And if they do know what they're talking about, we still don't care, but we're happy for them. It doesn't matter."
He continued, "What matters is us, not the press."
Clearly these two stars prioritize their relationship above all else.