Eminem Slams Fellow Rappers In Surprise Album Kamikaze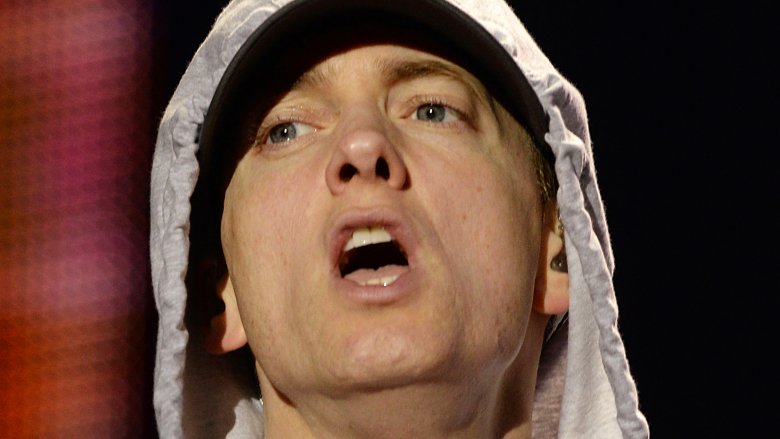 Getty Images
Rapper Eminem wasn't afraid to throw some shade at his fellow musicians in his tenth studio album, Kamikaze.
On Thursday night, Aug. 30, 2018, Eminem surprised fans by releasing a new 13-track record, Kamikaze. Sharing the album artwork on Twitter, which featured the end of a fighter plane with the tail marker "FU-2," Eminem wrote, "Tried not 2 overthink this 1... enjoy," along with a middle finger emoji. As noted by Variety, the cover art appears very similar to Beastie Boys' 1986 album Licensed to Ill.
On his new record, which he executive produced with his longtime collaborator Dr. Dre, Eminem takes aim at several of today's artists, including the rap trio Migos and "In My Feelings" artist Drake. "These rappers are like Hunger Games / One minute, they're mocking Jay / Next minute, they get they style from Migos, then they copy Drake," he spits on the track "Fall" (via E! News). He then bashes rapper Joe Budden: "Somebody tell Budden before I snap / He better fasten it, or have his body bag get zipped / The closest thing he's had to hits / Since smacking b***hes."
However, it's Eminem's words against rap star Tyler, the Creator, who previously shared that he dated his first boyfriend at age 15, that's caused controversy. "Tyler create nothing, I see why you called yourself a f****t, b***h," Eminem raps. "It's not just 'cause you lack attention / It's 'cause you worship D12's balls, you're sac-religious."
In response to Eminem's lyrics, one Twitter user wrote, "Hard no for [Eminem] calling [Tyler, the Creator] the F word. Used to idolize the dude when I was a young f****t myself. Took me a while to realize he was teaching me to hate myself."
Tyler, the Creator responded to the nasty lyrics by sharing a screenshot of Genius' explanation of the line and writing, "F**k it."
Eminem has previously used homophobic slurs in his raps before, though the rapper himself has claimed that he's not homophobic. In an interview with Rolling Stone, he said that he doesn't "equate" words like "f****t" to mean homosexual. Rather, he said, he thinks of those words as meaning "a b***h or a punk or a**hole."
Yeah, but that's still no excuse for using homophobic slurs, Em...