ER's Vanessa Marquez Dead At 49 Following Police Shooting
Actress Vanessa Marquez, who starred as Nurse Wendy Goldman in ER from 1994 to 1997, has passed away after being shot by South Pasadena police.
According to The Hollywood Reporter, officers visited Marquez's home in South Pasadena, Calif. on Thursday, Aug. 30, 2018, to perform a welfare check on the woman after receiving an "emergency medical call." The call was reportedly made by Marquez's landlord who had allegedly been worried about her well-being (via TMZ). Police arrived at 1:48 p.m. local time and found Marquez to be having a seizure. Cops then requested assistance from medical personnel. After Marquez reportedly became uncooperative, police then had a Los Angeles County Mental Health clinician come to Marquez's residence.
Sheriff's Lt. Joe Mendoza told Variety that Marquez seemed to be experiencing "mental problems" and appeared "gravely disabled." She also allegedly "appeared to be unable to care for herself," as reported by People magazine.
After police officers and the clinician spoke to Marquez for about 90 minutes, Marquez reportedly got her hands on what cops thought was a gun and aimed it at them. She was then shot by the cops at the scene and was pronounced dead after being transported to a hospital in the area.
Marquez's weapon was later found to be a BB gun that had looked like a semi-automatic handgun. According to reports, no police officers were wounded during the incident. At the time of this writing, it is not yet publicly known how many cops shot at Marquez.
Marquez was just 49 years old. Further details of her death have not yet been released. However, TMZ did report that Marquez was shot at least once in the torso. The celebrity gossip rag also noted that cops believed that Marquez's seizures and alleged mental problems may have been caused by an eating disorder.
According to a Facebook page appearing to belong to Marquez, the actress suffered from a number of health issues, including celiac disease, common variable immune deficiency (CVID), fibromyalgia, and osteoporosis. She may have also once had a pulmonary embolism and had undergone immunoglobulin (IVIg) therapy to help boost her immune system, though that has not been confirmed.
The Los Angeles Sheriff's Department is reportedly leading an investigation into Marquez's death, according to People.
Though Marquez was probably best known for her work on ER, she also acted in projects like Stand and Deliver, Blood In, Blood Out, and Malcolm & Eddie. In addition to those roles, she also had bit parts in shows like Wiseguy, Nurses, and Melrose Place.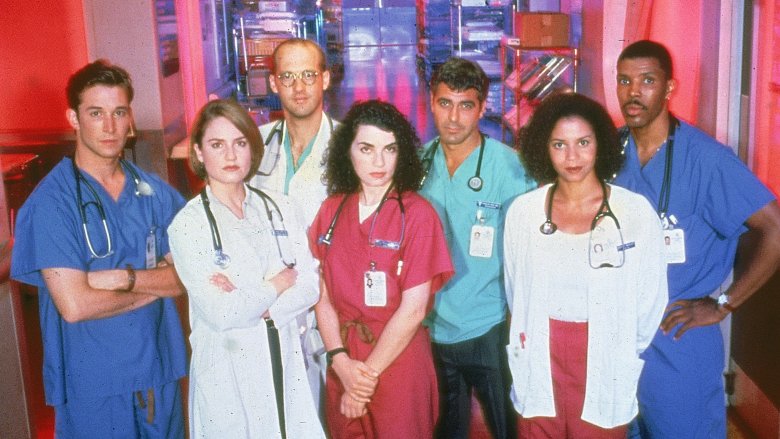 Following the exposure of disgraced movie producer Harvey Weinstein's alleged decades of sexual abuse, Marquez tweeted out in October 2017 that her ER co-star George Clooney had helped "blacklist" her in Hollywood after she'd spoken out about alleged harassment she'd experienced from male colleagues on the show's set. "Women who [don't] play the game lose career [like] I did," she wrote (via Deadline).
As reported by Us Weekly, Marquez accused actor Eriq La Salle, who played Peter Benton on ER, and crew member Terence Nightingall of being "p**sy grabbers." She also claimed that castmates Anthony Edwards, Noah Wyle, and Julianna Marguiles had been racially insensitive during her time on the show.
Not long after her allegations, Clooney released a statement saying that he'd "had no idea" that she'd ever been blacklisted (via E! News). "I take her at her word," he continued. "I was not a writer or a producer or a director on that show. I had nothing to do with casting. I was an actor and only an actor."
The Up in the Air star continued, "If she was told I was involved in any decision about her career then she was lied to. The fact that I couldn't affect her career is only surpassed by the fact that I wouldn't."
Marquez's Twitter account was suspended sometime after she made the accusations against her former co-stars (via BuzzFeed).
Our thoughts are with Marquez's family during this difficult time.