Duchess Meghan Markle Accidentally Lets Nickname For Husband Prince Harry Slip
Getty Images
Meghan Markle, the Duchess of Sussex, just revealed the nickname she has for her husband, Prince Harry — and it's super adorable.
On Wednesday, Aug. 29, 2018, Markle attended a performance of Lin-Manuel Miranda's Hamilton at London's Victoria Palace Theatre. And as she and her hubby, whom she married in May 2018, posed for photos with the play's cast, Markle became aware that she may have been blocking Harry in the shots. "Can you see, my love?" she asked him, according to E! News. How cute!
Apparently the stars of Hamilton thought Markle's pet name for Harry was just too sweet to handle too, and many reportedly reacted with an "aw" after hearing the royals' exchange. Markle, who reportedly didn't realize that she'd called Harry by his nickname at first, then put her hand on her chest and laughed before continuing taking photos with the cast.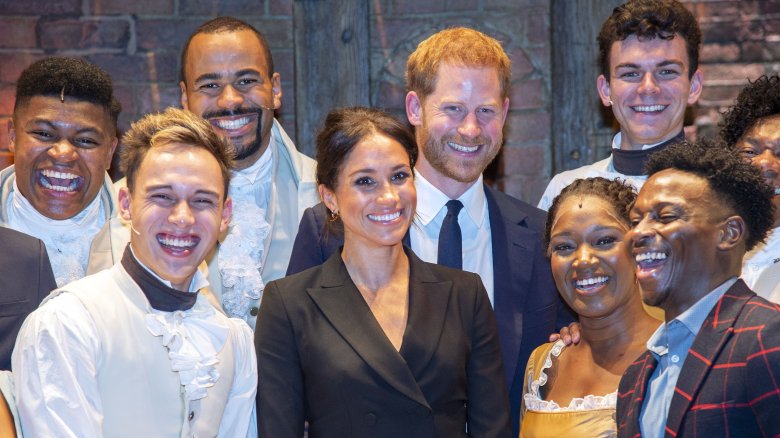 As Us Weekly reports, the Duke and Duchess of Sussex attended the Hamilton show to raise both money and awareness for Sentebale, Harry's charity for vulnerable children dealing with HIV and AIDS in Lesotho and Botswana. Both the royal couple and Lin-Manuel Miranda, who created the show, were the night's guests of honor.
Following the performance, Harry got up on stage to thank everyone for putting on the show, and he also sang a line from Hamilton's song "You'll Be Back," which is sung by the character King George III in the play. In real life, King George III was Harry's sixth great-grandfather. In response to Harry's quick performance, the theater's audience reportedly laughed and Miranda was "excited" about the prince's singing (via E! News).
"That's definitely not going to happen," Harry said about potentially continuing on with his performance.
Meghan Markle also made headlines for her appearance at the Hamilton show, as she donned a tuxedo-style mini dress designed by Judith & Charles to the event (via Elle). And — gasp! — she went sans tights. Now, that might not be shocking to most, but it's been widely reported that Markle, as a new member of the royal family, must adhere to traditional dress codes and wear nude tights with every leg-baring ensemble.
Guess Markle is making her own rules. Honestly, all people really care about anyway is learning the details of Markle's relationship with Harry. Let's just hope Markle slips up again and reveals something else about their romance!