How Much Did Jen Shah Make From RHOSLC Before Going To Prison?
"The Real Housewives of Salt Lake City" only ran for three seasons — so far — but the series has been wrought with so much drama already. Jen Shah's fraud case was, of course, the biggest scandal to rock the franchise and it all played out on camera since Season 2 when she got arrested on charges of wire fraud and money laundering. Prior to her legal issues, Shah boasted a lavish lifestyle and famously threw her cast member Meredith Marks a birthday party that cost $80,000. "That's why you work b****es. That's why you work," she stated on "Watch What Happens Live."
The disgraced reality star pleaded guilty to her charges on July 11 right before her trial was to take place, per Time. "From 2012 to March 2021, in the Southern District of New York and elsewhere, I agreed with others to commit wire fraud. I did this by knowingly providing customer names to people who were marketing business services that had little or no value... I knew this was wrong. I know many people were harmed and I am so sorry," she told the court.
As reported by the U.S. Attorney's Office, Shah received 78 months in prison and was ordered to forfeit $6.5 million and pay her victims $6,645,251 million in restitution. While her fraudulent scheme may have been enough to fund her lifestyle, her paycheck from Bravo didn't quite compare to the millions that she bragged about making.
Jen Shah earned $34,000 per episode of RHOSLC
We know not all Bravo stars earn the same paycheck, and while many of them like to keep their salaries hush-hush, what Jen Shah made as a reality star was revealed after she was sentenced to prison. As reported by Radar, the government ordered the production company Shed Media to divulge Shah's earnings from "The Real Housewives of Salt Lake City," which was $34,000 per episode but reduced to about $20,000 after taxes and other deductions. The feds have also gone after Cameo, but the company didn't have any money owed to Shah.
The government is requesting that Shed Media continue to pay Shah her earnings until her release in August 2028 and that 25% of those earnings will go toward the $6,645, 251 million restitution she still owes to the victims, which has not been paid as of yet, per the New York Post. Prosecutors also seized some of Shah's valuables, including a diamond necklace and an 18-karat gold and diamond ring. While Shah's net pay may in Season 3 just may keep her floating until she gets released, what she made in the previous seasons was far less.
Jen Shah reportedly made only $2,000 per episode in Season 1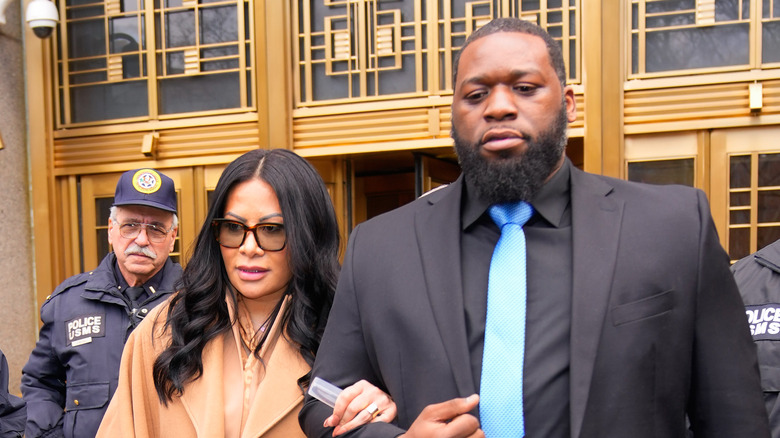 Gotham/Getty Images
It's expensive being a Real Housewife and unless they're a famous actor like Lisa Rinna, they shouldn't expect to get paid the big bucks until they're well-established. According to Tamra Tattles, the cast of "The Real Housewives of Salt Lake City" only earned $2,000 per episode for Season 1 (via Heavy). That adds up to $32,000 for the season, which was far less than what Jen Shah paid for Meredith Marks' party. However, the cast renegotiated for Season 2 and got $6,500 per episode, which amounted to over $150,000 per season, for 24 episodes including the reunion. Tamra Tattles predicted that Shah would be making $10,000 per episode for "RHOSLC" Season 3, which was far lower than what she reportedly earned.
Besides making money through Bravo, Inner City Press reported that Shah told the court, "I sold merchandise about this case through a third party vendor. I will devote it to the victims," (via Taste of Reality). Shah currently has three more years of prison time after her sentence got reduced by a year, per NBC. It's unclear if she'll still be on "RHOSLC" but if anyone loves a comeback story, it's Bravo fans.