Kelly Clarkson's Reaction To Carrie Underwood Feud Is Defensive, Body Language Expert Says - Exclusive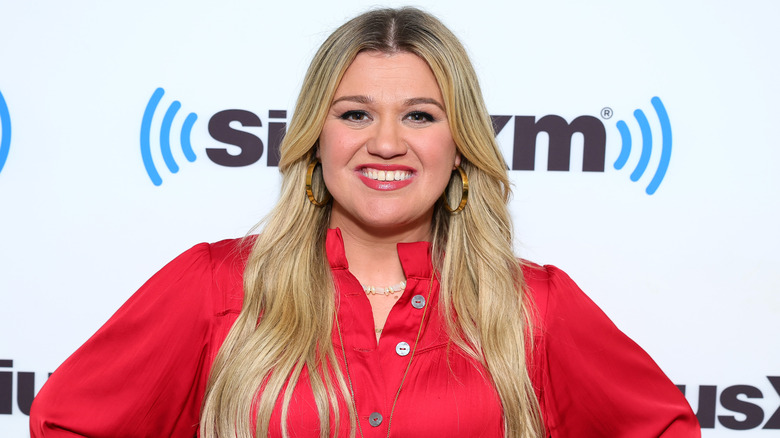 Theo Wargo/Getty Images
Kelly Clarkson stopped by the "Watch What Happens Live" clubhouse on June 27 for a chat with host Andy Cohen. As part of the interview, the very first winner of "American Idol" answered some fan questions — specifically one about the rumors that she doesn't get along with season 4 winner Carrie Underwood.
Interestingly, however, that's not even what Clarkson was asked, according to E! News. A fan asked the talk show host what it was like having Underwood on her show, but Clarkson misunderstood and jumped in with an unexpected response. "People always pit us together and we don't even know each other well enough to be pitted together," Clarkson explained, adding, "Like literally, we've run into each other a handful of times. There's no beef between us. There's nothing between us, like, we don't know each other." Once she figured out what the question was, an apparently embarrassed Clarkson said having Underwood on "The Kelly Clarkson Show" was "awesome."
Nicki Swift decided to reach out to an expert to see if there might have been something more going on when Clarkson explained her relationship with Underwood. We chatted with Jess Ponce III, body language expert and co-author of "A.W.E.S.O.M.E.," for a deeper look — and the expert's comments shed some light on what Clarkson may have been thinking.
Kelly Clarkson likely doesn't enjoy talking about her rumored feud with Carrie Underwood, expert concludes
Body language expert Jess Ponce III noticed that Kelly Clarkson "touched her face and fixed her hair" and gave off a sense that she was ready for whatever was going to come at her when Andy Cohen mentioned there was a fan question. Then, Clarkson's body language changed. "The moment she hears Carrie's name she is intent on clarifying their relationship, or rather their non-existent relationship. She is clearly defensive with sharp, animated arm gestures and quickly clarifies that she feels people too often try to pit them against one another. You can clearly see has definite feelings surrounding this rumor," Ponce tells Nicki Swift.
Despite the fact that Clarkson was "clearly embarrassed," Ponce notes that she had a really good attitude about the misunderstanding, even joking around a bit when she got up and went to the bar on set. "Literally she was seeking refuge. At the same time she was skillfully changing the mood by laughing at herself and the situation," Ponce says, adding, "Kelly, who is known for being raw and honest, gave us exactly that — her true feelings. She initially assumed the question was about a potential feud between her and Carrie and her reaction to that assumption was strong. She doesn't like talking about it. You can tell by her immediate response." We totally get it — no one likes to be caught off-guard.