Claire Wineland, YouTube Star And Cystic Fibrosis Activist, Dead At 21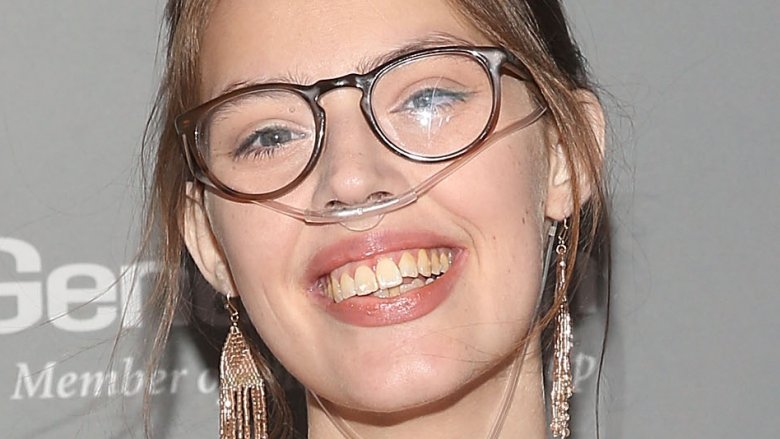 Getty Images
YouTube star Claire Wineland has sadly passed away.
The Claire's Place Foundation recently released a statement via Facebook, announcing that the cystic fibrosis activist died at 6 p.m. on Sunday, Sept. 2, 2018. She had been taken off of life support after suffering a massive stroke, which was caused by a blood clot following a double lung transplant on Sunday, Aug. 26. She was 21 years old.
"She was not in any pain and the medical staff said it was the most peaceful passing they had ever witnessed," the statement read in part. "She was surrounded by love and with her mother, Melissa Yeager, and father, John Wineland. They saw her into this world for her first breath and were with her for her last."
The statement continued, "We know Claire was loved all over the world. Your prayers, support and encouraging words have been a huge source of strength for her and her family. Thank you from the bottom of our hearts for your massive, amazing outpouring of love. We are asking to please give the family privacy at this time. They have so generously shared their lovely Claire's remarkable journey with us all, but now is the time to give them some peace from the public spotlight."
Wineland was known for documenting her inspirational journey while living with cystic fibrosis on her popular YouTube channel and in her 2012 memoir, Every Breath I Take: Surviving and Thriving With Cystic Fibrosis. According to the Mayo Clinic, this disease, which she was diagnosed with at birth, is inherited and causes severe damage to the lungs and other organs. As the Cystic Fibrosis Foundation noted, over 70,000 people have been diagnosed with the disorder around the world. There is currently no cure.
After the news of Wineland's passing broke, a number of fans and celebs took to social media to share their thoughts and express their condolences. "So much peace, Claire Wineland," writer Ashley C. Ford tweeted, while comedian Fortune Feimster wrote, "Just read that Claire Wineland has died. When she was 12 I tutored her...often times at the hospital. She had an amazing spirit and was wise beyond her years. I've watched her journey from afar and saw how she inspired so many people even as she suffered. May she rest in peace."
In lieu of flowers, the Wineland family has requested donations to the Claire's Place Foundation in honor of the social media star. The foundation works to raise awareness and funds to support those who are living with cystic fibrosis.
Our thoughts are with Wineland's loved ones during this difficult time.