Cardi B Reportedly Attacks Nicki Minaj At NYFW Party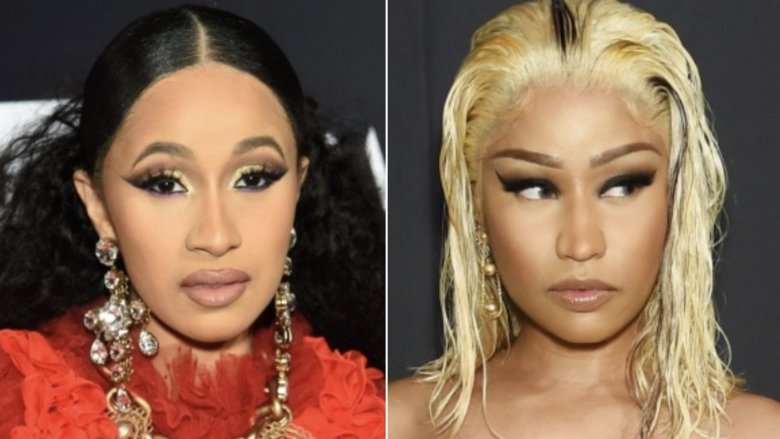 Getty Images
Rappers Cardi B and Nicki Minaj clearly have some major beef with one another.
According to TMZ, things between Cardi B and Minaj got nasty at Harper's Bazaar's New York Fashion Week party on Friday, Sept. 8, 2018. A source told the celebrity gossip rag that Cardi B "aggressively approached" Minaj's table, saying, "Let me tell you something." Before she could get too close to Minaj, security reportedly stepped in, but a little hired muscle didn't stop Cardi. She then reportedly threw her high-heeled shoe at Minaj but missed. Minaj is said to have not even flinched. As could be expected, Cardi was then tossed from the event with a big ol' lump on her head from an alleged elbow to the face from security.
An insider later told TMZ that Cardi hadn't intended to fight Minaj when she went up to her at the party. Instead, the source said, Cardi wanted "to address the lies Nicki was spreading."
Since the scuffle, Cardi has taken to social media to apparently bash Minaj, though she never called the "Chun-Li" artist by name. "I've let a lot of s**t slide!" Cardi began in a lengthy text post on Instagram. "I let you sneak diss me, I let you lie on me, I let you attempt to stop my bags, f**k up the way I eat! You've threaten other artists in the industry, told them if they work with me you'll stop f**kin with them!!"
Cardi then went on to say that she'd attempted to talk with Minaj in person twice, but each time she "copped the plea." However, Cardi said she finally had enough with Minaj's alleged bashing when she brought her child into the mix. "But when you mention my child, you choose to like comments about me as a mother, make comments about my abilities to take care of my daughter is where all bets are f**kin off!" she wrote. "I've worked to hard aand come too far to let anybody f**k with my success!!!!"
She concluded her fiery post by saying, "B***hes talk all that s**t in they raps but in real life they p***y!!" Yikes.
For her part, Minaj has kept quiet about the whole ordeal, simply posting photos of herself at fashion week.