Actor Tom Arnold Claims Producer Mark Burnett 'Attacked' Him At Pre-Emmys Party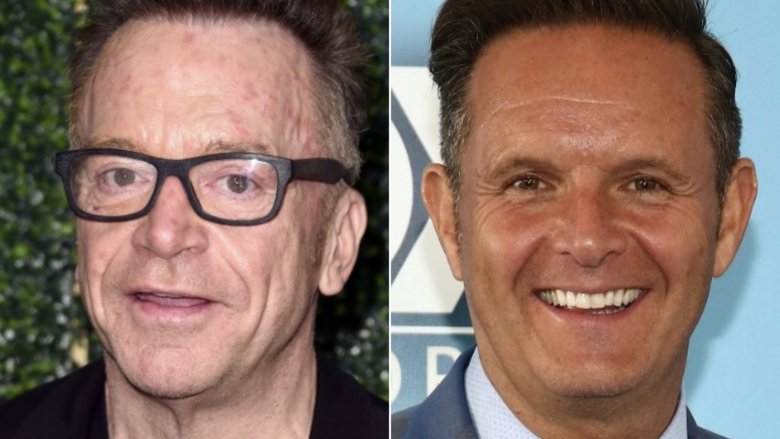 Getty Images
True Lies actor Tom Arnold alleges that Mark Burnett, a TV producer behind shows like The Apprentice, physically assaulted him at an pre-Emmys party on Sunday, Sept. 16, 2018.
Arnold took to Twitter following the alleged incident to tell his followers about what went down. "Mark Burnett just went apeshit & choked me at this huge Emmy party then he ran away with his torn Pink shirt & missing gold chain," the 59-year-old wrote in a post, adding that he was waiting for the Los Angeles Police Department.
However, Burnett's wife, Roma Downey, who many may recognize as the star of Touched by an Angel, insisted that Arnold had gone after Burnett instead. Sharing a photo of her hand, which had a small bruise, Downey tweeted, "Got this bruise tonight when Tom Arnold tried to ambush my husband Mark and me at a charity event. Is your TV show worth it Tom? Please stop."
But Arnold wasn't about to let Downey claim he was the aggressor in the situation. He replied, calling B.S. on her allegations and accusing her of lying. He went on to inform her that he would be filing a police report and would be suing her for defamation. Arnold also stated that Downey had "knocked" film director Bryan Fogel's phone out of his hand after her husband had choked him, and Arnold said that Fogel has footage of the incident.
Explaining why he believes Burnett allegedly attacked him, Arnold tweeted out, "Mark Burnett doesn't seem too thrilled about my new tv show. #TheHuntForTheTrumpTapes Starts Tuesday 10:30p @VICELAND & we do a Mark Burnett/Apprentice episode the first night." To Roma, he added, "Yes Roma, saving my country is worth it. Brutal bruise. Should've gone to a dr last wk when you hurt it."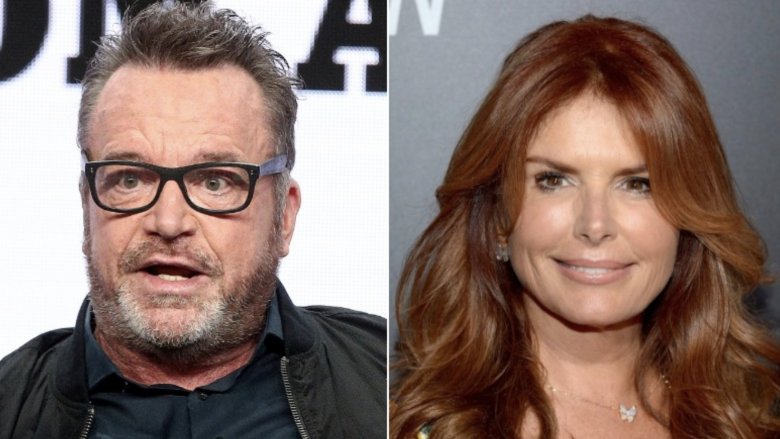 Getty Images
Arnold is producing and starring in a series for Viceland called The Hunt for the Trump Tapes, in which he attempts to locate alleged damaging footage of President Donald Trump, including one rumored tape that was said to feature Trump watching two prostitutes urinate on a hotel bed that former President Barack Obama and First Lady Michelle Obama once slept in (via The Cut). According to the Los Angeles Times, Arnold also seeks to hold Burnett accountable for his part in helping Trump become president, as he'd produced The Apprentice for 14 seasons. In one episode of Arnold's show, he and others protest outside of Burnett's offices, telling him to "give up the tapes," referencing alleged footage of Trump saying the N-word and making other insulting remarks on The Apprentice — something that former The Apprentice star and former White House political aide Omarosa Manigault Newman claimed happened in her book, Unhinged.
Regarding his alleged physical altercation with Burnett at the pre-Emmys party, Arnold claimed that actor Kevin Bacon saw the fight go down. He also retweeted a post from comedian Patton Oswalt, which shared a photo of Oswalt and Arnold with the text, "I'm with @TomArnold, everyone. He's okay. We gotta protect this brutal angel."
While Arnold's lawyer confirmed to The Hollywood Reporter that a fight had taken place, the LAPD stated that no police report had been filed as of the morning of Monday, Sept. 17. A source who spoke with Variety claimed that the incident — which reportedly occurred near the entrance to the Evening Before Emmy party, a fundraiser for the Motion Picture Television Fund — involved shoving, but, to that insider, it was unclear just who started the scuffle.
At the time of this writing, Burnett has not yet addressed his alleged altercation with Arnold. However, it's worth noting that, as reported by Variety, Burnett and MGM, the studio that owns the rights to The Apprentice, do not have the legal right to release any unused footage from the series, and, if they could, it would also be difficult to release the hundreds of hours worth of unaired and unedited footage to the public.