Why Ariana Grande And Fiance Pete Davidson Skipped The 2018 Emmys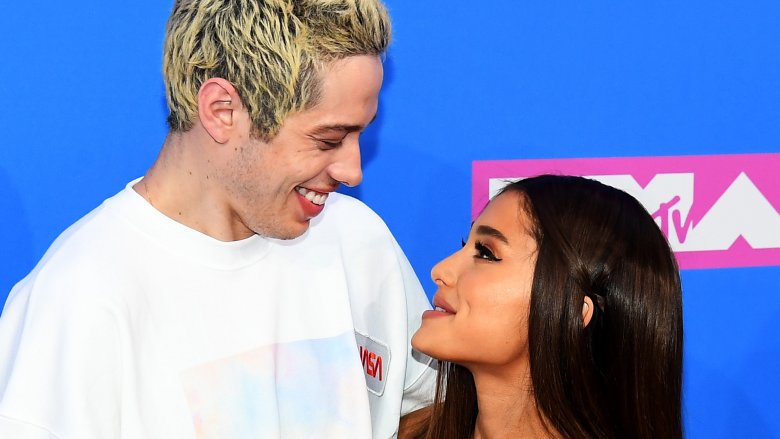 Getty Images
Where were pop singer Ariana Grande and Saturday Night Live star Pete Davidson at TV's big event?
The 2018 Emmy Awards aired live on Monday, Sept. 17, 2018, and, while many of today's top stars arrived in style, two celebrities were noticeably absent: engaged couple Grande and Davidson. The two were thought to be attending, as seat cards boasting their names and faces at Los Angeles' Microsoft Theater circulated online. Davidson's show, SNL, was also nominated for several awards.
But alas, Grande and Davidson were no-shows, but they had good reason to stay at home in New York City. Apparently, Grande decided to take some time away from the spotlight following the untimely death of her ex-boyfriend Mac Miller, who passed away of a suspected drug overdose on Sept. 7.
"Contrary to reports, Ariana will not be attending the Emmys tonight," Grande's reps told People. "Pete has also opted to not attend to be with her in New York."
Grande's team continued, "Given the events of the past couple of years, Ariana is going to take some much needed time to heal and mend," adding, "She will be staying close to home and using this period to spend time with her loved ones and work on new music without deadline. She thanks her fans for their understanding."
Besides dealing with the aftermath of her ex-boyfriend's passing — and accusations from fans that their breakup was to blame for his death — Grande is also still dealing with PTSD and anxiety stemming from the terrorist attack that occurred at her concert in Manchester, England in May 2017.
"It's hard to talk about because so many people have suffered such severe, tremendous loss. But, yeah, it's a real thing," Grande revealed to British Vogue in her July 2018 cover story. "I know those families and my fans, and everyone there experienced a tremendous amount of it as well. Time is the biggest thing. I feel like I shouldn't even be talking about my own experience – like I shouldn't even say anything. I don't think I'll ever know how to talk about it and not cry."
We hope that Grande spends her time away from the public resting and recovering. The singer has been through a lot and should definitely make it a priority to take care of her mental health.