Pregnant Teen Mom Star Catelynn Lowell Reveals Third Child's Due Date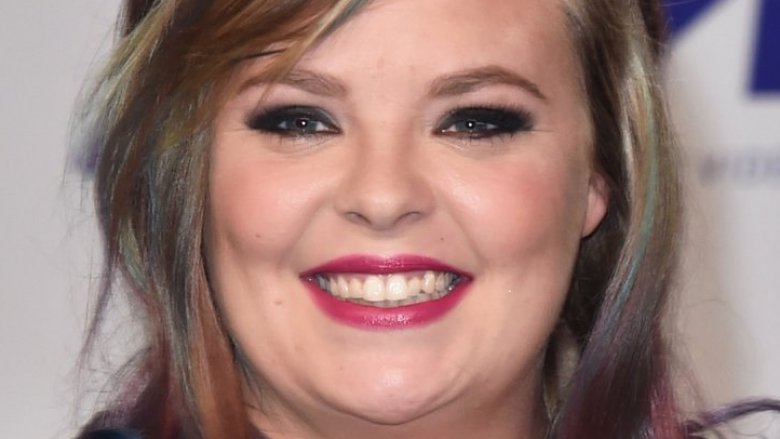 Getty Images
Teen Mom's Catelynn Lowell is sharing new info about her pregnancy.
During an exclusive interview with Radar Online, published on Monday, Sept. 17, 2018, the reality TV star revealed when exactly she and husband Tyler Baltierra are expecting the arrival of baby no. 3.
"My expected due date is March 6th," Lowell told the gossip rag, adding that she's currently about 14 weeks along in her pregnancy. "Whenever you find out you're pregnant, at first it's like an initial shock and anxiety," she went on, admitting that it felt "scary and emotional" when she and Baltierra found out that they were expecting another little bundle of joy when she was "at five weeks." However, the proud mom added, "Once it sunk in, we started getting more and more excited."
This may have a little something to do with the love and support of the couple's close friends, family, and members of the Teen Mom OG team, including longtime co-stars Maci Bookout and Amber Portwood, who have since shared in their excitement over the baby news. "When I first texted my Mom, I sent her a picture of the pregnancy test and I wrote her like, 'What the hell am I gonna do?' My Mom was like, 'Are you kidding? It's going to be amazing,'" Lowell said. "She was super excited. ...Everybody was super supportive."
As Nicki Swift previously reported, Lowell and Baltierra, both 26, first revealed they were expecting their third child together just last week. "The big news is that we are expecting our rainbow baby. This baby is our rainbow after the storm," Lowell told Us Weekly at the time, explaining that the pregnancy was "very unexpected" because they'd wanted to wait a long time before having another kid. "We were using protection and everything and still got pregnant," she said, but added, "This baby just wanted to be here."
The happy news came not too long after Lowell and Baltierra, who tied the knot in August 2015, sadly suffered a miscarriage. While mourning the heartbreaking loss, Lowell sought professional help at a treatment center in Tucson, Ariz. after experiencing suicidal thoughts. During an episode of Teen Mom OG, which aired in February 2018, Baltierra compared the grieving process to when the couple gave their first child, daughter Carly, up for adoption in 2009. "Carly's a little different because we get to see her every year, but it's a loss," he said (via Us Weekly). "I feel like you process it as a loss."
In April 2017, Lowell explained that after suffering from post-partum depression following the birth of the couple's second child, daughter Nova, in January 2015, she was hesitant about the idea of expanding their family again. "I've definitely been thinking about it and that's the one thing that's holding me back, honestly," she told People magazine at the time. "Especially because they say if you've had postpartum once, you have a higher chance of getting it with your next." She added, "I want to have a big family and have a lot of kids, but it's scary. It's definitely scary."
In recent weeks, a number of other celebrity pairings have shared exciting baby announcements of their own — including former pop star Jessica Simpson and her NFL alum husband, Eric Johnson. These two are also expecting their third child together. "This little baby girl will make us a family of five," the proud mom wrote on Instagram on Tuesday, Sept. 18, captioning a sweet snapshot of 6-year-old daughter Maxwell and 5-year-old son Ace surrounded by pink balloons. "We couldn't be happier to announce this precious blessing of life."
Meanwhile, Richard Gere and wife Alejandra Silva confirmed recent reports that they're expecting their first child together on Sunday, Sept. 16. "A very special moment just a few minutes ago," Silva shared in a since-deleted Instagram post, captioning a snapshot of the couple meeting the Dalai Lama in The Netherlands. "Getting blessings for our precious to come.. we couldn't announce it before telling HH Dalai Lama." Gere is already dad to 18-year-old son Homer, whom he shares with ex-wife Carey Lowell, while Silva shares 5-year-old son Albert with ex-husband Govind Friedland.
Congratulations again to Lowell and Baltierra on their baby news!