Strange Things About Dove Cameron's Relationship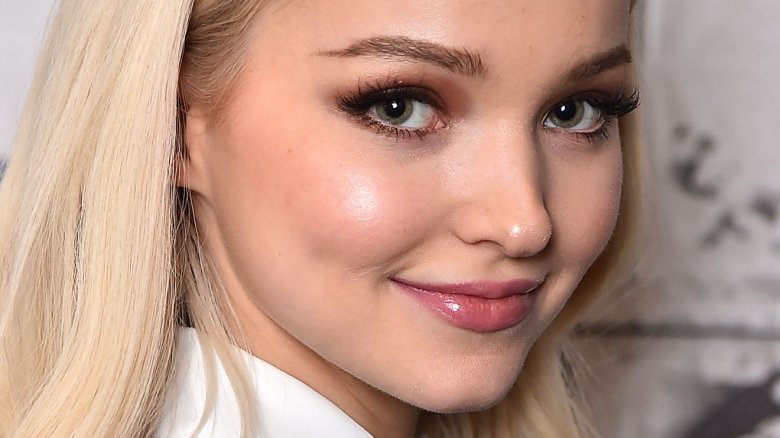 Getty Images
After it was announced that she had ended her engagement to her Liv & Maddie co-star, Ryan McCartan, in October 2016, Disney starlet Dove Cameron didn't stay single for long. In fact, just two months later, her nearly-perfect face was being heavily featured on the social media accounts of her Descendants 2 co-star, Scottish actor, Thomas Doherty. Was love in the air? Indeed it was!
One shared burger and a romantic trip to Paris later, bam! What?! Cameron officially announced what the entire world already suspected. "We're dating. I'm keeping it sort of ... we're keeping it to ourselves, because everything is just so more romantic and real when it's yours and it's private," she told People magazine in February 2017.
Welp, her attempts at keeping the ins and outs of her budding relationship under wraps didn't last long. In no time, Cameron and Doherty (or "Domas," as they're affectionately called) began to spill their own tea. And, let's just say, there's nothing ordinary about this pairing. From the strange way she helps him fall asleep to the cringeworthy outfit Doherty wore to express his love for the blonde beauty, here are all the strange things about Dove Cameron's relationship.
It works because they're both 'weird'
Domas' romance begin to blossom when they met on the set of the Disney Channel Original Movie, Descendants 2. As far as Dove Cameron was concerned, it definitely wasn't love at first sight. "It was one of those natural evolutions," she told People magazine when describing their relationship. 
On the flip side, Thomas Doherty used some interesting words to describe his affection for Cameron. He told Kode (via Teen Vogue), "She's so kind and loving, funny, extremely talented, has the most beautiful eyes, and puts up with me being weird. She's also weird, that's why it works so well." 
He wasn't kidding either. We've seen their weirdness in action in photos and videos posted to their online accounts. Don't get us wrong, it's great that they're not afraid to let their weird flags fly when they're with one another, but are their idiosyncrasies enough to help their relationship stand the test of time? Also, you all heard him calling her "Mum" in that video, right? Yeah... moving on. 
'Terrible jokes' sealed the deal
You would think that two movie stars would have their first date at a fancy, Michelin-star restaurant, but Thomas Doherty and Dove Cameron's first outing was low-key. Way low-key. "Our first date was at a pancake cafe," Doherty told Kode (via Teen Vogue).
Being in such a casual setting meant they could both relax a bit without the added pressure of trying to impress one another. However, Doherty told the publication, "It was one of those things were she was sat opposite me, drenched because it was raining outside, making terrible jokes that I was obliged to laugh at, and I kinda just fell in love with her."
We're a little surprised he actually admitted her jokes were awful, but we're even more shocked that he felt "obliged" to laugh at her corny punchlines. Did he just throw authenticity right out the window? We're not even sure what to think about it TBH.
He may never be her co-star again
Though fireworks erupted when the couple teamed up to work together on Descendants 2 and Descendants 3 (which has yet to be released as of this writing), Dove Cameron was apprehensive when it came to even entertaining the thought of starring alongside her beau in the future. 
She told Access Hollywood in July 2017 that they were so in love with each other that it would likely "be easy to collaborate with him again." However, she was quick to add, "But honestly, professional, personal, he's the love of my life, so I'm good not working with again, too." 
A little bit of distance and separate projects might spice things up a bit, but we wonder if there's a deeper reason why she wants to separate business from pleasure? Hmm...
She ended up having a brief change of heart by the time August 2018 rolled around. J-14 reported that Doherty and Cameron were in England filming a movie, entitled Two Wolves. However, don't be surprised if this turns out to be one of the last times these lovebirds are featured on the big screen together.
Dodging pesky breakup rumors
For a year following Dove Cameron's public announcement that she and Thomas Doherty were indeed an item, their relationship appeared to be moving along swimmingly — until it wasn't. Sadly, it didn't take long for the alleged cracks in their Disney-made romance to begin to show.
By June 2018, fans had noticed that the cute, lovey-dovey social media posts between the once-smitten couple were few and far between. Rumors that they had split became so rampant, Cameron felt the need to address the allegations head on. "PSA: THOMAS AND I ARE FINE. No we are not broken up yes we are still together no we are not fighting we are madly in love and better than ever please stop speculating/spreading rumors when you have absolutely no basis all smooth sailing over here thanks for checking innnnnn," she tweeted.
Of course, we want to believe her. Really, we do. But after going from feverishly tagging each other in social media posts to near radio silence on both ends, it sure seems like they had hit a least a tiny bump in the road. 
Where there's smoke, there's fire. Just sayin'.
Fashionable displays of affection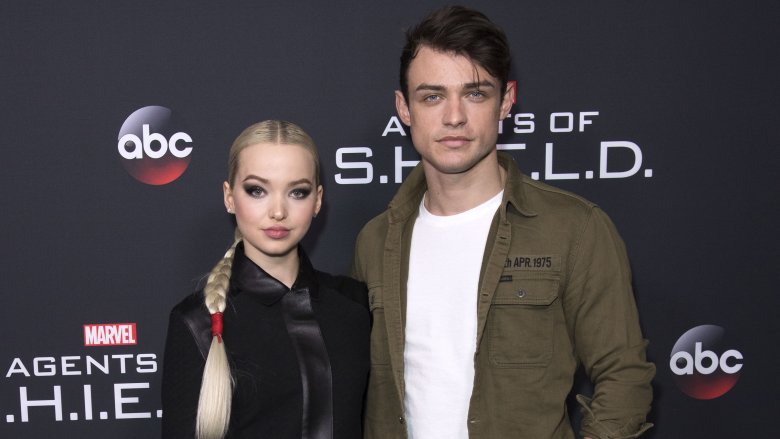 Getty Images
When in love, some celebs write countless, gushy Instagram captions dedicated to the object of their affection, while others show their love by getting a tattoo in honor of their partner. As for Thomas Doherty, he kicked things up a notch in the PDA department during a visit to the Kari Feinstein Style Lounge in March 2018. 
The picture, which was shared by People magazine, showed Doherty sitting at a vanity with his back turned to the photographer. The light-wash denim jacket he was wearing, which was made by a fan, had an artistic graphic of Dove Cameron's face plastered on the back, surrounded by a bed of painted roses. Aww... sort of.
It was a sweet gesture, and it surely showed his love and commitment to the Disney star. Still, we couldn't help but think it was beyond strange that he was comfortable with walking around with his girlfriend's face emblazoned on his back. It really teetered on the creepy side. 
Too hot for 'Descendants 2'
Before they became an official couple, Thomas Doherty, who played Harry Hook, and Dove Cameron, who was cast as Mal in Descendants 2, ignited sparks all over the set of the Disney Channel movie. In one scene, Doherty's character greeted Cameron's character after she returned to the Isle of the Lost, and the script called for him to run his hook through her bright purple hair.
The scene lasted less than 5 seconds, but their chemistry was practically oozing through the screen. Someone, pass us a fan. It's getting hot in here!
Cameron told J-14 that their chemistry was so fierce, the scene almost ended up on the cutting room floor since movie execs didn't want audiences to think the Descendants 2 story line was a Harry Hook-meets-Mal type of romance.
"Me and Thomas' chemistry was so intense, even off camera, like just in rehearsals, but we didn't know it. But people were like, 'When you guys walk into a room together, it's insane. Have you ever talked to him?' And I'm like, 'No, not really.' And they're like, 'You need to,'" she told the publication.
They finally figured out they were perfect for one another. But how strange is it that they were the last ones to realize they were majorly attracted to each other?
A FaceTime lullaby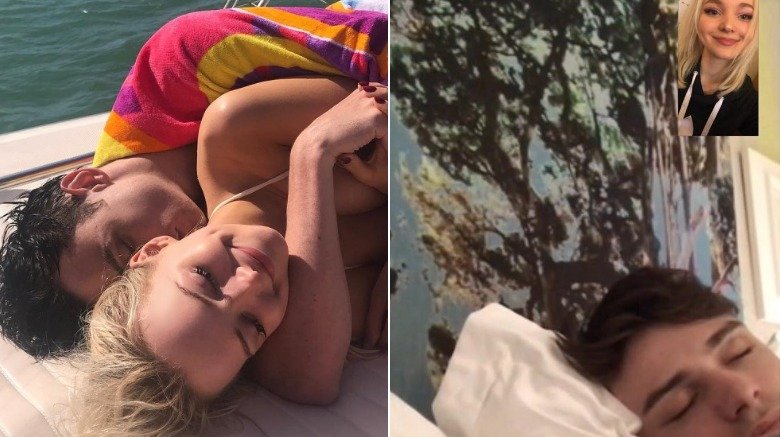 Instagram
Due to their conflicting schedules, Domas doesn't always get to spend a ton of time together, and they don't always get to fall asleep in each other's arms either. 
There was even a time when Dove Cameron was based in Los Angeles, while Thomas Doherty was on set in Romania to film the 2018 movie, High Strung: Free Dance. With thousands of miles between them and an annoying time difference to boot, they found ways to keep their bond and connection stronger than ever. 
Cameron posted a screenshot of a FaceTime session between her and Doherty to her Instagram account. The screenshot showed Doherty peacefully sleeping, while Cameron's image showed her with a victorious smile on her face. "Successfully sung to sleep. 60% of the time it works...every time," her caption read.
Yup, that's right. She actually sat there and sang her boo to sleep as he drifted off into la la land. Now that's love.
Cameron is clearly a sweetheart, but this act of love will be tough for her to keep up if her schedule gets even more hectic one day. It might be time for Doherty to invest in some melatonin just in case Cameron's gentle, angelic voice isn't always available.