Why We're Worried About Gwen And Gavin's Kids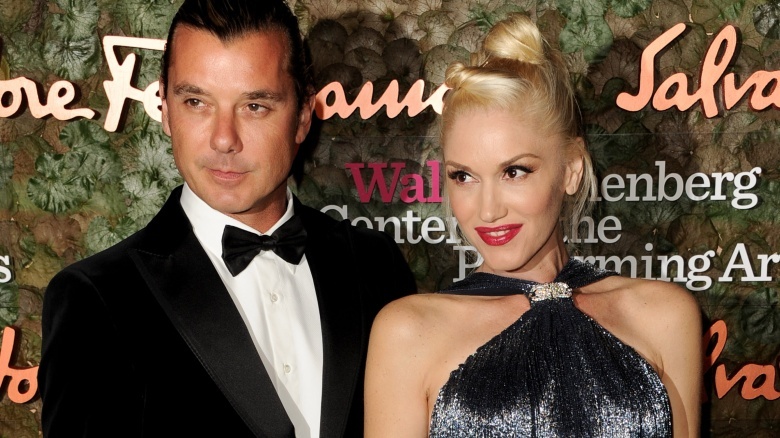 Getty Images
Even the most amicable divorces are tough on kids, but a messy split can wreak havoc on little people's lives. The implosion of ska queen Gwen Stefani and rocker Gavin Rossdale's 13-year-marriage has been nothing short of bananas. According to the rumor mill, she says he cheated with their nanny; he says she moved on too fast. Regardless, the duo's dirty laundry has been aired, and it's their three kids—Kingston, Zuma, and Apollo—who could be hung out to dry.
Dirty laundry on the air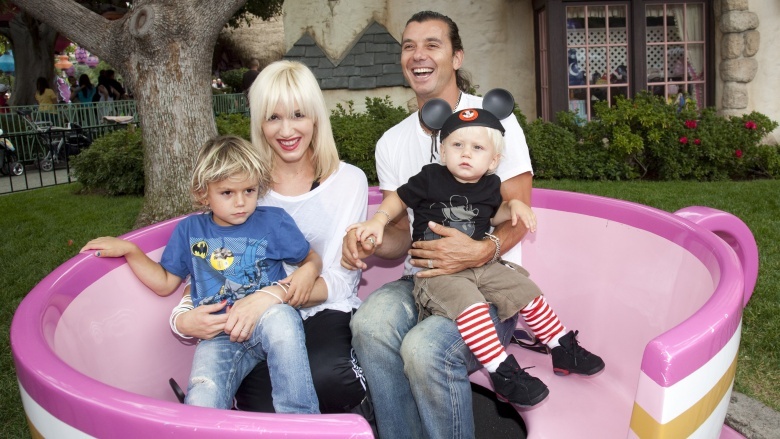 Getty Images
Stefani and Rossdale announced their divorce with a fine-tuned public statement in October 2015, writing, "While the two of us have come to the mutual decision that we will no longer be partners in marriage, we remain partners in parenthood and are committed to jointly raising our three sons in a happy and healthy environment."
That same month, Stefani dropped a new single, "I Used to Love You," and the gloves came off. Her songwriting has always been unapologetically autobiographical, so the world knew exactly who she was was warbling about in her lyrics: "I don't know why I cry, but I think it's 'cause I remembered for the first time since I hated you, that I used to love you." The 46-year-old's self-proclaimed breakup album, titled This Is What the Truth Feels Like, debuted in March 2016 at no. 1 on the Billboard 200.
Stefani has all too eagerly helped the masses interpret the lyrics of her rebound record. That honesty is something we've always loved about her, both as a solo artist and as frontwoman for No Doubt, but now that she's a mom, everything she shares becomes public record for her sons too. Kingston, Zuma, and Apollo were ages 9, 7, and 2, respectively, when Stefani released her comeback album. They may be too young to grasp its meaning now, but eventually, the boys will have to confront the demonizing of their dad on the pop charts.
Reckless rebound?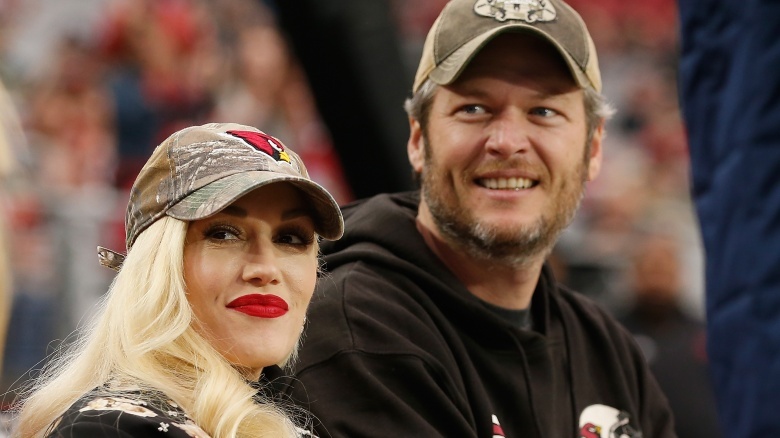 Getty Images
Sources say Rossdale is none too pleased about his ex-wife's fast-paced new relationship with country crooner Blake Shelton, her co-star on The Voice. An anonymous insider told Hollywood Life, "Gavin is confused that Gwen is moving on so fast and is worried that it will not be good for the children." Stefani confirmed her rumored relationship with Shelton, 39, in November 2015, less than three months after she announced her split from Rossdale, 50. The source said Rossdale "knows Blake is a good guy, but Gavin feels he is coming in a little too early and taking advantage of a weaker Gwen." We understand the rocker dad's concerns, though Rossdale's alleged indiscretions with the babysitter undermine his pillar of parenting advice.
Explaining the nanny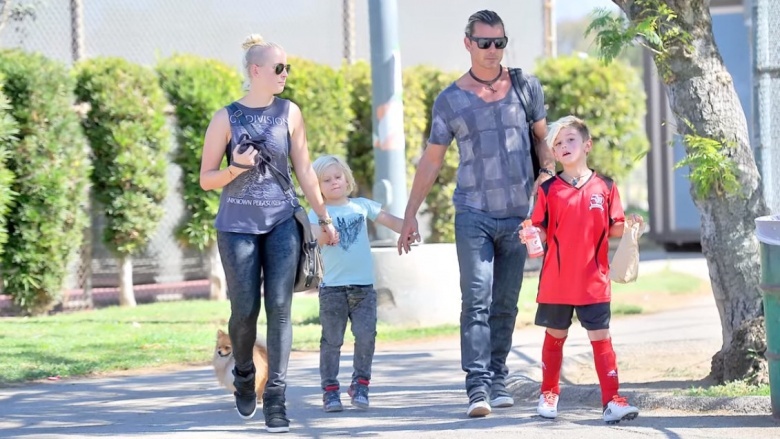 According to US Weekly, Stefani allegedly called it quits with Rossdale after learning he'd been cheating on her with the family's nanny for years. The suspected sitter, Mindy Mann, had worked for the couple since 2008 but was reportedly fired in 2015 after another member of the family's staff discovered explicit messages and photos between Rossdale and Mann on the family's iPad and alerted Stefani. At the time of this writing, no one in the love triangle has officially responded to the adultery story, but the sudden departure of a long-time caregiver is certain to stir up questions from the kids.
Adding to the confusion, Rossdale appears to have maintained some contact with Mann. The Daily Mail said Rossdale's Range Rover was parked outside the Los Angeles daycare where she worked in December 2015, and the pair was spotted having lunch at a gastropub in North Hollywood in February 2016.
Controlling the narrative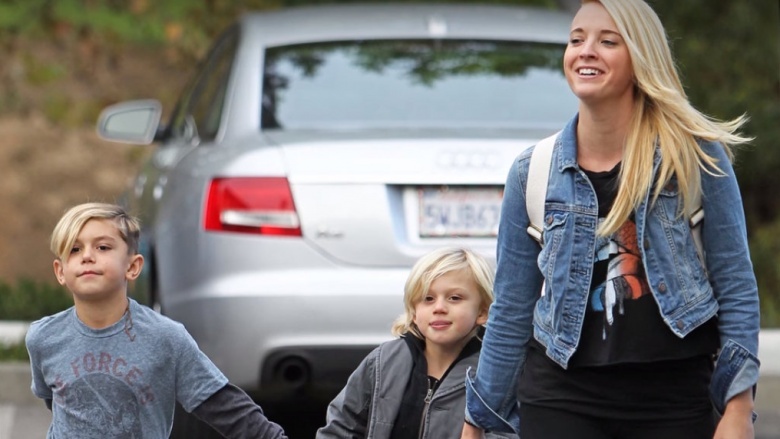 It's one thing for a divorced mom and dad to discuss their relationship's ups and downs, but how will Stefani and Rossdale handle a potentially talkative "other" woman? Rumor has it the couple's estranged au pair, who has remained mum despite enormous amounts of cyberbullying over her alleged affair with Rossdale, may soon start sharing her side of the story. Instagram photos in March 2016 revealed that nanny Mindy Mann visited Smashbox Studios, a go-to photography joint for entertainment magazines. If the twenty-something talks, will her narrative negatively impact the boys she once cared for?
Disjointed custody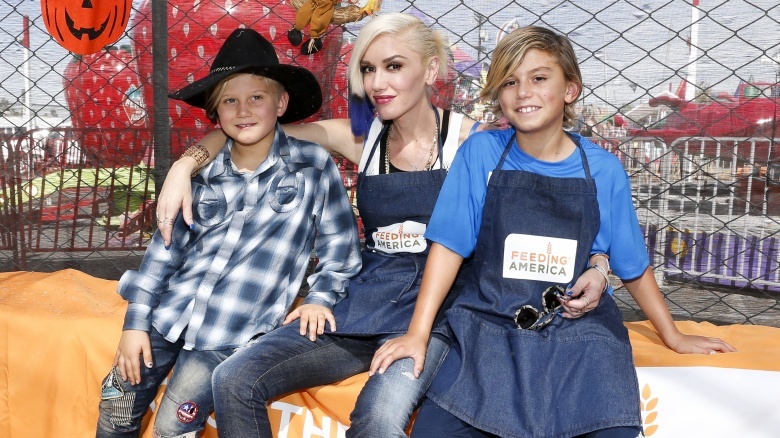 Getty Images
Stefani and Rossdale have said they will share custody of their three sons. Though the boys are accustomed to spending time with solo parents due to their mom's and dad's busy work schedules, this new arrangement could further strain family time, particularly on holidays. In a March 2016 interview with The New York Times, Stefani called the 50/50 custody split "the most unjust, unbelievable system," suggesting that ill will may be overshadowing the couple's coparenting attempts.
The baby boom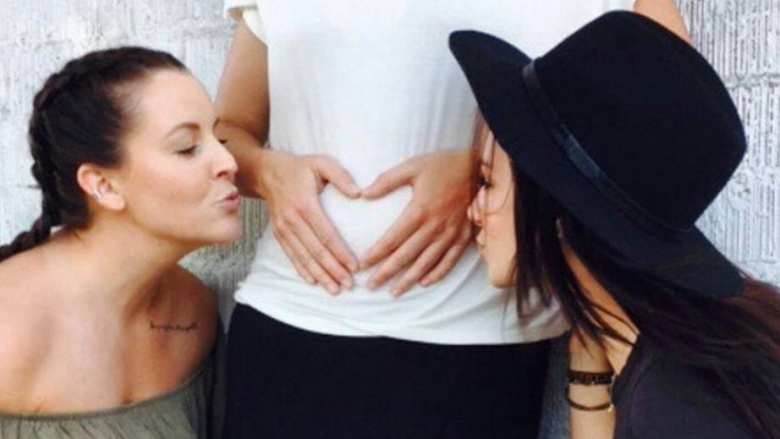 The Stefani/Shelton baby rumors are relentless. It seems there's a new twist on the pregnancy plot every week. In March 2016, an anonymous source told In Touch that Stefani was "freezing her eggs because she wants to have a baby with Blake." The gossip mag's informer said, "Gwen knows her boys would love to have another sibling." Neither Stefani nor Shelton have talked publically about family planning, but the constant gossip puts her three little boys in the middle of a very adult conversation.
But wait, there's more. Instagram posts revealed that the kids' former nanny is expecting a baby boy. "Although she has not declared who the father is, [Mann] appears to be dating Spencer Gutcheon, a snowboarding instructor from California," reported the Daily Mail in March 2016. The babysitter's baby bump is adding even more fuel to the Stefani/Rossdale tabloid circus and increasing the risk of collateral damage to the children.
No sweet escape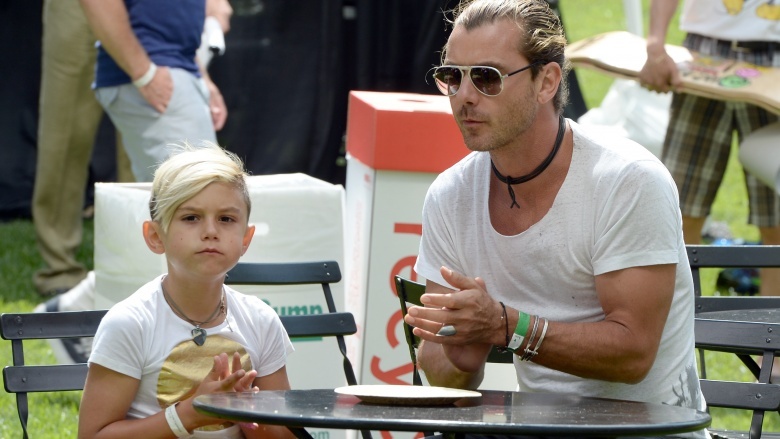 Getty Images
The Rossdale boys have rockin' monikers. The downside? Should they ever crave anonymity, they'll probably have to enter the witness protection program because we doubt there's going to be another Kingston James McGregor, Zuma Nesta Rock, or Apollo Bowie Flynn among their peers. Celebrity status aside, this trio of little tykes aren't the first and won't be the last kids to go through a messy divorce, and we're confidant Stefani and Rossdale will work hard to navigate them through this tough transition.