Whatever Happened To Arsenio Hall?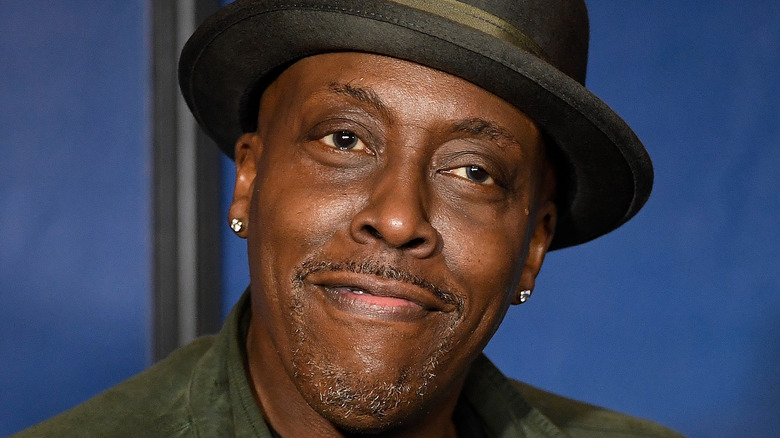 Michael S. Schwartz/Getty Images
Arsenio Hall used to be one of the most inescapable faces on screen. He more than held his own against Eddie Murphy in the late '80s classic comedies "Harlem Nights" and "Coming to America," presented the MTV Video Music Awards four years in a row and even had his own self-titled, if very short-lived, network sitcom.
Of course, the funnyman is best-known for another eponymous vehicle. "The Arsenio Hall Show" was the coolest late-night talk show from 1989 until 1994, and then again from 2013 until 2014. But since then, the Cleveland native appears to have kept a relatively low profile.
But Hall is still very much in the business, and chances are that you will see him more frequently in the 2020s than you did in the previous two decades. From legal battles and long-awaited sequels to Netflix specials and nostalgia fests, here's a look at his recent life story.
Arsenio Hall is now working with his late-night rival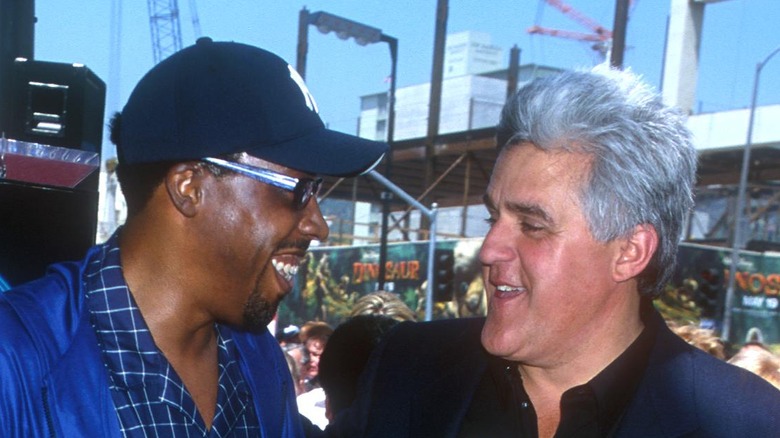 Brenda Chase/Getty Images
Back in the early '90s, Arsenio Hall and Jay Leno were fierce rivals on the late-night talk show circuit. The former once claimed he would kick the latter's ass when it came to the ratings. He also alleged that his nemesis was responsible for the rumor about Hall pressuring African-American celebrities into completely bypassing "The Tonight Show." And he also alleged that Leno had rubbed several other former pals the up the wrong way, telling Entertainment Weekly, "Something's wrong with someone who is always surprised about people being upset with him."
But the two comics appeared to have patched things up when Hall took a correspondent gig on Leno's show in 2009. And in 2023 they hit the road together, alongside another funnyman-turned-talk show host, Craig Ferguson, for a tour dubbed "Kings of Late Night."
The trio took in the likes of Pittsburgh's Rivers Casino and Cincinnati's Hard Rock Casino. And Shannon Redmonds, the former's marketing vice president, couldn't have been happier at the news. In a press statement, she said, "We are so excited to have these late-night comedy legends making a stop here in September. Our guests are in for a night of laughs with these three!"
Arsenio Hall was burgled twice in two months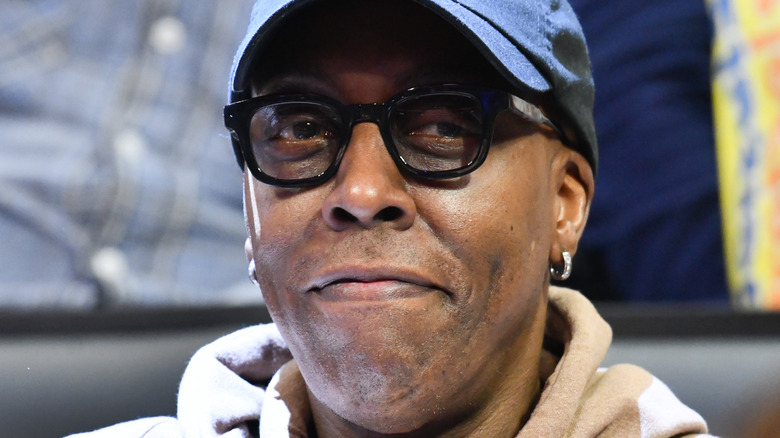 Allen Berezovsky/Getty Images
Arsenio Hall didn't have a particularly great late summer in 2022. According to TMZ, the former talk show host's home was burgled twice in the space of a few weeks, leaving detectives to investigate whether he was being specifically targeted by crooks.
The first incident happened in August when two intruders smashed a window at the back of Hall's Los Angeles property. Luckily, the comedian's presence at the time scared the pair off before they could steal anything. Then in the September the "Harlem Nights" star discovered some shattered glass from a sliding door after hearing a loud noise while upstairs in the same home.
Unfortunately for Hall, on both occasions police were unable to apprehend any suspects in what was the latest in a long line of celebrity burglaries in the Californian city. Kim Kardashian, Usher, and Nicki Minaj were just a few of the famous faces who'd previously fallen victim to the crime.
Arsenio Hall stands up for free speech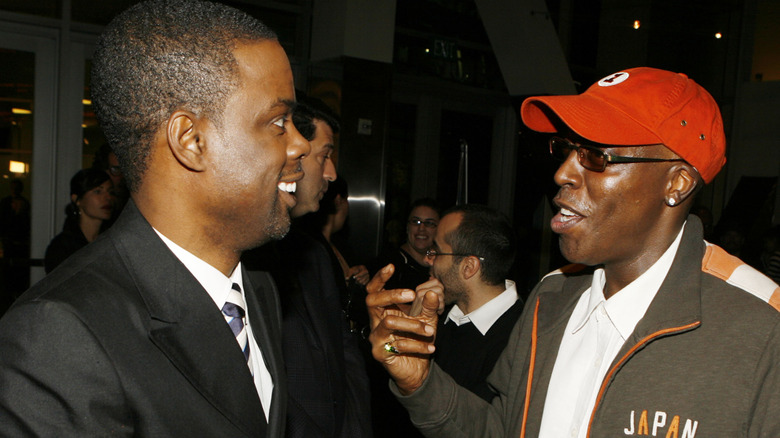 Kevin Winter/Getty Images
Arsenio Hall gave a young Chris Rock one of his earliest national TV appearances back in 1989 on his eponymous late-night vehicle. So it was little surprise when the former talk show host revealed whose side he was on when asked by ET about the slap heard around the world.
Referring to the Academy Awards incident in which Rock was slapped live on stage by Will Smith after insulting his wife Jada Pinkett Smith, Hall leapt to the defense of his long-time pal: "You know how athletes stick together against Skip Bayless? That's how comics are. No matter what goes down, we support each other."
Hall, who was helping to promote Rock's Netflix special, "Selective Outrage," at the time, went on to add, "Because if I dog a comic, it's a slippery slope for me ... so I support freedom of speech, and anything a comic wants to do. I don't know comics that are haters of other comics, so everybody was supporting Chris."
Arsenio Hall sold his home of 30 years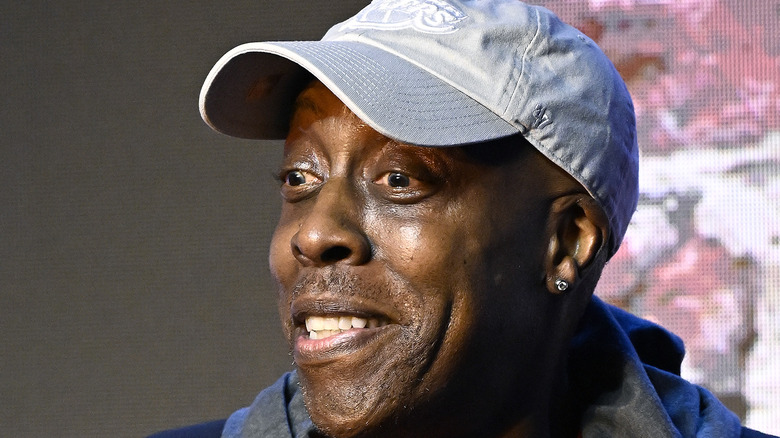 Michael S. Schwartz/Getty Images
In the summer of 2022, Arsenio Hall sold the Los Angeles property that he'd called home for 30 years. According to Dirt, the funnyman accepted a $9 million offer for the hilltop estate in Topanga, a mountainside community nestled between the San Fernando Valley and Malibu.
Boasting a living space of 10,000 square feet and spanning over 34 acres, the house had been continually added to and upgraded by Hall ever since his eponymous chat show went into syndication in the early 1990s. As well as the main quarters, its new owners — Rob Fedoris, a financial services executive, and his partner Liz Hopkins — could also benefit from two extra buildings and amenities such as a full-size tennis court, playground, and putting green.
As for Hall's new residence, well the "Coming 2 America" star initially decided to downsize in the neighborhood of Tarzana in a pad previously owned by Sean Murray, the actor best known for portraying special agent Timothy McGee in crime procedural "NCIS." But a year later, the comic bought a second home, a farmhouse-style property in the gated community of Calabasas that set him back a cool $5.2 million! The housing merry-go-round continued when Hall then put up the Tarzana home for a similar price.
Arsenio Hall has no interest in returning to late-night television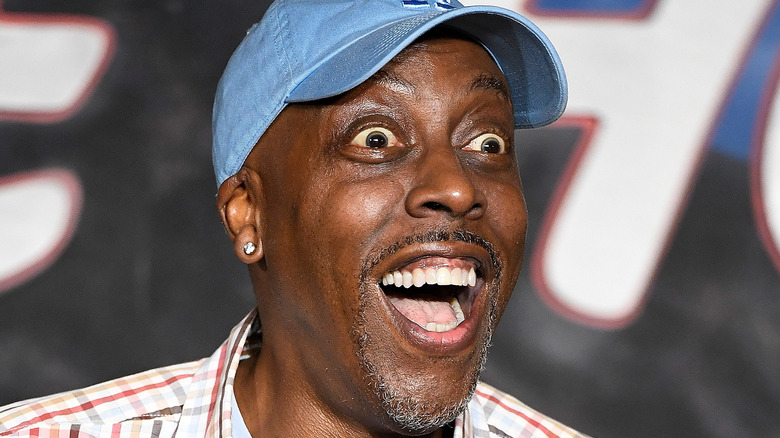 Michael S. Schwartz/Getty Images
Arsenio Hall's name is synonymous with late-night television. He first caught attention as the sidekick on "Thicke of the Night," spent five years hosting his own syndicated talk show which was then briefly revived in 2013 and appeared as a correspondent on "The Tonight Show." So would he ever return permanently to the kind of platform that launched him to fame?
Well, when asked that question by Extra in 2023, the funnyman made his feelings on the matter crystal clear: "No! Late night has changed. Now you can do late night at your house with Instagram. There is still late night, don't get me wrong, but they're all white and they're all named Jimmy or James."
This wasn't the first time that Hall had dismissed any talk of a late-night comeback. In 2021, he told Esquire, "There's plenty for me to do, but it isn't that. Society doesn't need me. When people say, 'We don't have a Black talk-show host now,' it's a compliment, but we're even better now, because everybody's talking, everybody is speaking."
Arsenio Hall finally made the Coming to America sequel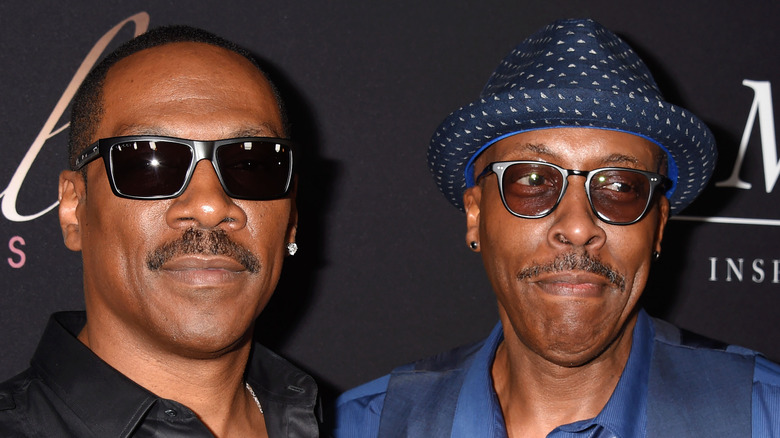 Jeffrey Mayer/Getty Images
Although both Arsenio Hall and Eddie Murphy had previously agreed never to touch their 1988 comedy caper "Coming to America" again, the pair eventually went back on their word more than three decades later. Indeed, in 2021, the two comics once again played multiple roles in a sequel helmed by "Hustle and Flow" director Craig Brewer.
Speaking to Esquire about the film, Hall revealed that he and Murphy pretty much picked up where they left off: "Craig would just let us loose. It was something I hadn't done for 30 years with Eddie. You can imagine comics like us, guys who are lifetime friends, we laughed so much coming up with stuff."
"Coming 2 America" doesn't always focus on Murphy or Hall, giving plenty of its screen time to Jermaine Fowler's Lavelle, Akeem's long-lost son, too. But the former talk show host was more than happy to let the younger generation have their say. He added, "What we say the loudest in this movie is about the old school versus the new school, and I love it. Things must change." 
Arsenio Hall is no longer friends with Donald Trump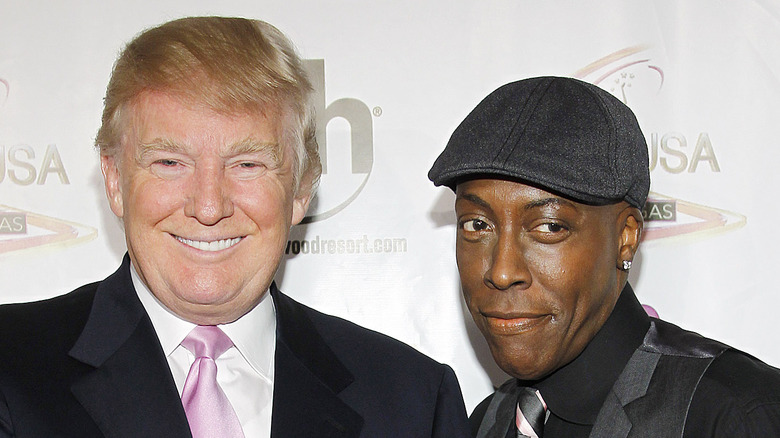 Isaac Brekken/Getty Images
Arsenio Hall and Donald Trump became unlikely acquaintances in 2012 when the former appeared on the latter's hit reality show "The Celebrity Apprentice." But it's safe to say that there's no love lost between the pair a decade on.
Speaking to Esquire in 2021, Hall explained that Trump's determination to question Barack Obama's birth certificate drew a wedge between them: "I went to do an event with him in New York, and we're alone, and I'd seen him on TV doing this birther thing. I tried to bring it up as a joke: 'When you met me, did you think I was from Zaire instead of Cleveland?'" Unsurprisingly, Trump didn't get the joke. Hall added, "So I say, 'I know there aren't a lot of Black people around you, but you have to understand how it feels when you say the first Black president shouldn't even be here.'"
Instead of apologizing or admitting that it was merely a publicity stunt, Trump promised Hall that he'd soon have some official evidence. Referring to this interaction, Hall said, "What that means is you don't respect me. You're trying to mentally pimp me because you know what you're saying is not true ... Right then I knew I'd never talk to him again."
Sinead O'Connor and Arsenio Hall got into a legal battle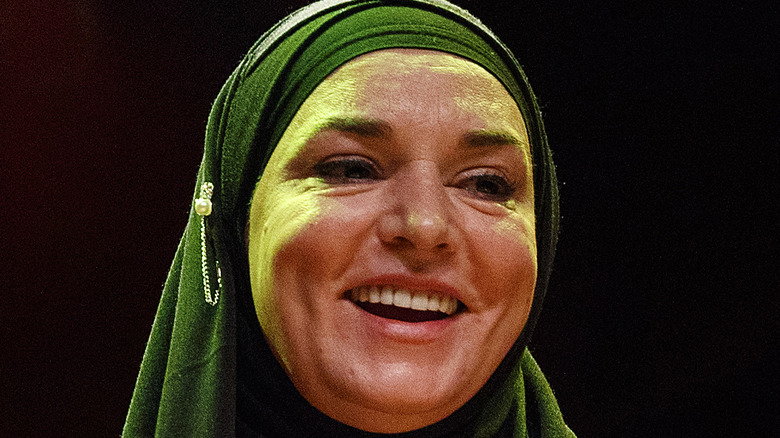 Andrew Chin/Getty Images
Arsenio Hall and Sinead O'Connor became unlikely arch enemies in 2016, and the death of a musical legend was the catalyst. The drama began on Facebook where the latter essentially accused the former of constantly supplying the late Prince with drugs as well as spiking her drink at a house party staged by Eddie Murphy.
Hall furiously denied the allegations and to the tune of $5 million, too: he launched a defamation lawsuit in which O'Connor was described (via Billboard) as a "desperate, attention-seeker ... now known perhaps as much for her bizarre, unhinged internet rants as for her music." Unsurprisingly, the "Nothing Compares 2 U" singer didn't take this lying down, either, responding with another Facebook post making her feelings about the comedian crystal clear.
But after nearly a year, O'Connor appeared to have a change of heart. In an interview with TMZ, she said, "I apologize for my Facebook posts about Arsenio to the extent that anyone thought I was accusing him of acting as Prince's drug dealer and supplying him with illegal hard drugs, or insinuating that Arsenio had something to do with Prince's death." After hearing of the singer's retractions, Hall decided to drop the lawsuit.
Arsenio Hall returned to stand-up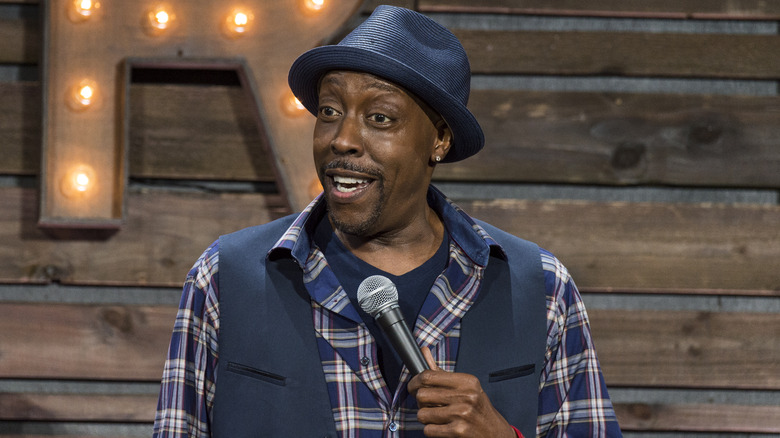 Erika Goldring/Getty Images
In 2014, Arsenio Hall found himself at something of a loose end. The son he'd spent the past 15 years helping to raise was soon becoming a young man himself. And the revival of his talk show had just been canceled after a single season. Luckily, the comedian had another avenue to explore, even if he took some coaxing.
Hall explained to UPI in 2019 how he was initially reluctant to return to the live circuit that he built his early career on: "When you stay away from stand-up, it's really hard to shake the rust, because you can get back onstage and almost fear it." But thanks to the support of fellow funnyman George Lopez, the Cleveland native managed to overcome this fear.
Indeed, while attending a Lopez show in Santa Ynez, Hall was encouraged to get up on stage himself to help get the crowd warmed-up. And this immersion therapy instantly did the trick. "That night, I got bit by the bug again, and I haven't been offstage for more than four nights a week since," the "Coming to America" star said. Referring to the funk he found himself in after the cancelation of "The Arsenio Hall Show," he added, "Stand-up saved my life."
Arsenio Hall made a one-off return to late night
Although Arsenio Hall has ruled out the possibility of returning to late-night television with his own show, the funnyman isn't averse to making the odd appearance. In 2021, for example, he stood in for the vacationing host on an episode of "Jimmy Kimmel Live!" And for some viewers, it was like stepping back in time.
Indeed, Hall revived Things That Make You Go 'Hmmm,' a bit from his own series in which the studio audience were encouraged to vocalize their thinking process following each punchline. But to reflect just how crazy the world has got since the early 1990s, the comic rebranded the routine, Things That Make You Go 'What the F***.'
Hall acknowledged that Kimmel's younger fan base might not have a clue who the new fill-in was. "'Honey, I think that's the owner of The Weather Channel,'" he quipped, imagining the response by some viewers who got him mixed up with Byron Allen. But the Cleveland native appeared to have a blast as he welcomed LeBron James, Richard Grant and Tainy x Yandel onto the famous set while also taking aim at everything from Richard Branson to garlic-based TikTok challenges.
Arsenio Hall returned to the sitcom world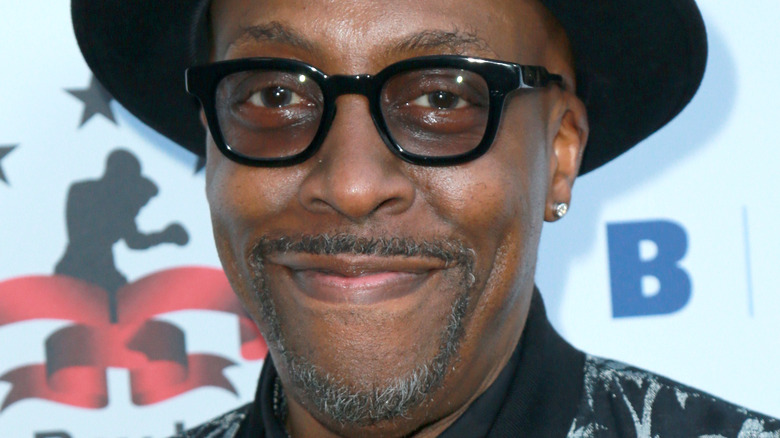 Leon Bennett/Getty Images
Arsenio Hall is no strange to the sitcom cameo having popped up in everything from "Cheers" and "Blossom" to "Doogie Howser, M.D." and "Living Single" during his late-night talk show golden period. And after a lengthy break, the funnyman returned to the genre in 2017 with a guest spot on "The Mayor."
Hall was cast as the cooler-than-cool Reverend Okoye for two episodes of the ABC comedy about a rapper who, following a publicity stunt that gets slightly out of hand, finds himself elected to office. A year later, the Cleveland native also guested on Netflix family sitcom "All About the Washingtons," this time in a role that was much less of a stretch: himself.
These sitcom roles seemed to reawaken Hall's interest in acting. In 2021, he signed a deal with Brillstein Entertainment Partners, reunited with Eddie Murphy in "Coming 2 America" and told Complex that he wants to do test out his thespian skills more often: "It's like everybody has a prayer. That's my prayer. I always look for opportunities to get a good script, to do some acting. I love doing standup, and I love acting, I just haven't done as much acting as I would like to."
Arsenio Hall got nostalgic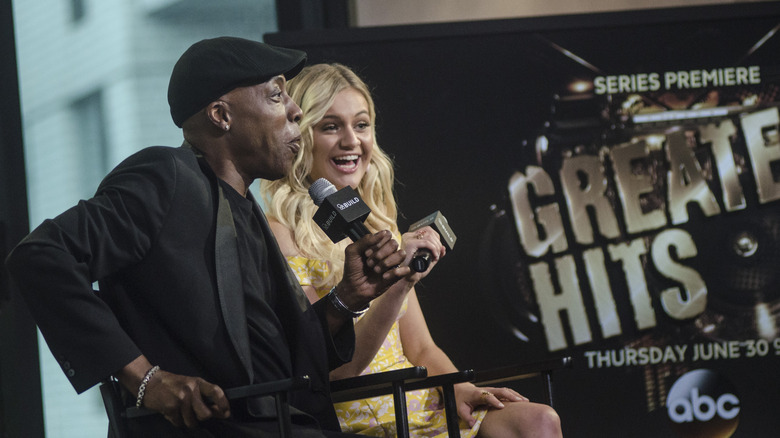 Kris Connor/Getty Images
In 2016, Arsenio Hall helped to quench that insatiable thirst for all things nostalgia when he and country singer Kelsea Ballerini hosted an ABC music show dedicated entirely to the sounds of the '80s, '90s and '00s.
As well as honoring the best songs and videos from the previous three decades, "Greatest Hits" also instigated some unlikely collaborations. Backstreet Boys and Meghan Trainor, for example, teamed up to perform the boyband's mega-hit "I Want It That Way." Other duet partners included Andra Day and Bonnie Raitt, Foreigner and fun.'s Nate Ruess and Lee Ann Womack and Rachel Platten. And in an interview with Billboard to promote the show, Hall claimed that he'd pretty much paved the way for such pairings.
"The people at ABC obviously knew what I used to do in my other incarnation," Hall said, referring to the music on his self-titled late-night talk show. "One of the ABC executives reminded me of one of the shows I did, and it was where I put The Temptations with Boyz II Men ... I remember putting En Vogue and Salt-N-Pepa on (together) ... Now you can't find a track without the word 'featuring' in the title. When you're watching the radio when Sirius is on, the 'featuring' dot-dot-dot, you don't get the whole name. I started to wonder: Who is this guy 'Featuring'? He's hitting hard!"
Arsenio Hall became a Netflix regular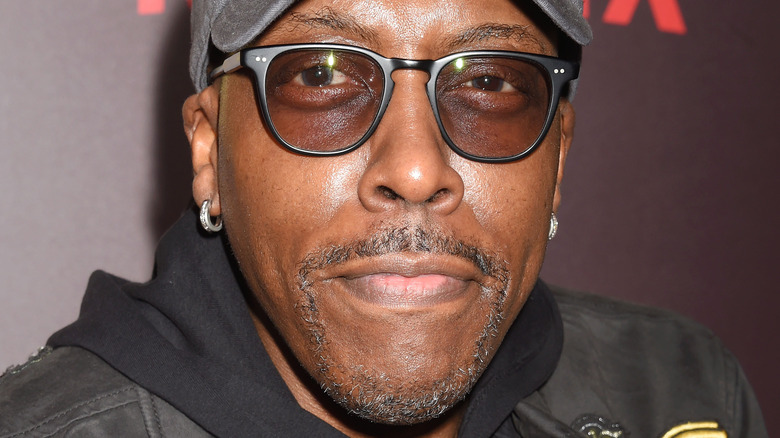 Jeffrey Mayer/Getty Images
You might not have seen Arsenio Hall much on network television lately. But the funnyman has become a regular face on streaming giant Netflix. Indeed, as well as playing himself on family sitcom "All About the Washingtons" and Adam Sandler flick "Sandy Wexler," the comic landed his own stand-up special, 2019's "Smart and Classy."
Hall teased its premiere on Twitter with a reference to The Pointer Sisters' signature hit: ("I'm so excited, and I just can't hide it"). However, during the set itself, the Cleveland native also admitted that he was apprehensive about capturing his latest routines for posterity. "It's scary to do standup," he remarked (via The Daily Dot). "You think every word could end your f***ing career. Even Jerry Seinfeld said s*** is too politically correct. If Jerry Seinfeld offends you, f*** you."
Luckily for Hall, he managed to avoid getting canceled with his 63-minute set. In fact, streaming execs were so delighted with the response that they asked the comedian to return to his talk show roots for their 2021 Netflix is a Joke Fest event. "Arsenio! Live" was staged across four nights at Los Angeles' Hollywood Roosevelt theater. And as he told Tudum, Hall only had one stipulation: "In my mind, it's all familiarity. If you make it comfortable, it makes you loose and makes you flow. You're not adjusting to a new environment. So whether it's my original show or the reboot, I've always gone with no desk. I'm comfortable that way."
Arsenio Hall is spreading the love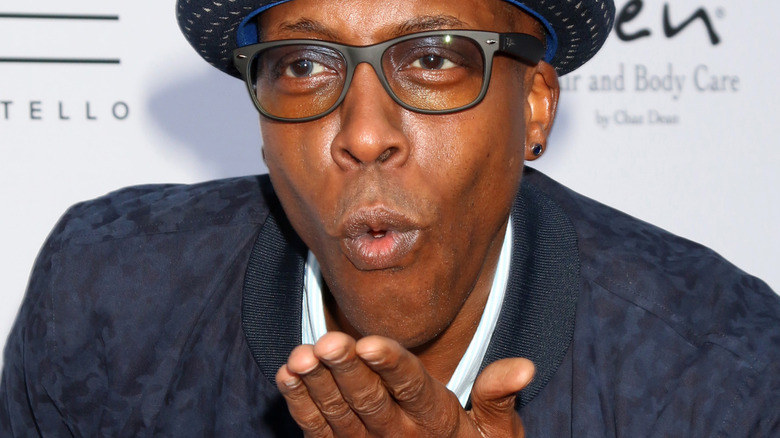 Kathy Hutchins/Shutterstock
Apart from his unlikely feud with Sinead O'Connor, Arsenio Hall has managed to avoid getting sucked into any celebrity beefs on social media. And that's because the comic, who's racked up more than 400,000 followers on both Twitter and Instagram, is very much about spreading the love when he's online.
In a chat with Magic Johnson, the basketball legend who Hall teamed up with in the early 1990s to help eradicate the stigma of living with HIV, for Interview, the comedian revealed that he has no interest in becoming a keyboard warrior. He said, "Some people get caught up in arguing and conflict, and I really try to avoid that. I refuse to get into a keyboard skirmish with anybody. I try to be positive."
Hall then gave an example of how he believes such platforms should be used: "When I was hosting my talk show, the first group I had on was Whodini. They came and did "Freaks Come Out at Night." The other day, one of the gentlemen in Whodini [John "Ecstasy" Fletcher] passed away. I used Twitter to uplift him and say nice things to his family. I think that's what Twitter should be for."