Actress Alyssa Milano Glares At Supreme Court Nominee Brett Kavanaugh Throughout Hearing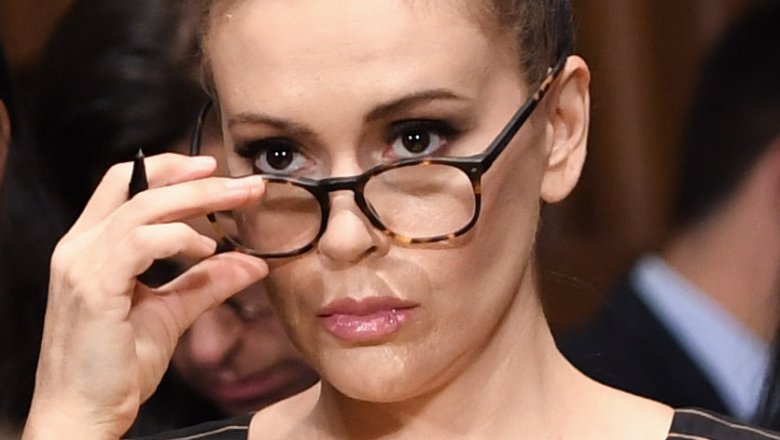 Getty Images
Former Charmed star Alyssa Milano appeared at Supreme Court nominee Brett Kavanaugh's hearing on Thursday, Sept. 27, 2018, and was seen staring daggers at him.
Milano sat a few rows behind Kavanaugh, as the judge was questioned by the Senate Judiciary Committee regarding his alleged sexual assault of Dr. Christine Blasey Ford when the two were in high school. As noted by ABC News, Milano, a well-known figure in the #MeToo movement, traveled from her home in Los Angeles, Calif. to Washington, D.C. in order to be present for the hearing. "I felt like I needed to be here to show my solidarity for Dr. Ford," Milano, who said she was a guest of California Senator Dianne Feinstein, told press at the hearing. "On this day that will be very difficult for her."
Ford, a Palo Alto University professor and research psychologist, has accused Kavanaugh of cornering her into a bedroom with his friend, Mark Judge — both of whom, she said, were "stumbling drunk." She has alleged that Kavanaugh then "pinned her" to a bed, groped her, tried to take her clothes off, and covered her mouth with his hand when she tried to scream. At one point, Judge allegedly jumped on top of both her and Kavanaugh, and Ford said she used this moment to escape and lock herself in a bathroom.
During her opening statement at the hearing on Sept. 27, Ford said, in part, "I am here today not because I want to be. I am terrified. I am here because I believe it is my civic duty to tell you what happened to me while Brett Kavanaugh and I were in high school."
Kavanaugh has denied all wrongdoing.
His hearing has been likened to that of Clarence Thomas, a Supreme Court nominee who was accused of sexual assault by Anita Hill in 1991. Hill had alleged that Thomas sexually assaulted her when they were in high school (via Chicago Tribune). Thomas was still voted in as a Supreme Court Justice.
To ABC News, Milano, who was spotted wiping away tears when Ford was asked about the alleged assault, recalled observing the 1991 Anita Hill hearings when she was "almost 20." She stated, "I remember thinking what a strong, amazing, solid woman she was to come forward," adding, "What a service she was doing for all women."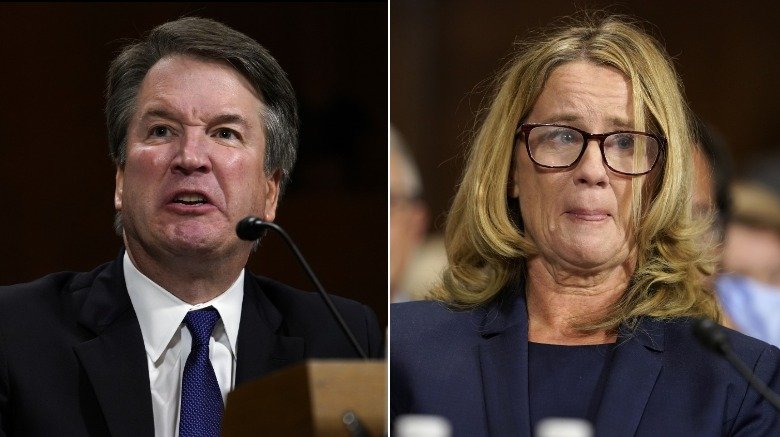 Getty Images
Milano, who was tweeting to her over 3.3 million followers during the hearing, also remarked on Kavanaugh's behavior, which has been described as "aggressive and belligerent." Along with a video of Kavanaugh, Milano wrote, "I will say this...if a woman were to yell, interrupt and cry while being questioned, people would call her unhinged or say she had a melt down."
Milano later reportedly had her phone confiscated by security after being warned about using her phone in the courtroom (via Newsweek).
Alyssa Milano is not, of course, the only celebrity to have paid attention to Kavanaugh's hearing. Other popular figures in the entertainment industry have also taken to social media to speak out about the hearing that has shaken the nation.
Modern Family star Sarah Hyland tweeted out, "#WeBelieveChristine," along with her own account of being sexually assaulted when she was in high school. Actress Halle Berry posted a black-and-white photo of Ford on her Instagram page and wrote, "Dr. Ford – we are in awe of your bravery and composure, and we stand with you in solidarity. Thank you for your courage."
Actress Sally Field tweeted her support of Ford, stating, "Out of the blue, a hero steps up and I'm in awe. I know the pain of these kinds of memories, Dr. Ford. Memories that are indelibly imprinted on your brain no matter how many years go by. I, like millions of women across America, are behind you and thank you profoundly."
Top Chef host Padma Lakshmi also discussed the hearing online, writing, "Whether he's guilty or not, Kavanaugh's aggressive and unstable performance today under duress disqualifies him in my mind from being nominated to a lifetime appointment in the highest court in our country."
Additionally, actress Mira Sorvino, who accused now-disgraced movie producer Harvey Weinstein of sexual harassment and of blacklisting her in Hollywood after she turned down his advances, shared her two cents on the matter. Noting that she believed Ford was "extremely credible and sympathetic," she said, "I find her responses echo many of the feelings and reactions I have had over the years connected to my own sexual violence trauma and the aftermath of speaking out. I applaud her courage."