Gisele Bundchen On The Moment Tom Brady Told Her His Ex Was Pregnant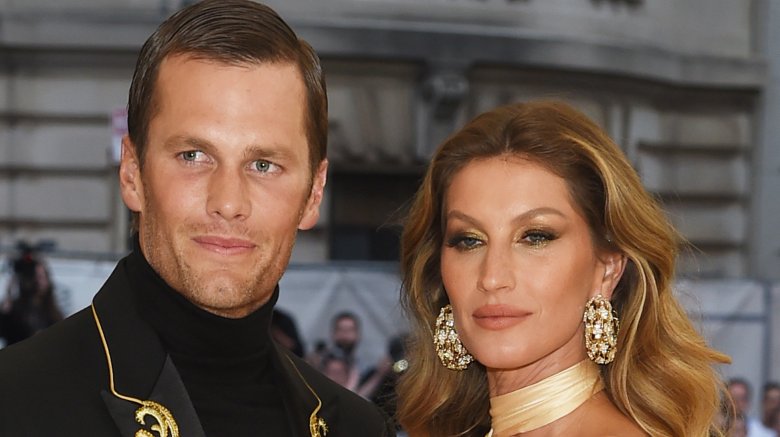 Getty Images
Supermodel Gisele Bündchen has gone through some serious ups and downs in her relationship with NFL star Tom Brady. But none of their stressful times together have been quite so troubling as when the New England Patriots quarterback's ex-girlfriend revealed that she was pregnant with his child just a couple months into Brady and Bündchen's relationship.
Bündchen opened up about the difficult moment in her memoir, Lessons: My Path to a Meaningful Life, which was released on Oct. 2, 2018. "Two months into our relationship, Tom told me that his ex-girlfriend was pregnant," she wrote, as reported by the New York Post. "The very next day the news was everywhere, and I felt my world had been turned upside down."
She added, "Needless to say, that wasn't an easy time. But it was a time that brought about so much growth" (via E! News).
That ex-girlfriend was actress and model Bridget Moynahan. According to People, Brady and Moynahan broke up in 2006 after dating for three years. That same year, Brady met Bündchen and the two eventually started a relationship together in 2007. Then, just two months into their new romance, it was revealed that Moynihan was three months pregnant with Brady's child.
"It wasn't the ideal situation for anyone — there's no manual to prepare you for that," Bündchen admitted to People in late September 2018.
As Bündchen previously revealed to Vanity Fair in May 2009, she'd wondered at the time if she and Brady should break up. "You question at times — 'Should I stay here? Maybe you should work this out,'" she said. "But when people break up, it's for a reason."
Fortunately, Bündchen has since been able to look back at that time of their lives with confidence that sticking by her man was the right decision. Calling the unexpected bump in their romance a "blessing," Bündchen explained that, without the challenge of Moynihan's pregnancy, she wouldn't have seen what Brady "was made of" and that "he wouldn't have known what [she] was made of." She continued, "It made me feel more in love with him; it made me realize who he was. Our relationship has become so much stronger, and I think I wouldn't be as certain as I am today if it weren't for that."
Still, it was some time before Bündchen would even meet Moynihan, the mother of her stepson Jack. And, in that time, Bündchen, who married Brady in 2009, reportedly made some comments that upset fans of the Blue Bloods star, saying, "I understand that he has a mom, and I respect that, but to me it's not like because somebody else delivered him, that's not my child. I feel it is, 100 percent."
Thankfully, any animosity that existed between Bündchen and Moynihan has since become water under the bridge. In 2011, Moynihan revealed that she was happy that her son had a large, loving family. "My son has two loving parents and an extended family, whether it's cousins or stepmothers or boyfriends. My son is surrounded by love," she told More magazine at the time (via New York Post).
And, while Moynihan later married Andrew Frankel in 2015, Bündchen went on to have two children with Brady over the years — son Benjamin Rein in 2009 and daughter Vivian Lake in 2012.
However, Bündchen's journey into motherhood wasn't without its fair share of obstacles as well. Though she had wanted to become a mother since she was young, Bündchen found herself having a hard time adjusting to her new life as a parent after giving birth to her first child. "When I became a mom, I kind of lost myself. It was like a part of me died," she shared with People. "I'd been this very independent person. It was all about me. But now I had this little being, and I suddenly felt l couldn't do other things and that was very hard for me."
And, given her husband's career as a busy NFL star, she had to do much of the childrearing solo, which, understandably, took a toll on their marriage. But it'd seem that Bündchen and Brady's relationship only got stronger as they weathered through these rough patches. It's nice to know that these two celebs will always have one another to rely on.