Bill Cosby's Legal Team Is Trying To Free Him From Prison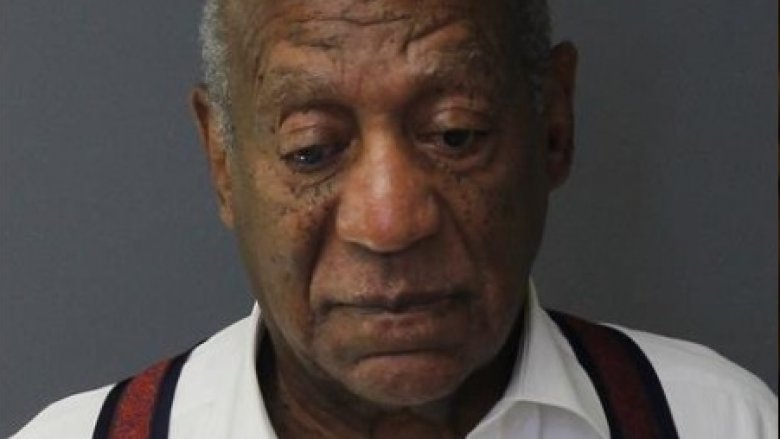 Getty Images
Disgraced comedian Bill Cosby is apparently ready to leave prison life behind, and his lawyers are making moves in an attempt to have him released.
On Oct. 5, 2018, Cosby's legal team, which includes lawyers Joseph Green, Jr. and Peter Goldberger, filed a defense motion in Pennsylvania state court in hopes that the former TV star, who was found guilty of aggravated assault in April 2018, get another trial. "The defendant, William H. Cosby, Jr., moves this Court for a new trial in the interest of justice, or at least for reconsideration and modification of the sentence imposed on September 25, 2018," the motion read, according to Deadline.
The defense motion reportedly lists supposed errors made by the judge that presided over Cosby's case, Judge Steven O'Neil. Cosby's legal team reportedly questioned O'Neil's "impartiality" and asserted that he should have recused himself from sentencing Cosby following his mistrial and later retrial.
Cosby's lawyers also claimed that a tape that'd served as evidence during the trial was "not authentic" and that the testimonies of five women who'd accused Cosby of sexual misconduct had "violated the defendant's right at sentencing." They also alleged that the statute of limitations of the crime Cosby had been accused of may have expired.
Deadline notes that the District Attorney's office will likely respond to Cosby's motion via another filing in just days.
Following an initial mistrial and subsequent retrial, Bill Cosby was found guilty of three counts of aggravated assault of former Temple University employee Andrea Constand on April 26, 2018. The incident in question allegedly occurred in 2004 when Constand visited Cosby's home in Philadelphia, Pa. for career advice. According to Constand, Cosby then drugged and sexually assaulted her. "Bill Cosby took my beautiful, healthy young spirit and crushed it," Constand said in her statement during Cosby's sentencing (via USA Today). "He robbed me of my health and vitality, my open nature, and my trust in myself and others."
Cosby has maintained that what had happened between them was consensual, and that the pills he gave her were Benadryl, an allergy medication. His lawyers alleged that Constand is a "con artist," just trying to take his money (via CNN). Cosby had previously paid Constand a settlement of nearly $3.4 million back in 2006, which reportedly came with a confidentiality agreement to prevent Constand from making her accusations against Cosby public.
During his trial, five women, including supermodel Janice Dickinson, testified against him and described how he'd allegedly drugged and sexually assaulted them in the past. While only five women testified in court, a total of 60 women have made disturbing accusations against Cosby.
On Sept. 25, 2018, Cosby was sentenced to three to ten years in prison. While he was first taken to Montgomery County Correctional Facility in Eagleville, Pa., Cosby was later transferred to Pennsylvania's State Correctional Institute at Phoenix.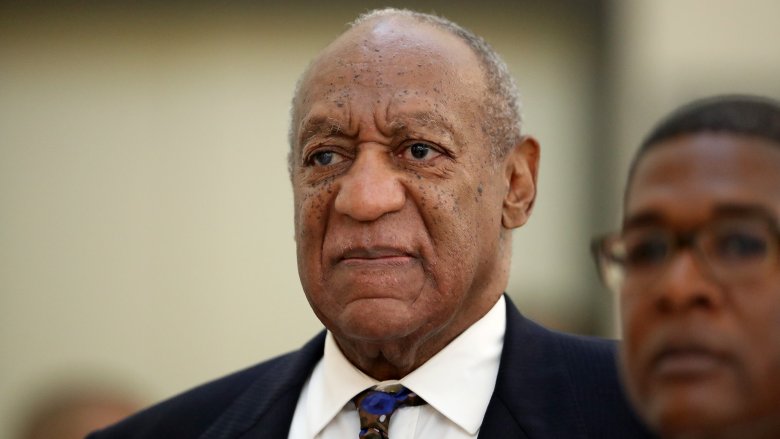 Getty Images
According to USA Today, Cosby has remained in "good spirits" since being placed behind bars. Cosby, who has several prison staff inmates helping him around due to his old age and poor eyesight (he is reportedly legally blind), reportedly feels safe and has not been involved in any physical altercations. He's also been able to communicate with his wife, Camille, via daily phone calls.
However, not everyone has been so welcoming of Cosby. Radar Online reports that Cosby, who is not yet in general population, was hit with a chicken patty after making a joke to another inmate. "Mr. Cosby cracked a joke to another inmate by the infirmary, and that inmate was mad enough to take his chicken out of the bun and plunge it at him," a source told the gossip rag.
And, according to Radar, that wasn't the first time that inmates had used food to take out their aggression on Cosby. The former Cosby Show star is said to have previously been hit with a stale hot dog bun just moments after first arriving at prison on Sept. 25.
"The way I see it, you have to be very angry to throw your meal in jail because I don't think you get seconds," the source noted. "Mr. Cosby told us last week that the chicken patty was the best meal he had so far at SCI Phoenix ... so that says a lot."