Lana Del Rey Threatens Azealia Banks During Social Media Feud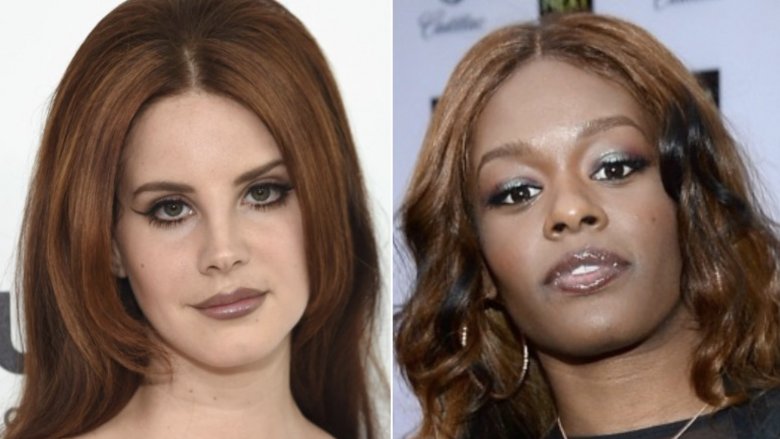 Getty Images
Singer Lana Del Rey and rapper Azealia Banks have some major beef with one another, if their recent aggressive tweets are any indication.
Del Rey and Banks' apparent feud all began when the "Summertime Sadness" crooner commented on rap icon Kanye West's Instagram post, in which he donned a "Make America Great Again" cap and promoted the abolishment of the 13th amendment, which outlaws slavery in the United States. "[Donald] Trump becoming our president was a loss for the country but your support of him is a loss for the culture," Del Rey wrote, in part, in a lengthy message on his page, as captured by Cosmopolitan. "I can only assume you relate to his personality on some level. Delusions of Grandeur, extreme issues with narcissism — none of which would be a talking point if we weren't speaking about the man leading our country."
Del Rey went on to allege that if West thinks he should support a man who infamously said he'd grabbed women "by the p***y," then he's in need of an intervention.
But while Del Rey was praised by many for her criticism of West, Banks just wasn't feeling it. When asked by a Twitter used about what she thought of Del Rey's message to West, Banks tweeted out, "Wow okay Lana, this would be cute if you were consistent with your outrage and refused to collab with ASAP rocky who has physically assaulted women too." She continued, "To me this just looks like the typical White woman taking using a weakened target to 'pretend' to be an ally." Yikes.
Banks went on to claim that Del Rey only targeted West because she knew her words as a white woman would prevail against those of a black man, and she asserted that Del Rey wouldn't attempt to argue with her, a black woman. "Don't use Kanye for your own vapid attempts to seem politically aware," Banks wrote, adding, "You white female liberals are so self serving."
But Del Rey didn't just sit there and take Banks' comments. Messaging Banks directly, she said, "U know the addy. Pull up anytime. Say it to my face. But if I were you- I wouldn't." She then tweeted out, "I won't not f*** you the f*** up. Period." Clearly, Del Rey wasn't here to play.
Del Rey kept going, tweeting that Banks "coulda been the greatest female rapper alive" but that she "blew it," noting, "Dont take it out on the only person who had ur back." And when Banks then tried to bash Del Rey for her looks and for having had plastic surgery done in the past, Del Rey had none of it. "I'll send you my surgeon's number and a good psychiatrist I know in LA – your psych meds aren't working #uneedanewcocktail," she wrote. Oh boy.
Then, when Banks asked where the tweet about Del Rey inviting her to fight was, saying that she was speaking to her lawyer, Del Rey doubled down on her comments. "Tell him it's a promise," she tweeted at Banks, "not a threat."
Del Rey is hardly the first celebrity that Banks has found issue with. Speaking to The Breakfast Club in May 2018, Banks slammed fellow rapper Cardi B, calling her a "caricature of a black woman" and criticizing her for not using proper grammar. Cardi B later hit back, saying, in part, "I speak how I speak. I am how I am. ... Goodbye. I'm not apologizing or killing myself because of who I am" (via People).
Hmm... maybe Lana Del Rey and Cardi B can team up on an Azealia Banks diss track?
And well, if neither artist is willing to carry on their beef with Banks (and we honestly wouldn't blame them if they'd rather just move on), there are plenty of other musicians out there who could very easily take their place on a musical number aimed at putting Banks in her place. As noted by Billboard, Banks has publicly slammed the likes of Nicki Minaj, Remy Ma, Rihanna, Erykah Badu, T.I., Lil' Kim, Beyoncé, Zayn Malik, Pharrell, Eminem, and Kendrick Lamar, among many, many others. Clearly, Banks likes a little drama in her life.