Why Jenny McCarthy Turned Down Starring On Blue Bloods With Donnie Wahlberg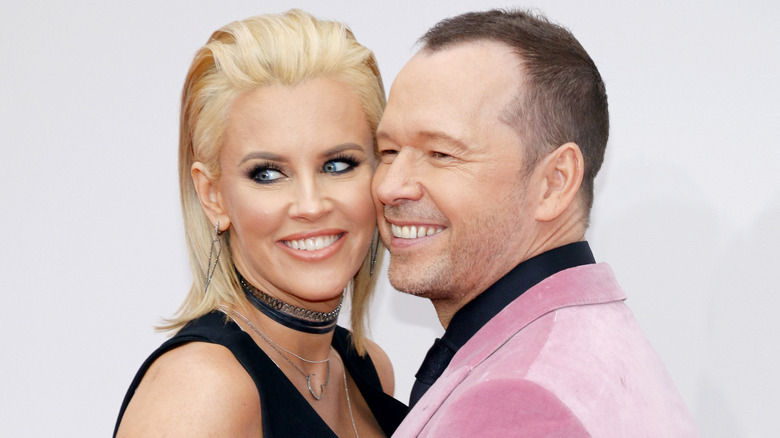 Tinseltown/Shutterstock
Donnie Wahlberg began playing Detective Danny Reagan on "Blue Bloods" in 2010, two years before he met the 1994 Playboy Playmate of the Year, Jenny McCarthy. It's now been nearly a decade since the couple tied the knot, so how is it possible that McCarthy hasn't appeared in an episode of her husband's police procedural?
After all, the couple's spicy love story is peppered with television appearances together. In a 2020 Instagram post, Wahlberg revealed that he first met McCarthy on "Watch What Happens Live" in 2012. Apparently, host Andy Cohen picked up on the pair's chemistry and tried to convince Wahlberg to ask McCarthy out on a date. The New Kids on the Block singer chickened out, but things got steamier than a juicy Wahlburger fresh off the grill when he appeared on "The Jenny McCarthy Show" in 2013. The future spouses found themselves sprawled on the floor and sucking on lollipops while discussing sex. Wahlberg quickly decided he preferred the taste of McCarthy's ear and gave it a nibble.
Once they finally started dating, Wahlberg and McCarthy became inseparable and even starred in their own reality series, "Donnie Loves Jenny," for three seasons. "Our goal is to work together as much as possible," Wahlberg told ET Canada in 2019. So, you'd think McCarthy would have jumped at the chance to make a guest appearance on "Blue Bloods" with him — but she had a good reason for turning the opportunity down.
Jenny McCarthy and Donnie Wahlberg's dream jobs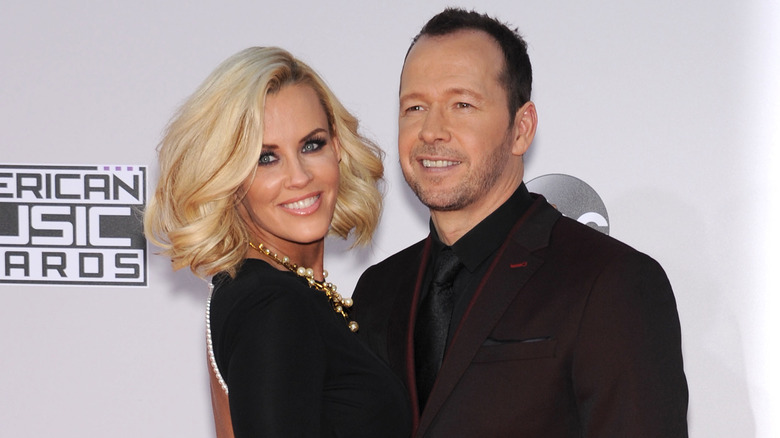 DFree/Shutterstock
Donnie Wahlberg told TV Insider that the executive producer of "Blue Bloods," Kevin Wade, once wanted Jenny McCarthy to appear on the show. He thought she would be a perfect fit for the role of Danny Reagan's former high school girlfriend, Marianne Romano, in the 2013 episode "Growing Boys." But McCarthy had no interest in playing a former lover of her then-boyfriend (Seems like tempting fate, right?). "We had just started dating publicly, so to her credit, Jenny turned it down," said Wahlberg. "She didn't want it to be disruptive for the audience." In other words, she saved the show from a "Gigli" situation where viewers couldn't stay engaged with what they were watching because the real-life relationship between the two actors was too distracting (Well, that was one of the problems with the Jennifer Lopez-Ben Affleck movie, anyway). The ex-girlfriend role went to "Buffy the Vampire Slayer" star Charisma Carpenter instead.
If he and his wife are going to appear together on TV in some capacity, Wahlberg believes that drama isn't their ideal genre. "Jenny always said we should do a comedy together," the actor shared. "Right now, we're developing non-scripted shows. Our goal is to cohost a game show." Per Deadline, the couple launched their own company, Work Baby Productions, and landed a development deal with Lionsgate in 2022. However, its focus was on unscripted projects, such as the 2023 autism documentary "Spellers" that they executive produced.
Donnie Wahlberg's surprise appearance on his wife's show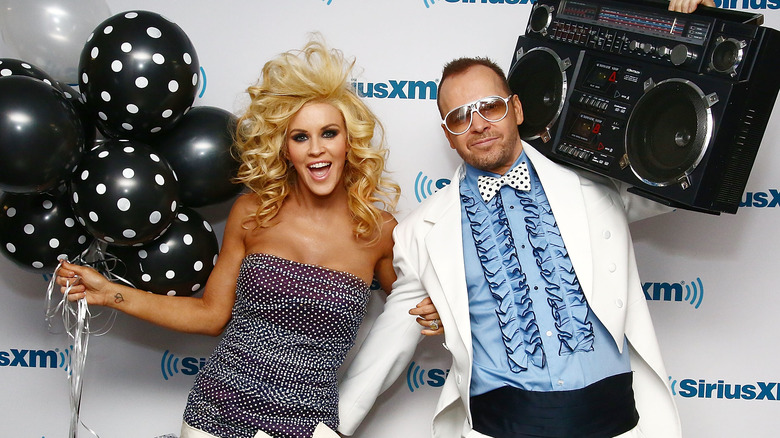 Astrid Stawiarz/Getty Images
When Donnie Wahlberg and Jenny McCarthy got the chance to work together in 2021, it didn't come with any opportunities to get all lovey-dovey on the job. In fact, McCarthy didn't initially know that they were appearing together on the same show.
In a March 2021 interview with ET, McCarthy explained why she wasn't expecting her husband to pop up as a celebrity contestant on "The Masked Singer" anytime soon. "Donnie is still on 'Blue Bloods' and until he's done with 'Blue Bloods,' I would say there's not really a chance for him to be on," she said. But on he was — just not as a singer. Instead, Wahlberg dressed up like a rooster and delivered extra clues about the identities of the singers to McCarthy and the other panelists. His all-new character was aptly named Cluedle-Doo. Much like the competitors, Wahlberg got a big reveal, and he even performed a song — Mark Morrison's hit "Return of the Mack" — before his mask was removed. McCarthy remained clueless before then, guessing that Cluedle-Doo was Akon.
A stunned McCarthy fell to the floor when she saw her husband's face. Once she had recovered a bit, she said, "I'm supposed to have golden ears, and I didn't recognize my husband's voice." Whatever these two do together in the future, it's probably going to be tough to top that TV moment.