Geraldo Rivera's Wife: Who Is Erica Michelle Levy?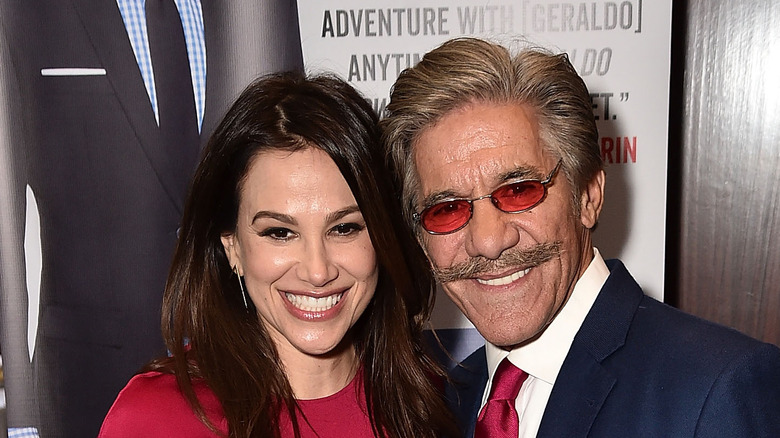 Theo Wargo/Getty Images
Geraldo Rivera has been reporting on the news and current events since 1970 but the on-air personality has made headlines of his own over the years, some due to the fact that he was married five times and has five children from three of his marriages. Rivera became a husband for the first time in 1965 to Linda Coblentz. He would go on to divorce her in 1969 and get married three more times before he wed his fifth and current wife, Erica Michelle Levy in 2003. At the time, the Fox News correspondent was 60 years old, while Levy was 28, and together, they welcomed Solita Liliana Rivera in 2005.
While their age difference was brow-raising, Rivera brought even more attention to it during Fox's "Outnumbered" when he stated, "I think what a woman brings to a marriage more than anything else — to a relationship — is her youth. Her youth is a fragile and diminishing resource, so if a woman were to invest two years in one of these marriages, and then to be rejected by the man, I think she has given up a valuable asset," (via HuffPost). He also stated that "the man is the breadwinner, although now, increasingly, women do work." 
Levy stuck by Rivera after these retrograde comments on women. It was, in fact, the workplace where the two first met.
Erica Michelle Levy was a producer on Geraldo Rivera's show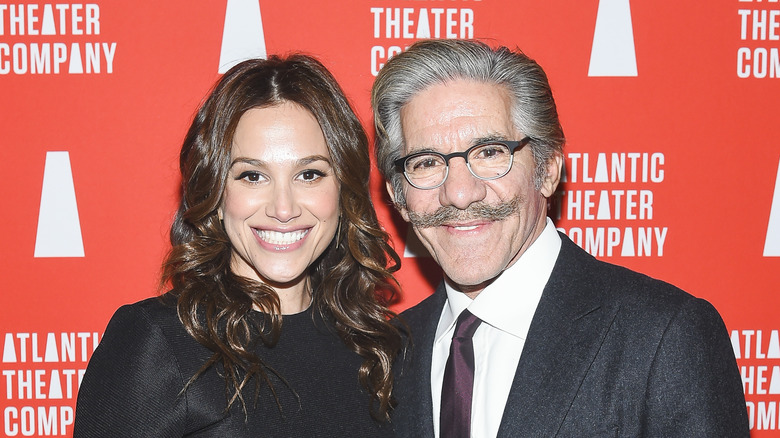 Ben Gabbe/Getty Images
Erica Michelle Levy graduated from The University of Wisconsin-Madison with a degree in Communications in 1997. She also studied Journalism abroad at The American International University in London. Levy was working as a producer when she met her now-husband, Geraldo Rivera, on his CNBC show, "Rivera Live," in 2001. 
At the time, she was 26 years old while Rivera was 58. The two married in August 2003 at Central Synagogue in New York. According to The New York Times, Levy was no longer at "Rivera Live" at the time and was instead an executive producer at Rivera's production company, Maravilla Productions. She co-hosted her husband's radio show, "Geraldo in Cleveland" until its end in 2022 after four years. The two currently live in Shaker Heights, Ohio.
Levy, who is an adamant Democrat, butted heads with Rivera over the 2020 elections. In an interview with Cleveland 19, Levy shared that there "have been some heated moments" over their differing political views. However, she added, "Geraldo is very supportive and encouraging of me going on the radio and having my own voice and so that helps our marriage a lot when we do disagree." Rivera inserted that there were more important things than politics, particularly their teenage daughter, whom they welcomed in 2005.
Erica Michelle Levy is a proud mother to a teen
Geraldo Rivera is no stranger to being a dad and he shares his youngest daughter, Solita Liliana Rivera, with Erica Michelle Levy. Like her mom, Solita is a Democrat and shares Levy's political views, which differs from her father's, as was apparent by their opposing signs on their lawn. As reported by Page Six, Levy displayed a "Biden-Harris 2020" sign while Rivera's self-made poster stated, "Wife only. Husband is undecided. Leaning to President Trump but may vote Kanye." 
Rivera told the publication, "There are tensions at home. My wife and daughter are very active and contribute to the Democrats. They put this sign on my lawn and I was horrified!"
In August 2021, Levy shared a sweet carousel of pictures of Solita from when she was a baby to her teen years. "Happy sweet 16 darling daughter and best friend; kind, strong, loving and beautiful. Sol, you are the joy of our lives!" she captioned. Levy never fails to give her daughter a birthday shout out and in 2020, she wrote, "Happy 15th birthday to our soulful S o l. Sensitive, kind, curious, funny, bold and deeply, insightful daughter. Confident and original, she doesn't follow the pack. We love our quinceañera to pieces." 
Levy is also a stepmother to Rivera's other four kids and she showed them some love by posting a pic of them together for the holidays with, "Merry Christmas from all the Rivera kids who look a lot alike."