A Look At Jennifer Hudson's Messy Custody Battle With Ex David Otunga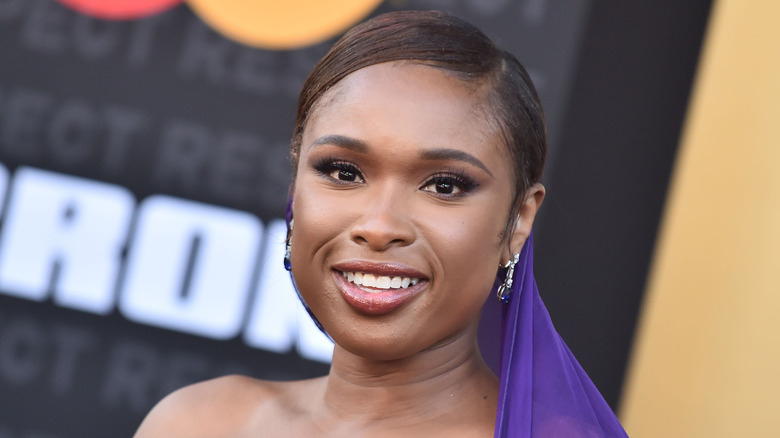 DFree/Shutterstock
While Jennifer Hudson may be a multi-hyphenated artist, her dating life is anything but. The EGOT winner has been in two long-term relationships, the first being with her "childhood sweetheart," James Peyton. "I grew up with him," the "American Idol" alum told Necole Bitchie in 2014. They broke up shortly after Hudson won her Oscar for "Dreamgirls" in 2007, though she denied her growing visibility played a role. "It wasn't the fame. I don't want to put his business out there. It ain't my place to tell," she explained.
It took her almost no time to find love again. Hudson started a relationship with David Otunga in 2007 and became engaged in September 2008. Otunga gained special significance in Hudson's life a month after. She was in Florida with him when Hudson's mother, brother, and nephew were murdered, a crime her former brother-in-law was convicted of. "That's one of the things that saved my life," she explained (via People). "I could have been home with my mom then."
That year, Hudson sparked pregnancy rumors, though she refused to confirm or deny it until she gave birth to David Jr. in August 2009. Hudson and Otunga continued to raise their child as an engaged couple. "I'm not in a rush," she said on "The Ellen DeGeneres Show" in April 2017. "He ain't going nowhere." But Hudson split from the "I Love New York 2" contestant and former professional WWE wrestler a few months later. And things quickly got messy.
Jennifer Hudson accused David Otunga of 'physical and emotional abuse'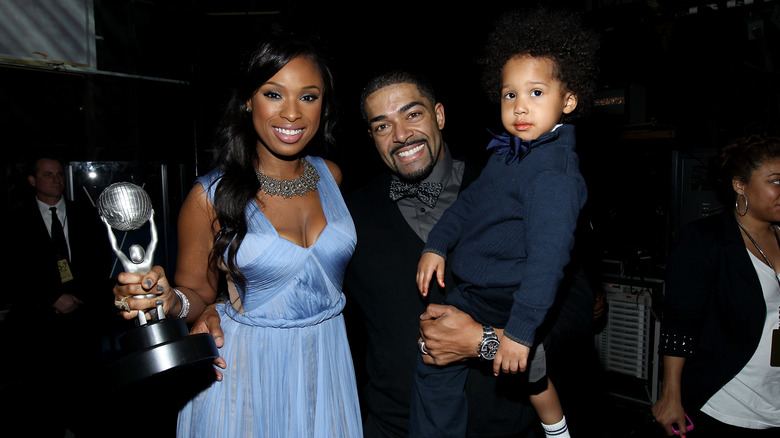 Mark Davis/Getty Images
Jennifer Hudson's separation from David Otunga was accompanied by a protective order. "He has a history of physical and emotional abuse, I am afraid that his physical attacks will continue to escalate," she contended in her petition, the Daily Mail reported in 2017. Hudson also claimed Otunga accused her of having an affair with one of her producers.
Otunga, for his part, denied Hudson's allegations of violence and accused her of filing the request to keep their son from him. "When it became apparent to Ms. Hudson that Mr. Otunga would be the parent granted residential care of the child ... Ms. Hudson decided to file a meritless Petition for Order of Protection in an effort to gain an unfair advantage in the custody dispute," his attorney said in a statement, E! News reported. 
According to Otunga, he would be awarded custody because he acted as the "child's primary caregiver while Ms. Hudson pursues her career all over the world." Following the issuing of the order, officers removed Otunga from his and Hudson's Chicago-area home, TMZ reported. Less than two weeks later, Hudson dropped the petition after Otunga vowed never to return to their former shared home, according to The Blast. At that point, Otunga was temporarily granted primary custody, as Hudson was traveling to and from London to shoot "The Voice U.K.," according to TMZ.
If you or someone you know is dealing with domestic abuse, you can call the National Domestic Violence Hotline at 1−800−799−7233. You can also find more information, resources, and support at their website.
Jennifer Hudson and David Otunga reached an agreement in 2019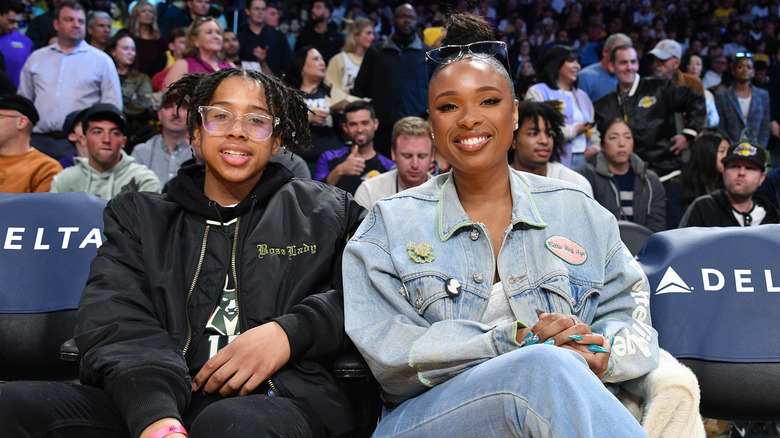 Allen Berezovsky/Getty Images
Jennifer Hudson and David Otunga's temporary agreement was only the beginning of their custody battle. Less than two months later, Otunga argued Hudson's decision to give interviews that discussed her son and release statements about their separation violated a gag order they both signed in 2017, The Blast reported. As a result, Otunga sought to have Hudson held in contempt of court. Throughout the back-and-forth, David Jr. bounced between his parent's homes as they failed to reach an agreement.
Hudson and Otunga finally settled in July 2019, when they agreed to share custody of David equally, The Blast noted. In the deal, both were on the same page about how they felt about having casual partners around David. "They will not have overnight guests of a romantic, intimate or dating nature stay overnight during his or her parenting time," the document read, adding the scenario would only be acceptable if the parent was in a "serious, committed relationship."
Hudson and Otunga agreed to follow a schedule set every two months, at which point they would draft a new one for the next period. Both parents would also make decisions regarding their son collectively. Per the agreement, both parents selected an Illinois public school to enroll their son in, and both would help with homework. Hudson and Otunga also agreed to instill Christian beliefs in David.