Ruby Sparks Co-Stars Paul Dano, Zoe Kazan Welcomed First Child Two Months Ago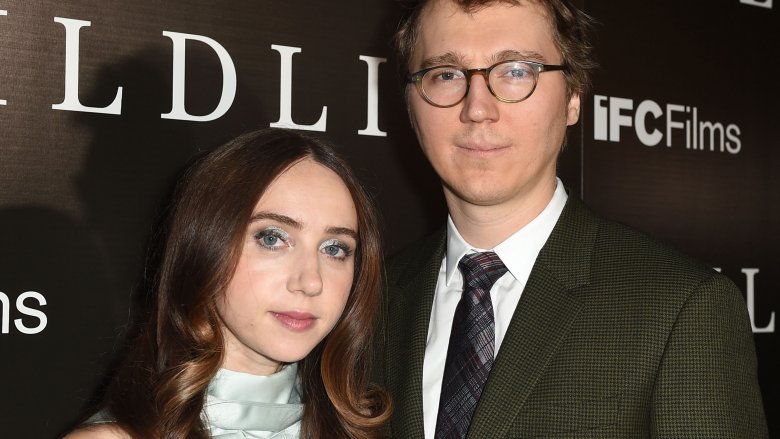 Getty Images
Congratulations are in order for Ruby Sparks co-stars Paul Dano and Zoe Kazan!
During his Wednesday, Oct. 24, 2018, appearance on The Tonight Show Starring Jimmy Fallon, Dano confirmed recent reports that he and longtime girlfriend Kazan secretly welcomed their first child, a baby girl, in late August 2018.
"I want to talk about the movie, but even bigger congratulations — you had a little baby eight weeks go. Congratulations!" host Jimmy Fallon said to the Little Miss Sunshine star. "She's gorgeous, by the way. What a beautiful, beautiful baby. How does it feel to be a dad?" 
In response, the new dad quipped, "Umm, I'm so tired and I'm so in love." Dano continued, "It's so extreme. You know, your heart has gone like supernova in one sense. And then we landed from London last week and she cried for like 24 straight hours and you kind of just want to walk through a wall. It's crazy."
According to Us Weekly, Dano, 34, and Kazan, 35, have been romantically linked since 2007. At the time of this writing, additional details about the couple's daughter, including her name and date of birth, have not been revealed. However, according to sources cited by Page Six last month, their little girl's name is reportedly Alma Day.
In addition to working together on 2012's Ruby Sparks, the notoriously private pair recently collaborated on the Jake Gyllenhaal and Carey Mulligan-led Wildlife. Marking Dano's directorial debut, he and Kazan co-wrote the drama, which has so far received rave reviews on the film festival circuit. The film will hit theaters on Friday, Nov. 9, 2018.
Dano and Kazan aren't the only celeb couple to share exciting, albeit low-key baby announcements in recent months. As Nicki Swift previously reported, Parks and Recreation alum Rashida Jones secretly welcomed her first child, a baby boy named Isaiah, with longtime boyfriend and Vampire Weekend singer Ezra Koenig on Aug. 22. Meanwhile, Last Week Tonight host John Oliver and his wife, Army veteran Kate Norley, welcomed their second child, a baby boy, sometime over the summer. "It's bewildering [and] exhausting juggling that and the show," the comedian, who also shares 2-year-old son Hudson with Norley, told People magazine last month. "But no, it's the greatest."
Congratulations to Dano and Kazan on their baby news!