Modern Family Fans Disappointed With Hyped-Up Death Of 'Significant Character'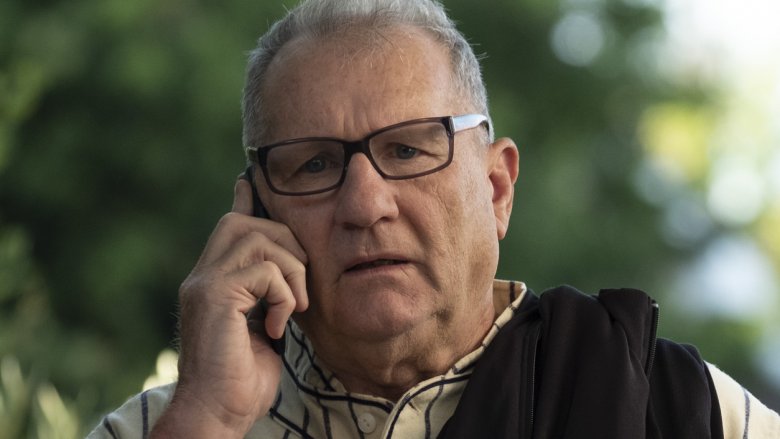 ABC/Tony Rivetti
Fans of the popular TV comedy Modern Family were apparently left feeling unhappy after seeing the show make good on its word that a "significant character" would be killed off ... because the character wasn't actually all that significant. At least, not in terms of the ABC series' cast.
As noted by Too Fab, Modern Family's Halloween episode, titled "Good Grief," premiered on Wednesday, Oct. 24, 2018. And pretty quickly into the episode, it was revealed that Jay's ex-wife, DeDe (played by Shelley Long) — Claire and Mitchell's mother — had died in her sleep while away in Greenland. The show then followed how each character dealt with the loss. Haley (Sarah Hyland), for instance, tries to use food to heal, while her sister, Alex (Ariel Winter), seeks intimacy with her boyfriend for comfort (via ABC).
But while DeDe was certainly "significant" to the show's characters, she was not significant to the show itself — and some fans didn't even remember her when they tuned in for the episode. And who could blame them? Long only appeared as DeDe in a total of seven episodes throughout the series' ten-year run. That's not a whole lot of screen time in the grand scheme of things. And it didn't help that Modern Family didn't even show DeDe in the episode. (She was in Greenland, remember?)
However, fans appeared even more upset with Modern Family because of just how its creators had hyped up the death before the tenth season had even premiered. "We're handling some bigger life events in this season," co-creator Christopher Lloyd told Entertainment Weekly in September 2018. "We do deal with a death, which is certainly a topic that families have to deal with, and on television, it's not easy to do because that's a heavy subject. But at the same time, it would seem unusual for a family not to go through it."
While Lloyd wouldn't reveal just who the unlucky character would be, he shared that it would be a "significant character on the series." He also noted that it "will be a moving event — and an event that has repercussions across several episodes."
Given Lloyd's choice of words, many believed that the show might kill off a main character like Ed O'Neill's Jay Pritchett. Heck, even Nolan Gould thought his character, Luke, was going to die, as he revealed to HollywoodLife. So, when it was actually DeDe that bit the dust ... well, that made a lot of people mad. "I call bulls*** #ModernFamily. That was not a significant character – Jay or bust," one Twitter user wrote.
"THAT'S who they killed off??? After all the hoopla? Oh please," another tweeted. "I'll always hold #ModernFamily in high regard, but that reeks of 'please tune in live to Season 10 of our show' desperation."
It is true that Modern Family's ratings haven't been as strong as they once were. According to IndieWire, the series was down 25 percent after its tenth season premiere. The Halloween episode, however, had a ratings boost, scoring a "1.5 rating among adults 18-49," compared to the previous episode's 1.3 rating (via The Hollywood Reporter).
But, according an interview with co-creator Steve Levitan, Modern Family writers decided to kill off DeDe simply because they'd realized that they'd never had the family deal with a super impactful death before — something that all families experience at one point or another. Speaking with THR, Levitan said, "We gather [with the writers] at the beginning of the season and talk about the big arcs and things that we want to have happen — the milestone moments. It occurred to us that death is a giant part of the family experience and while Phil (Ty Burrell) had lost his mother in a previous episode, we've never seen the entire family have to deal with such a loss."
Regarding the show's choice to kill Dede in particular, Levitan explained, "She seemed like right character because she so directly affects so many of our characters."
As noted by Vanity Fair, Modern Family is currently in its last contracted season, though its possible that the show will live on for another. Hopefully, if that happens, the series can deliver a little less hype and a little more substance.