Kendra Wilkinson's Kids Hank Jr. And Alijah Are Growing Up Fast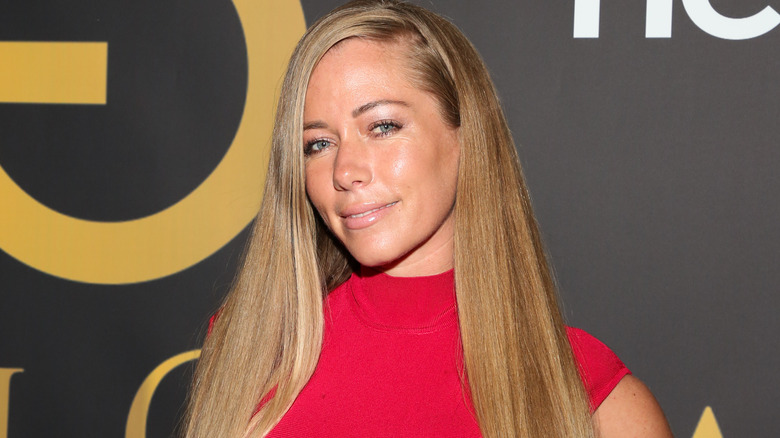 Paul Archuleta/Getty Images
Kendra Wilkinson sells mommyhood so well! The former "Girls Next Door" star and her now-ex, former NFL wide receiver Hank Baskett, became first-time parents in December 2009 when they welcomed Hank Randall Baskett IV to the world. Little Hank Jr. was an instant star, appearing on the cover of OK! magazine with his beaming mom. Wilkinson also gave the tabloid an interview while her family was still in the hospital. "I was just in heaven," she said of getting to meet her son.
When Hank Jr. learned that his mom was pregnant again, Wilkinson said he was thrilled about the idea of having a sibling — as long as that sibling was a brother. "We keep telling him it might be a sister and he's like, 'No! I don't want a sister!'" Wilkinson told E! News. Hank Jr. didn't get his wish, and Alijah Mary Baskett's arrival preceded a time of turmoil for her parents. They shared their happy news with the world in May 2014, but just one month later, Radar reported that Hank had been unfaithful. Wilkinson told People she became so upset that she kicked him out and had him take Hank Jr. with him while she cared for her new baby alone. "I had to calm down and really just think logically," she said. The scandal didn't immediately break up their family, but Wilkinson and Baskett announced that they were divorcing in 2018.
Now, the exes are on good terms and co-parenting two incredibly talented kids.
Their children are athletic entertainers
In a since-deleted 2020 Instagram post, Kendra Wilkinson revealed that Hank Jr. had discovered a new passion. "Hank is a very serious, old soul kinda kid. [He didn't] really have interest in listening to music but when he found the keyboard/piano things changed," she shared. But he eventually gravitated more toward sports. When he was just 7 years old, his proud mom told ET that he was a future soccer pro in the making. "He's already been scouted and spotted and seen," she said. By the time he was 13, he was also tearing it up on the basketball court, and his six-foot-one frame gave him an advantage over his opponents during games. "He's dunking the basketball, he's out being recruited by these travel teams," Wilkinson told Access.
In a 2017 interview with Wetpaint, Wilkinson revealed that Hank Jr. was once offered the opportunity to audition for a Disney film, and this is how she found out that acting is not her son's thing. Her daughter, on the other hand, loves to perform. "She likes music and she's in piano lessons," Wilkinson revealed. In 2023, she told Us Weekly that Alijah Mary had also caught the acting bug. "My daughter is starring in 'Matilda,'" she said. Alijah plays soccer, too, and she has inherited her mother's outgoing personality. "She is me on steroids, so you have another Kendra to look forward to," Wilkinson told Wetpaint.
What makes the kids take pride in their mom
Kendra Wilkinson isn't ashamed of her past as Hugh Hefner's girlfriend, telling People that she talks to her kids about her life at the Playboy mansion. She even told ET that she wouldn't try to talk her daughter out of posing for Playboy someday if it were something she really wanted to do.
While she doesn't regret being one of "The Girls Next Door," it's the work Wilkinson does as a realtor on "Kendra Sells Hollywood" that she loves for Hank Jr. and Alijah Mary to see. "It just really makes me feel good about myself when I close deals," she told Us Weekly. "And my kids are proud of me when I do that." For Wilkinson, the validation she gets from killing it at work and being a good role model for her kids is so gratifying that she has no desire to get back in the dating game.
Wilkinson also credits her role as a mother for being what drove her to keep soldiering on during a challenging time in her life. "For about four to five years, I was in a dark place. I was raising my kids — that's the only thing that was keeping me alive," she said in an interview with The List. Deciding to become a realtor is what helped her rediscover her old spark. "Life is finally starting to get good again, and I hope that I can continue this and keep pushing," she told Us Weekly.