David And Victoria Beckham's Kids Live Extremely Lavish Lives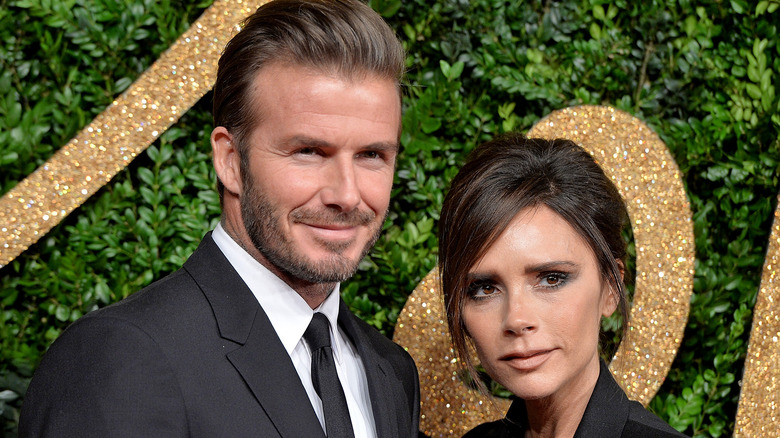 Anthony Harvey/Getty Images
Having David and Victoria Beckham as parents sure comes with a lot of perks — and a guaranteed lifetime of lavish living, too. The couple, who married in 1999, share four kids: sons Brooklyn, born in 1999, Romeo, born in 2002, and Cruz, born in 2005, and daughter Harper Seven, born in 2011, per People. And while David and Victoria might have millions to their names and global recognition, parenthood remains the couple's biggest and most fulfilling role. "Being a mother is simply the greatest achievement of my life," Victoria wrote in a  2015 personal essay for Time. "The emotional connection I feel towards my children brings boundless elation and joy as well as the inevitable worry and concern."
In the essay, Victoria also touched on the importance of helping her kids stay grounded amid their privileged life. Though the former soccer player and his wife seemingly have it all, Brooklyn, Romeo, Cruz, and Harper Seven were raised knowing the importance of hard work. "It is important that our children understand humility, that they appreciate how their parents have worked very hard to create this life for the family and that they, too, have a responsibility to work hard, be respectful and never, ever take anything for granted," the Spice Girl wrote.
Regardless, Victoria and David have managed to give their kids the best lives... and by best lives, we may or may not mean insanely lavish lives!
Lavish gifts for the Beckham boys
Hard work might be their watchword, but the Beckhams sure don't mind splurging a bit on their brood. In celebration of Brooklyn Beckham's April 2022 wedding to actor Nicola Peltz, David Beckham spent a whooping $500,000 on a vintage electric Jaguar, which he then presented as a wedding gift to the couple, per the Daily Mail. Since receiving the luxury gift, Brooklyn, who moved to the Unites States following his wedding, has been spotted out and about taking the car for a spin. But, of course, if we had a car that looked like that and cost that much, we'd be taking it for a lot of spins, too. 
Similarly, the couple's second son, Romeo Beckham, has also received his own fair share of lavish gifts through the years. As reported by Hello!, Romeo, who followed in his father's soccer path, has his own living quarters at his parents' £31million Lomdon home. There, Romeo nests with his model girlfriend Mia Regan, whom he has reportedly been dating since 2017. Memorably, in 2018, Romeo made headlines after his parents had music legend Sir Elton John serenade him for his 16th birthday.
Cruz Beckham, the youngest of the Beckham boys, hasn't been left out of the luxury lifestyle. On his 18th birthday in February, Cruz was seen sporting a £32,900 Rolex, according to the Daily Mail. Back in 2019, Cruz, an aspring singer, himself received a customized guitar from British singer Ed Sheeran, Hello! reported.
Harper Seven enjoys the finest things of life
What's better than having super rich parents? Having super rich parents who would do absolutely anything for you, of course! "I've only said no to my daughter once. Harper is a dream, but the last time I said it, her bottom lip started to quiver and I thought, 'Never again,'" David Beckham revealed during a 2020 appearance on "The Ellen DeGeneres Show." Even now, pre-teen Harper Seven Beckham has her mom and dad wrapped around her little finger. Unsuprisingly, this means having access to some of life's finest luxuries.
In celebration of her 12th birthday in July, David and Victoria threw their daughter a Prada-themed party at the Prada Caffè in London — one of the city's most expensive cafes, per the Daily Mail. The celebration, graced by the entire Beckham family, was well documented on social media, accompanied by heartwarming tributes. "Happy Birthday my pretty lady, keep being beautiful inside and out you are the most amazing little girl a daddy could wish for. Daddy loves you," David wrote on Instagram. 
Outside of lavish themed parties, at just 12, Harper Seven already boasts an impressive collection of luxury items. In celebration of her 11th birthday in July 2022, Harper Seven donned a custom made Victoria Secret dress priced at £1,600, according to Mirror. Similarly, in 2021, the youngest Beckham was pictured rocking a purple and black woven silk jersey lace cami dress her mom's collection, which retailed between £1790 and £2541.