Who Is Peter Doocy's Wife, Fox News Correspondent Hillary Vaughn?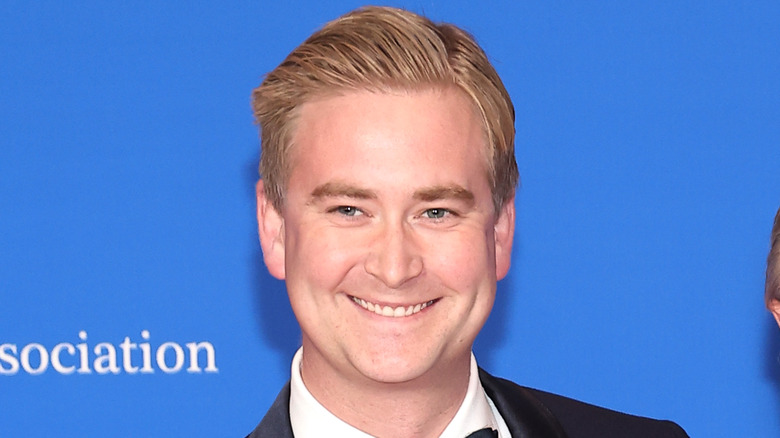 Paul Morigi/Getty Images
Peter Doocy has plenty to celebrate in his career and personal life. In 2021, the Fox News White House correspondent revealed he had tied the knot with his longtime love, Hillary Vaughn. As seen on social media, the pair swapped vows in a private ceremony in South Carolina's Palm Meadow Bluff Resort. "She said 'I DOocy'!" Peter captioned a sweet photo of the two gazing into each other's eyes during their wedding. Peter's father, Steve Doocy, also shared snaps from the big day as he welcomed Hillary into the family. "Welcome to the Doocy family Hillary Vaughn! We are so happy for both of you," he wrote. "For any parent who proudly watches their kid's wedding, you know exactly how [his wife Kathy] and I feel. Please join the Doocys and congratulate @pdoocy and @hillary__vaughn as their adventure begins!"
Speaking about his son's wedding on his show "FOX & Friends," Steve said it was an intimate affair with only 18 guests. "I was his best man, gave the speech," Steve said. "It was kind of a COVID capacity thing." He added that Peter and Hillary initially made plans to marry in January 2021 instead of April 2021 but were forced to delay their wedding due to COVID-19 concerns. Nevertheless, he said, "The weather was perfect. The food was perfect. ... It was absolutely lovely." Peter's wife is also a public figure who works in the same industry as her famous husband and father-in-law.
Hillary Vaughn is a Fox Business correspondent
Peter Doocy's wife, Hillary Vaughn, is also a journalist. Currently, Vaughn serves as a correspondent for Fox News and the Fox Business Network based in Washington, D.C. As listed in her Fox profile, Vaughn joined the network as a member of the second class of Fox News' Junior Reporter Program, which aims to help young, aspiring broadcasters looking to break into the field. During this period, she was stationed at Manchester, New Hampshire, where Vaughn experienced on-the-ground training reporting and working with the Fox News team. She later graduated as part of the Bravo class, alongside Fox national correspondents Matt Finn and Lauren Blanchard, and was officially named a Fox News correspondent herself in 2016.
As a Fox News reporter, Vaughn has traveled across the country to cover major national events, such as the 2020 presidential election cycle and the state funeral of former U.S. President George H.W. Bush. For her live coverage of the 2020 Iowa presidential caucuses, Vaughn has been featured on Fox News Rundown's "American Dream Series" on Fox News Audio. Additionally, she has appeared on several shows on the Fox News Channel, including "The Evening Edit," "The Faulkner Focus," "Tucker Carlson Tonight," and "After The Bell." Last year, she and Doocy shared an exciting announcement regarding their family. 
Hillary Vaughn and Peter Doocy welcomed their first child in 2023
Over a year after they tied the knot, Peter Doocy and Hillary Vaughn announced they were expecting their first child together. The two made the exciting announcement during a guest appearance on "Fox & Friends" in September 2022. While sharing a recipe from his cookbook, Peter's father and fellow host, Steve Doocy, told his co-hosts, "This food is particularly good if you're really hungry, and Hillary is hungry all the time." To which Hillary said, "That's because I'm eating for two!" She and Peter went on to welcome their daughter, Bridget Blake Doocy, in February this year. "Meet Bridget Blake Doocy!" the proud first-time father said as he introduced little Doocy on Instagram. "Asked @joebiden for tips about being a new dad, at the WH holiday reception. His advice: 'Hold her tight.' Will do!" 
Vaughn has opened up to People about her journey into motherhood. "I didn't realize this until now, but I've been training for motherhood my entire career by trying to get lawmakers on Capitol Hill to respond to my questions. This job isn't much different," she said. "Baby Bridget – can you give us a comment? Are you hungry or gassy, or both?' Trying to get an on-the-record answer is tough!" The Fox Business reporter said that being a mom to baby Doocy is "already the best assignment I've ever had." Adding, "She's stolen the show!"