How Much Money Does Melania Trump's Fashion Advisor Make?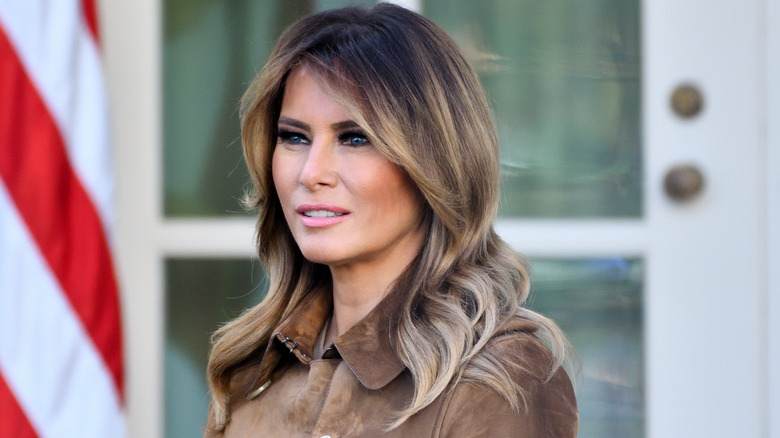 Evan El-Amin/Shutterstock
While Melania Trump is perhaps best known as being the third wife of Donald Trump and former first lady of the United States, she's also worked as a bona fide fashion model. "I always loved fashion. My mother was a fashion designer, so it was always in my blood," she told People during a candid interview in 2016.
Alas, not all of her fashion choices have been slam dunks. Case in point: The infamous hunter-green "I really don't care, do you?" Zara jacket. In 2018, the then-first lady was caught wearing the controversial coat on a high-profile trip to Texas while visiting children who had been separated from their parents while trying to travel across the United States border. YIKES. Her famous fashion advisor Hervé Pierre Braillard later told Women's Wear Daily in 2021 that he had nothing to do with the fashion faux pas. In fact, he was initially under the impression that she had been the victim of a nasty Photoshop job. But just how much does the French-American fashion and costume designer rake in while catering to Mrs. Trump's fashion whims? Here's what we know.
Save America PAC paid Hervé Pierre Braillard $240K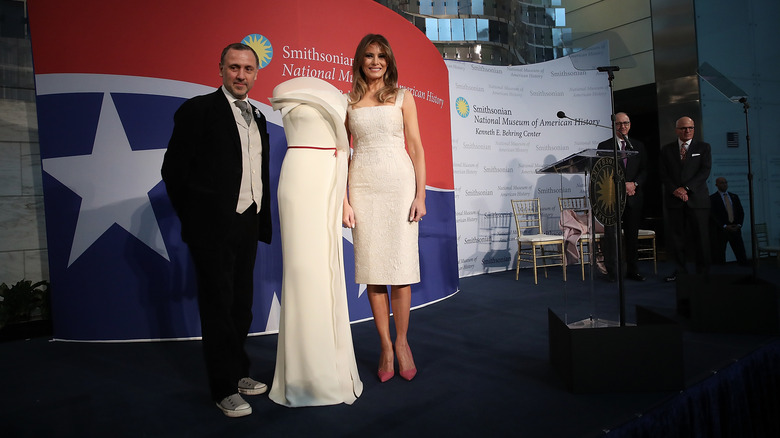 Win Mcnamee/Getty Images
French-born designer Hervé Pierre Braillard's name is back in the headlines. Alas, it's not his fashions that have tongues wagging — it's his reported salary. On July 31, 2023, the Federal Election Commission released the mid-year financial disclosures of Donald Trump's political action committee, Save America. 
While some of the committee's hefty spending came as no surprise to most, including the staggering $21.6 million, they shelled out for "legal consulting," other expenditures definitely raised some eyebrows, including the amount the committee doled out to Braillard. According to the official document, Braillard was paid a whopping $108,000 by the organization for "strategy consulting," broken down into six monthly payments of $18,000.
Perhaps, however, none of this should really come as a shock. In 2022, Fox News reported that the same political action committee paid Braillard a total of $132,000 for the same service. We trust you can do the math, but just in case, that's a total of $240,000 Braillard has raked in solely from Save America. Not too shabby, right?! But what exactly does "strategy consulting" entail? Funny, you should ask.
Hervé Pierre Braillard insists he's not a stylist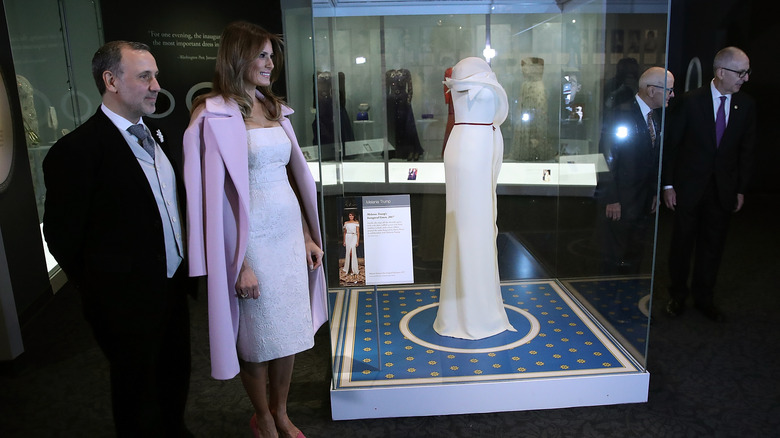 Win Mcnamee/Getty Images
First things first — don't call him a stylist. In a 2017 interview with Vogue, Hervé Pierre Braillard insisted Melania Trump can do bad all by herself. "My role is to dress the First Lady and advise her — I'm not a stylist; I am an advisor, and she is adamant about that," Braillard explained about the pair's working relationship. "Who, as a free woman, is going to be told what to wear? It's a conversation, a collaboration. Without intellectualizing, my advice is respectful and it makes sense," he declared. 
But that's not all. During an interview with Women's Wear Daily in 2021, Braillard reflected on his time working with Trump during her White House years. "I told the First Lady at the time, 'You know, I'm not a stylist.' She said, 'Well, I'm not a first lady either, so we will learn together,'" he recalled. So, uh, strategy consultant it is, then.