You May Have Forgotten That Austin Butler Once Had These Television Roles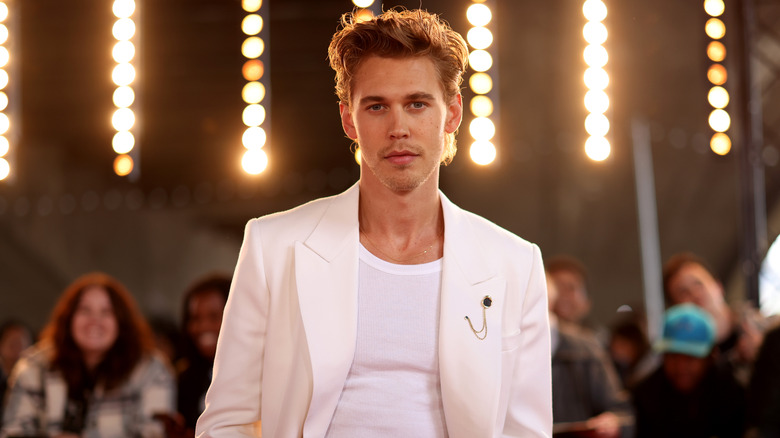 Tim P. Whitby/Getty Images
Long before Austin Butler ever stepped foot onto the set of Quentin Tarantino's "Once Upon A Time in Hollywood," walked in the shoes of "Elvis," or became unrecognizable for his role in "Dune 2," the young actor spent his time working on a variety of television shows in the early 2000s — many of them you may have likely forgotten about.
For years, Butler acted alongside the likes of Miley Cyrus, Selena Gomez, Alexa Vega, and Jamie Lynn Spears — sometimes even simply appearing as an extra in the background. "I remember getting my first line on a TV show, and that was huge for me," Butler reminisced on the Variety's Awards Circuit podcast. "You have all these different moments that are pivotal for you, but now I'm just going after whatever story resonates with me or whatever director or actors that I really want to work with."
Here are a few of those famous shows where the Academy Award-nominated actor got his start.
Zippy Brewster in Ned's Declassified School Survival Guide
Though Austin Butler had always loved to act out movie scenes within the four walls of his home while growing up, when it came to attaining a professional acting career, the shy young actor actually stumbled into the entertainment industry.
It all started when an 11-year-old Butler was supporting his stepbrother at an audition in 2005. That day, a casting director asked him if he also wanted to audition. Assuming he had nothing to lose, Butler accepted and ended up booking his first television role on a Nickelodeon series called "Ned's Declassified School Survival Guide." At the time, he didn't care if he was only cast as an uncredited extra. "The idea of being able to make $100 bucks a day and just walk around in the background on a TV set blew my mind," Butler reminisced during an interview with Deadline.
The pre-teen went on to appear in 41 episodes as a background student named Zippy Brewster. During his time on the series, one specific crew member even mentored a young Butler, and still today, he credits that crew member for making him fall deeper in love with acting. "He was really pivotal in my life as far as, kind of, showing me a direction of going," Butler explained on an episode of the "WTF with Marc Maron Podcast."
Toby & Derek Hanson in Hannah Montana
In 2006, Austin Butler received another uncredited extra role. This time around, he played a boy named Toby in the first season of the Disney Channel's "Hannah Montana." Though his character doesn't say one word in that single episode titled "Oops! I Meddled Again," everyone on set seemed to take notice of him. One year later, Butler was asked to return for a role alongside Miley Cyrus that would require him to learn lines for the very first time.
In Season 2, Butler took on the character of Derek Hanson, who gets set up on a blind date with Hannah. Unfortunately, their date goes horribly wrong but is hilarious to watch. As the two characters sit down to watch a horror movie, Derek's fear is front and center as he shakes and turns to Hannah for comfort. In the end, she isn't impressed.
While Derek may not have gotten a second date with the pop star, the on-set experience was an immense help to the actor who played him. "I learned how to find my light, hit my mark, and remember my lines," Butler explained on the "Today" show. It also led to his casting in even more roles that would allow him to show off his voice.
Jake Krandle in iCarly
A few months after going on a 2007 date with Hannah Montana, Austin Butler was cast as Carly Shay's crush in an episode of the Nickelodeon series "iCarly." In the Season 1 episode called "iLike Jake," Butler plays the most popular boy at school, Jake Krandle, who has just broken up with his girlfriend, and Carly jumps at the opportunity to fill the void.
Shortly after learning that Jake likes to sing, Carly uses her celebrity status to show off and invites him to perform on her web series. However, when he arrives to set with his guitar in hand, Carly realizes he actually isn't talented at all. In that moment, she must decide whether she's willing to allow the hottest guy at school to embarrass himself on her web show.
Though Butler does sing and play the guitar effortlessly in real life these days, the young actor took singing horribly for "iCarly" very seriously. "I look back on the Nickelodeon and Disney shows that I did; even though my skill wasn't there, I still wanted to give the energy [as if] I was going to make 'Raging Bull,'" he explained during an interview with Backstage.
Danifer & James Garrett in Zoey 101
Austin Butler next appeared in the Nickelodeon series "Zoey 101" just as it began to see success. In the 2007 episode at the end of Season 3 titled "Quarantine," he plays Stacey Dillsen's boyfriend, Danifer. Unfortunately, by the end of the episode, he exits the series as her ex-boyfriend. Yet, casting directors wanted Butler to stick around for the fourth season even after waving goodbye to his character. "The funny thing was playing two different roles in the same show," the actor explained on the "WTF with Marc Maron Podcast." "I played one role, this dorky kid [Danifer], and then I sort of started to go through puberty and I came back, and I was Zoey's boyfriend on the show."
Throughout Season 4, Butler portrays Zoey's boyfriend, James Garrett, and the two have a steady relationship throughout a majority of the season. It's during the season finale when James tells Zoey he loves her that she realizes she isn't meant to be with him. After this realization, he doesn't return to the halls of Pacific Coast Academy. Even so, "'Zoey 101' was a big turning point for me," Butler shared on Variety's Awards Circuit podcast. "Because it was the first time I was ever a series regular on a show."
Jordan Gallagher in Ruby & the Rockits
In 2009, Austin Butler had the opportunity to audition for a new ABC Family series called "Ruby & the Rockits." Though he ultimately landed a role in the series alongside "Spy Kids" star Alexa Vega, the young actor was surprisingly hesitant to even pursue the opportunity at first. "When my manager told me about it, I didn't want to go in because I didn't sing, and they wanted me to sing," he explained to Shine On Media.
Clearly, Butler could sing, as he was quickly cast in the role of Jordan Gallagher. As the teenage character, he embarks on all kinds of musical adventures after learning that his father, a famous teen star, has a long-lost daughter named Ruby who also aspires to sing.
Butler starred in the musical comedy series for all 10 episodes before the announcement that the series was being canceled later that year.
Rutger Murdoch in Zeke and Luther
Just as young viewers were getting excited to see Austin Butler on screen in 2009, two specific TV characters were just as excited when he stepped onto their set. That year, the actor booked a one-episode appearance on the Disney XD series "Zeke and Luther," where he plays their TV famous "Adventure Boy" Rutger Murdoch.
In the Season 1 episode, Rutger has just rolled into town to visit a special someone he's been dating. When Zeke and Luther run into him at their local diner, they are stoked to meet their celebrity idol. However, when they realize he's actually there to see the same girl who also happens to be Zeke's longtime crush, their feelings for the famous icon completely change.
Something Butler had to change for the series was his voice. The role of Rutger required a young Butler to perfect his Australian accent, an important skill to learn when it later came to his starring role in the 2022 film "Elvis."
George in Wizards of Waverly Place
After playing all sorts of memorable teen TV heartthrobs over the years, Austin Butler landed yet another television heartthrob role in 2010. For one episode during Season 3, he was cast as Alex Russo's crush, George, on the Disney Channel series "Wizards of Waverly Place." After Alex tries to get George's attention during the entire episode, he eventually asks the young witch to their high school homecoming dance, and she excitedly agrees to go with him.
Even though he only appears in a single episode of the long-running series, Butler got to spend some quality time hanging out with the cast of the show off screen. In fact, during an episode of "Wizards of Waverly Pod," cast member Jennifer Stone, who portrayed Selena Gomez's BFF, Harper, even admitted to having a crush on Butler after hanging out with him while he guest starred on the show.
Stone Stevens in Jonas L.A.
One year after Austin Butler debuted his singing chops on "Ruby & the Rockits," he starred alongside a band of brothers in the Disney Channel series "Jonas L.A." The fictional series follows the Jonas Brothers as they attempt to balance achieving worldwide fame with attending high school.
In the first two episodes of Season 2, Butler portrays a professional surfer named Stone Stevens who crosses paths with the brothers in California. During their first meeting, Stone finds himself smitten with the same girl Nick Jonas likes throughout the entire series. Like most characters whom Butler has been cast alongside, the leading lady quickly falls for him back, creating conflict with Nick's character.
To play the role of a professional surfer, Butler got his body in tip-top shape. Later on in his career, however, the actor was asked to gain weight when preparing to portray Elvis Presley. "I would go get two dozen doughnuts and eat them all. I really started to pack on some pounds," he told Variety in February 2023. "It's fun for a week, and then you feel awful about yourself."
Jones Mager in Life Unexpected
Throughout two seasons, Austin Butler appeared in various episodes of The CW series "Life Unexpected." The show follows a girl named Lux and her experiences growing up in the foster care system. One day, however, she discovers her biological parents and eventually gets herself tangled up with a teenager named Jones Mager, played by Butler.
Over the course of time, Lux and Jones find themselves falling for each other, but not before all sorts of other teenage drama ensues that continues to keep them apart. "You don't know what's going to happen, and there's so much drama, and the crazy relationship things that are all intertwined," Butler explained during an interview with KSiteTV.
Butler's character, Jones, makes his way in and out of Lux's life during 10 episodes of the series before the network canceled it in 2010. Even so, the cast had became incredibly close over the course of the series' two-year run, and starring on the show is an experience Butler will always hold near and dear to his heart. "More than anything else, it's a passion project for me," Butler said at the time. "Because it's such a big family."
James 'Wilke' Wilkerson III in Switched At Birth
In 2011, Austin Butler joined a fictional band when cast in a Freeform drama series called "Switched At Birth." In it, he plays a rebellious teenage musician named James "Wilke" Wilkerson III. Throughout the course of 14 episodes, the character finds himself in and out of all sorts of difficult situations as he battles his looming debt, suspension from school, and scoliosis diagnosis.
Though his character was introduced as a recurring one, Wilke wasn't seen again after the first season after the announcement he would attend a faraway boarding school. When his love interest, Daphne, isn't interested in a long-distance relationship, the character disappears from the series altogether.
Though he may have been sent away, it makes sense why Butler has always found himself playing roles where the leading lady falls for him. "Austin is a charmer! He's so incredibly wholesome, sweet, and a really wonderful person to be around. He lights up a room. And he's so hot! You can't keep your eyes off him," Kate LeClerc, who plays Daphne in the series, gushed during an interview with Seventeen. "'Switched At Birth' does a great job of getting good eye candy."
Luke in Are You There, Chelsea?
Long before Austin Butler ever impersonated Elvis Presley, he was strumming his guitar on the set of the 2012 NBC comedy "Are You There, Chelsea?" In the third episode of the one-season series, Butler guest stars as a young musician named Luke whom Chelsea finds herself bound and determined to get with. Upon realizing he's not a rocker and, instead, the lead singer of a religious band, Chelsea decides she no longer is interested but has the perfect person in mind to set him up with: her roommate, Dee Dee.
In the episode, Butler's character serenades Dee Dee with a ballad he wrote. Being able to pick up a guitar for another onscreen role was something the young actor was especially excited about doing for the Chelsea Handler-inspired series. "I like anything where you can practice and get better at something, so I became obsessed with guitar at a young age," he explained during an interview with Variety. "And I'd play eight hours a day, and my fingers would bleed, and I'd super glue them shut, and I'd keep playing."
Sebastian Kydd in The Carrie Diaries
In 2013, Austin Butler opted to leave Los Angeles to pursue a new series filming in the Big Apple. As Sebastian Kydd in The CW's "The Carrie Diaries," the young actor worked alongside actress AnnaSophia Robb for two seasons to give audiences a glimpse of what Carrie Bradshaw's life was like before "Sex and the City." "It's now fun for me to get to see the story of her growing up and what turned her into the woman she eventually became that everyone fell in love with," Butler shared in a promo.
Working on such a major prequel made an impact on Butler's life. The fact the show filmed in New York City ended up being something special for Butler, whose acting career took a new turn when he discovered the east coast's theater scene. "And it changed my life, because theater wasn't a part of our life out here [in Los Angeles]," he explained on "WTF with Marc Maron."
Five years after working on "The Carrie Diaries," Butler made his Broadway debut alongside Denzel Washington in a play called "The Iceman Cometh."
Chase in Arrow
After years of playing the dreamboat character that teenage girls continually fall for, Austin Butler stepped into the world of superheroes in 2014. That year, he joined Season 3 of The CW series "Arrow," which follows the famous D.C. Comics superhero character Green Arrow.
In the series, Butler portrays a DJ named Chase who is new to town. Though the character only appears in three episodes that season, his true identity as a member of the League of Assassins is quickly uncovered. Chase's ultimate mission when he arrives in town is to kill Thea Queen, and she first catches on that something is askew about him when he opts to poison her wine one night.
While Butler officially waved goodbye to his character during Chase's last episode in 2015, it may not be his last time seen in the D.C. Comics Universe. In 2022, rumors swirled the Internet that Butler may step into the titular role of Green Arrow in a future film adaptation.
Wil Ohmsford in The Shannara Chronicles
In 2016, MTV came calling for Austin Butler in hopes he could save the world in a series called "The Shannara Chronicles." For two seasons, he played a half-human, half-elf character named Wil Ohmsford whose life mission is to stop the demons and protect the small village he calls home.
To prepare for the role, Butler spent hours upon hours working with a personal trainer. "We got to have three weeks of prep where we were doing that, and horseback riding, and sword fighting, and stunt training," he explained during an interview with TV Equals. Funny enough, while in talks to star in the fantastical series, Butler had no knowledge of the book-turned-television series beforehand. In fact, it was his dentist who convinced him to sign onto the project. "He goes, 'I read those in second grade!' And he was so excited," Butler gushed.
"The Shannara Chronicles" ended up moving to Spike TV for its second season before the network announced its official cancelation in 2017.