Was Princess Diana Close With Her Sister, Sarah Spencer?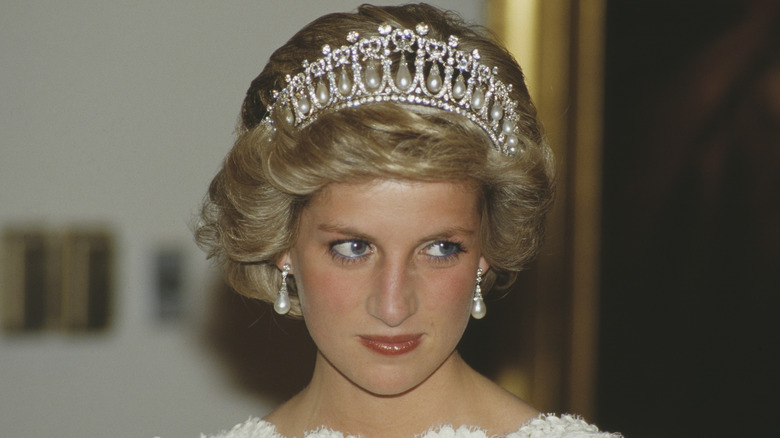 Princess Diana Archive/Getty Images
Princess Diana's life was cut short when she died in a car crash in a Paris tunnel in 1997 at 36. Diana had been waging war against the royal family for years at the time of her passing — causing irreparably fractured relations. But what about her siblings? Was Diana close to her sisters, Sarah Spencer, AKA Lady Sarah McCorquodale?
When you look at all the ways Diana was betrayed, it's incredible she trusted anybody. As Vogue reports, even her own family was deceived. Martin Bashir, the former BBC journalist who hosted Diana's infamous 1995 "there were three of us in the marriage" interview, tricked her brother into orchestrating the sit-down — adding further to the Spencers' mistrust of the British press.
Still, as the interview revealed, Diana and King Charles III were doomed from the start. The third wheel Diana talked about was, of course, Queen Camilla, who married Charles in April 2006, according to Town & Country. Charles had fallen madly in love with Camilla in his 20s. But, she was deemed unsuitable wife material by his family back then. The Independent reports that a heartbroken Charles went on to briefly date Diana's older sister, Sarah, in 1977 before it quickly fizzled out. However, it was through Sarah that Charles met Diana. "I introduced them," she once revealed. "I'm Cupid." So, was Princess Diana close with her sister, Sarah Spencer?
Big sis hero-worship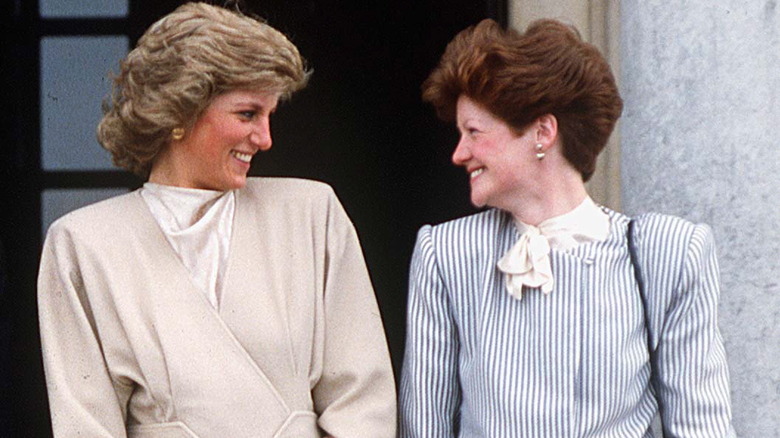 Tim Graham/Getty Images
The sad story of Princess Diana began years before she walked down the aisle with the man she believed to be her Prince Charming. Diana experienced a tortured childhood that foreshadowed her own marital turmoil. In an ironic twist, her mother was obsessed with another man, Peter Shand Kydd, and she left her husband and three children to marry him when Diana was 5.
"She was in love with someone else — infatuated, really," Charles Spencer, 9th Earl of Spencer, told The Sunday Times. "While she was packing her stuff to leave, she promised Diana she'd come back to see her. Diana used to wait on the doorstep for her, but she never came." The siblings were devastated. They turned to each other for comfort, and over the years, Diana became particularly close to her sister, Sarah Spencer.
The author Andrew Morton claims in his biography "Diana: Her True Story" that she respected her sister Jane Spencer but hero-worshipped Sarah, who was six years her senior. "When Sarah returned home from West Heath School, Diana was a willing servant," he wrote. "Unpacking her suitcases, running her bath, tidying her room." According to Morton, Diana continued her servant duties after moving to London and sharing an apartment with Sarah and her friend Lucinda Craig Harvey. However, per Marie Claire, the tables were turned later in life when Sarah became her little sister's lady-in-waiting — and the relationship between the two grew even stronger.
Bond of trust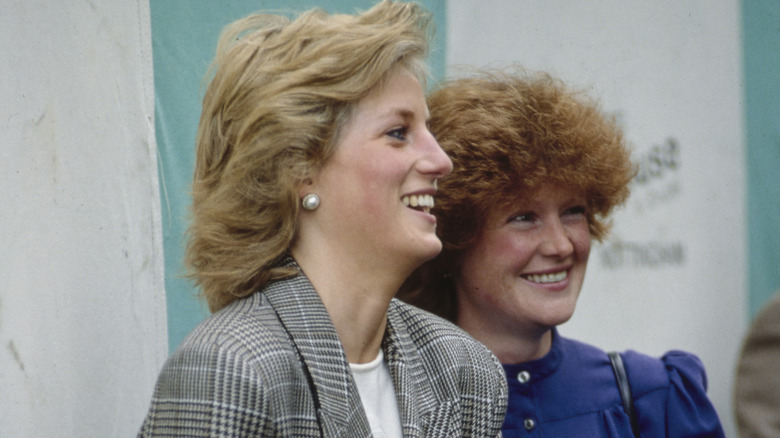 Tim Graham/Getty Images
According to author Judy Wade, who wrote numerous biographies about Princess Diana, her sister Sarah Spencer was her closest confidant. Sarah encouraged Diana to let her hair down and enjoy life. "I think Sarah knew about Diana's affairs," Wade told People. "In a way, she even encouraged Diana to be wild and to have lovers." As Diana became more paranoid of those around her — often with good reason — she leaned more on her sister Sarah, once calling her "the only person I know I can trust."
Sarah was there for Diana up until the end — and beyond. She traveled to France with King Charles to return her sister's body following Diana's tragic death. Sarah eulogized Diana at her Westminster Abbey funeral by reading "Turn Again to Life" by Mary Lee Hall. "If I should die and leave you here a while, be not like others sore undone, who keep long vigil by the silent dust," the poem reads. "For my sake, turn again to life and smile, nerving thy heart and trembling hand to do something to comfort other hearts than mine."
Sarah later became the co-executor of Diana's will and headed up the Diana Princess of Wales Memorial Fund. Harpers Bazaar reports that Sarah has maintained a close relationship with Diana's sons, William, Prince of Wales, and Harry, Duke of Sussex. She attended both of their weddings and the christening of Harry and Meghan, Duchess of Sussex's son, Archie Mountbatten-Windsor.