Neil Young Confirms Marriage To Actress Daryl Hannah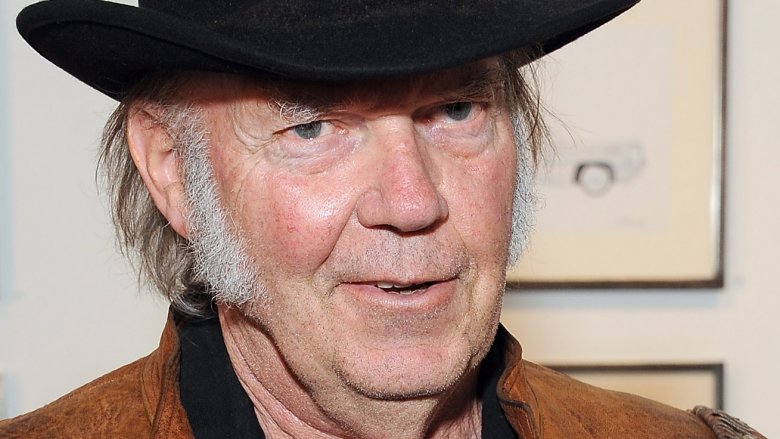 Getty Images
Singer-songwriter Neil Young has finally confirmed his marriage to actress Daryl Hannah — about three months after the celebrity couple tied the knot!
On Wednesday, Oct. 31, 2018, Young took to his website to share a politically charged message along with the new music video for his song "Ohio," as reported by Radar Online. And, while stressing the importance of gun control laws in the United States, Young referred to Hannah as his "wife."
"'Ohio' was written back in 1970 after seeing the cover of a magazine with a young girl kneeling beside her fallen friend," Young reportedly began the post on his website. "When the National Guard murdered four students at Ohio's Kent State University for protesting the Vietnam War, it was a pivotal moment in our history. It was a pivotal moment for me."
Noting that there are no "real laws" protecting citizens from mass shootings, he advocated for stricter policies. "Today's students are brave, demanding change in violent times," Young stated. "We stand with them. They are us. We are them. This has been going on for far too long. My wife Daryl and I put this video together for you to reflect on."
As noted by Business Insider, as of Oct. 29, there have been 297 mass shootings in America in 2018 alone— with one of the most recent ones being the attack at the Tree of Life synagogue in Pittsburgh, Penn. on Oct. 27, which claimed the lives of 11 people.
"Give us common sense gun laws that protect our people, in schools, in places of worship, in the workplace and on the streets. VOTE," Young urged in his post, as noted by NBC News.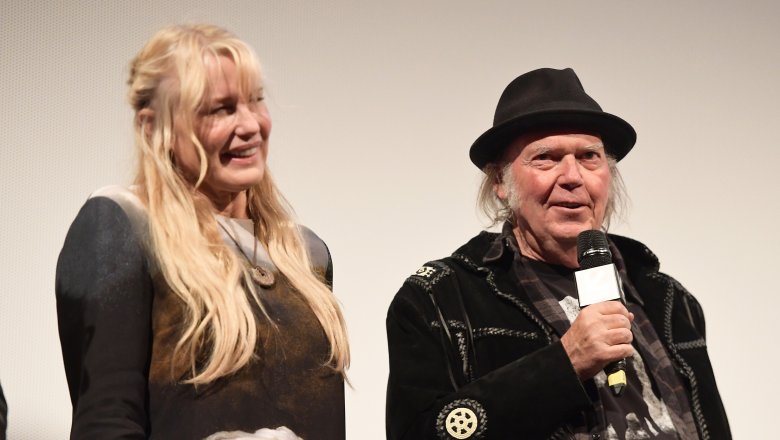 Getty Images
Young and Hannah were thought to have gotten married back in late July 2018. According to People magazine, the two celebs, who boast a 15-year age gap between them, had a "small, intimate gathering" on Young's 1913 vintage boat, the W.N. Ragland, in Washington State. But that wasn't the only wedding Young and Hannah reportedly had.
Page Six reported that Young, 72, and Hannah, 57, also had a private ceremony near San Luis Obispo, Calif. in late August 2018, with about 100 guests in attendance, including singers Joni Mitchell and Stephen Stills. There was reportedly a "no photos" rule in effect at the wedding, as a wedding planner allegedly told guests to leave phones and cameras at their hotels.
As a wedding favor, people were reportedly given heart-shaped lockets with photos of the singer and the Kill Bill actress inside.
Neither Young nor Hannah immediately commented on their wedding after they tied the knot, and, until Young called Hannah his wife on his Oct. 31 post, it hadn't been officially confirmed that they'd indeed wed.
However, while the stars had kept their nuptials private, Hannah had appeared to indicate that something had gone down after her August wedding. Posting a photo of an owl on Instagram, she wrote, "Someone's watching over us.... love & only love."
Neil Young and Daryl Hannah reportedly met in 2014 and bonded over their shared passion for activism, leading a march against the Keystone XL pipeline that April in Washington, D.C. "Neil's biggest passion in life is the environment. Daryl is the exact same," a source told People about the pair.
Young and Hannah later went public with their romance after he divorced his wife of 36 years and mother of his two children, Peggi (via USA Today). Regarding the negative press they received, which included some nasty words said about them by his friend and singer David Crosby, Young told Yahoo! Entertainment, "We didn't pay any attention to that."
He continued, "It doesn't matter. We don't give a s**t. We don't care, because they don't know what they're talking about. And if they do know what they're talking about, we still don't care, but we're happy for them. It doesn't matter. What matters is us, not the press."
Dismissing Crosby's negativity (Crosby had called Hannah a "purely poisonous predator"), Young said, "[Daryl is] a wonderful human being, and I'm very lucky to know her."
Before her wedding to Young, Hannah had never been married. However, she was in notable relationships with "Somebody's Baby" singer Jackson Browne and John F. Kennedy, Jr. (via USA Today).