Jersey Shore: Is Angelina Pivarnick Still Engaged To Vinny Tortorella?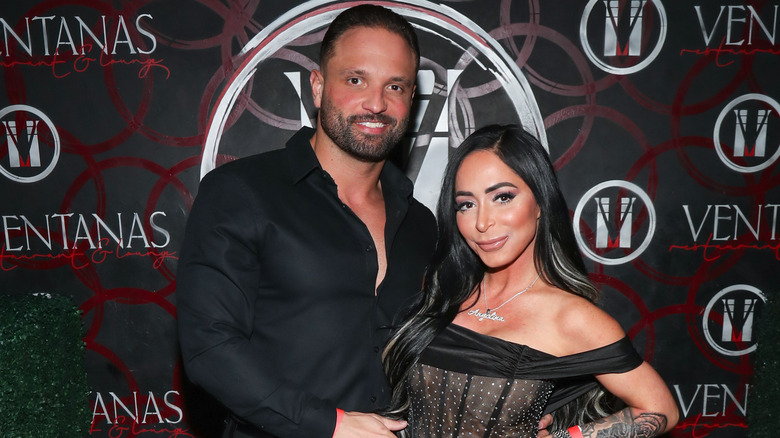 Manny Carabel/Getty Images
Fans are convinced that "Jersey Shore" star Angelina Pivarnick and her fiance, Vinny Tortorella, have ended their engagement after she called the police on him in early August. According to Page Six, police responded to a 911 call and showed up at Pivarnick's home in Freehold, New Jersey. "I can confirm that Angelina did in fact call the police to her home. After speaking with the officers, Angelina decided not to file charges," read a statement that Pivarnick's attorney, James Leonard Jr., gave to Page Six. "This matter is now closed. Moving forward, Angelina would ask for privacy as it pertains to her personal life," the statement concluded. Further details about what happened weren't made available, though the outlet confirmed that it was related to domestic violence.
Pivarnick and Tortorella got engaged while MTV cameras were filming, per People magazine. The proposal aired on an episode of "Jersey Shore: Family Vacation" in April. Tortorella got down on one knee while out at a restaurant with Pivarnick and the rest of the cast. Within three months' time, however, the relationship between Pivarnick and Tortorella has seemingly soured. Although Pivarnick hasn't revealed whether or not she is still engaged to Tororella, she has dropped a couple of major clues that the relationship has run its course.
Angelina Pivarnick has deleted Vinny Tortorella from her Instagram feed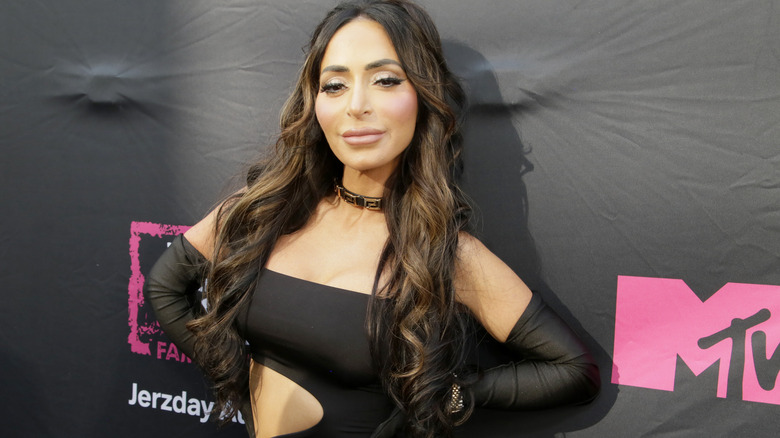 Santiago Felipe/Getty Images
Although Angelina Pivarnick hasn't confirmed or denied whether or not she's still with Vinny Tortorella, her social media activity suggests that the two are indeed over. For starters, a quick peek at Pivarnick's Instagram feed and fans will notice that she's gotten rid of any and all photos of Tortorella. In addition, she hasn't shared anything about her relationship in the time since the apparent altercation with Tortorella, but her engagement ring appears to be absent from the posts that she has shared in the time since, including an Instagram video that she uploaded on August 16. 
On August 11, just days after she placed that 911 call, Pivarnick took to Instagram to share a selfie in which no engagement ring was present. Moreover, her caption seems to imply that she's single once more. "As long as God has me I am going to be okay. Seeing the sun shine on my hair and face while I looked out the window I asked God for a sign and he did," she wrote. Pivarnick didn't say anything about Tortorello specifically, but, as evidenced by the comments section of the post, most fans seem to think that this was the reality star's way of confirming that she and Tortorella are no more. However, his attorney's comment suggests the very opposite.
Vinny Tortorella's attorney denies a split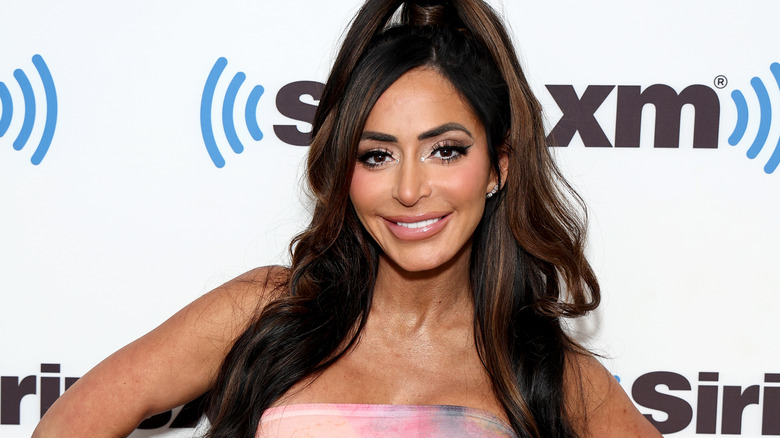 Jamie Mccarthy/Getty Images
In Page Six's August 9 report, an attorney for Vinny Tortorella claimed that the engagement was still on. "My client and Ms. Pivarnick are still engaged and are still residing together. Mr. Tortorella denies any act of impropriety that would warrant police involvement and denies any act of domestic violence occurred," attorney Elizabeth Rozin-Golinder told the outlet. Of course, not wearing your engagement ring and deleting your significant other from social media implies the exact opposite, but who knows? And, to make things even more complicated, an unnamed source told Page Six that Angelina Pivarnick and Tortorella are not only "still very much in love," but that they have been filming together for the next season of "Jersey Shore: Family Vacation."
Neither Pivarnick or Tortorella have released their own statements about what happened between them or where they stand, and without Tortorella being active on social media (per HollywoodLife), fans are left to pick apart one-sided clues from Pivarnick's online activity, which has been cryptic but definitely not straightforward. If Pivarnick and Tortorella have split, this will be the second major breakup for the reality television star in a little more than a year and a half. She was previously married to Chris Larangeira, but the two divorced in February 2022, just months before she met Tortorella. In fact, Tortorella proposed to Pivarnick one day after her divorce party, according to Entertainment Tonight.
It seems like fans will have to wait a bit longer to see how this all plays out.