Prince Harry Takes Gorgeous Photo Of Pregnant Wife Meghan Markle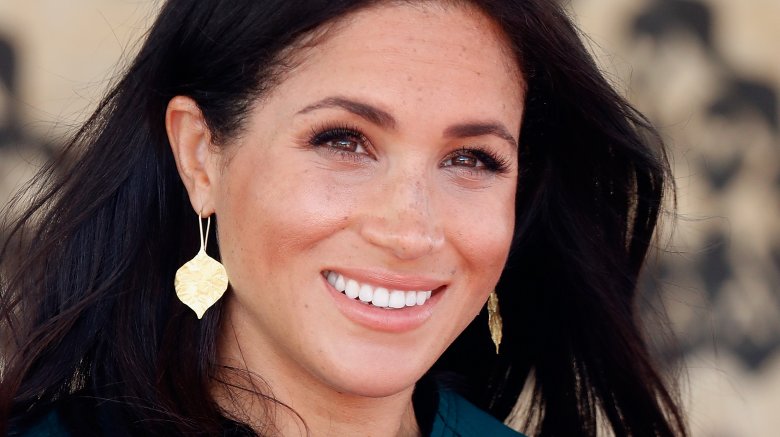 Getty Images
Prince Harry has proven himself to be a decent photographer ... and his wife, Meghan Markle, to be one heck of a model.
On Thursday, Nov. 1, 2018, Kensington Palace shared a photo on Instagram of the Duchess of Sussex holding her growing baby bump while standing beside an enormous Redwood tree. The Hollywood Gossip reported that the picture was taken at the Redwoods Treewalk in Rotorua, New Zealand. According to the post's caption, Harry took the photo himself, as "The Duke of Sussex" was credited next to a camera emoji.
ABC News reported that the photo was taken on the last day of Harry and Meghan's 16-day tour of the countries Australia, Fiji, Tonga, and New Zealand.
Besides a photography credit, the Instagram post's caption also provided a message from Harry and Meghan. "Thank you New Zealand for the most wonderful last week of our tour. It has been a privilege to meet so many friendly Kiwis," they said in a sweet statement. "Australia, Fiji, Tonga and NZ — we leave feeling inspired and reminded of how every single one of us can make a difference."
Beneath their message was a quote by New Zealand's famous suffragette Kate Sheppard: "The rain that refreshes the parched ground, is made up of single drops."
As noted by ABC News, New Zealand was the first country to allow women to vote. At an event celebrating the 125th anniversary of women's suffrage in the nation, Meghan gave a speech on the 14th day of her and Harry's tour. "The achievements of the women of New Zealand, who campaigned for their right to vote and were the first in the world to achieve it, are universally admired," she stated.
"Suffrage is not simply about the right to vote, but also about what that represents," she continued. "The basic and fundamental human right of being able to participate in the choices for your future and that of your community."
Instagram
In the Instagram photo shared by Kensington Palace, it'd appear that Harry and Meghan had a moment alone while walking through the forest in New Zealand. But just how were they able to have some time to themselves without their security detail present? Well, according to reporter Omid Scobie, who was with the royal couple on this excursion, Harry and Meghan simply walked ahead to reserve some time for just themselves.
"At the end of our last tour engagement, Harry and Meghan walked ahead of their team, security and myself (who was the pool reporter)," Scobie told HELLO! magazine. "We were in the beautiful Whakarewarewa Forest and they wanted a moment to themselves. This photo, taken by Harry, was the result of that moment."
And while Harry could likely get his hands on any photography equipment he could ever want, he reportedly used his iPhone to take the beautiful photo of Meghan.
Though it's not exactly common for members of the royal family to share their own photos on social media, it has been done before. Just days before Kensington Palace shared Harry's stunning photo of Meghan, the palace posted a black-and-white picture of Harry speaking on stage at the 2018 Invictus Games in Sydney, Australia — taken by none other than Meghan, as noted in the caption.
Hopefully this means that we can expect more photos taken by the royals themselves on Kensington Palace's social media accounts — especially since Meghan and Harry have a little one on the way.
Before embarking on their four-country tour, Harry and Meghan, who married in May 2018, announced to the world that they were expecting their first child. "Their Royal Highnesses have appreciated all of the support they have received from people around the world since their wedding in May and are delighted to be able to share this happy news with the public," read a statement from Kensington Palace at the time.
Their baby is reportedly due in the spring of 2019. No matter if they have a boy or a girl, their child will take Prince Andrew's place as seventh in the line of succession for the British throne.
With Harry and Meghan both clearly interested in sharing bits and pieces of their lives with the public, maybe we'll be able to see some baby pictures taken by them in the future!