Does Days Of Our Lives Star Deidre Hall Really Have A Twin?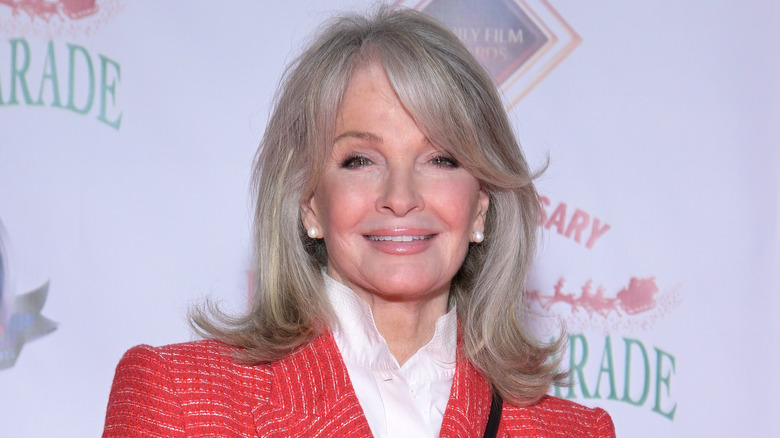 Michael Tullberg/Getty Images
After over 5,000 episodes of "Days of Our Lives," Deidre Hall has become the queen of soap tropes. But while she's covered well-tread storylines such as being comatose and suffering from amnesia, her loyal fans love her all the more for her wholehearted embrace of the truly outlandish, whether it's Dr. Marlena Evans' famous satanic possessions or the sudden appearance of her long-lost twin. Speaking of the latter, Deidre told Slice there's a reason you don't see many evil twins on daytime television. "We did the first twin storyline. I myself did it! In soaps, it's not possible to do [doppelgängers] without a lot of trick photography and there's no time for that," she explained.
When "DOOL" pulled off the feat, it did so in spectacular fashion. After Marlena's scheming twin Samantha showed up in Salem in a 1977 episode, she wreaked havoc by plotting to get Marlena institutionalized. Viewers later watched Samantha's storyline come to an end with her murder at the hands of the Salem Strangler. 
However, fans were initially furious and dismayed by what they saw. They believed that their beloved Marlena had been killed off when, in fact, the serial killer had mistaken poor Samantha for her twin. While this meant that Deidre still had a job, the death still disappointed her — because it resulted in the star's real-life identical twin sister, Andrea Hall-Gengler, becoming unemployed.
Andrea Hall-Gengler had dual DOOL roles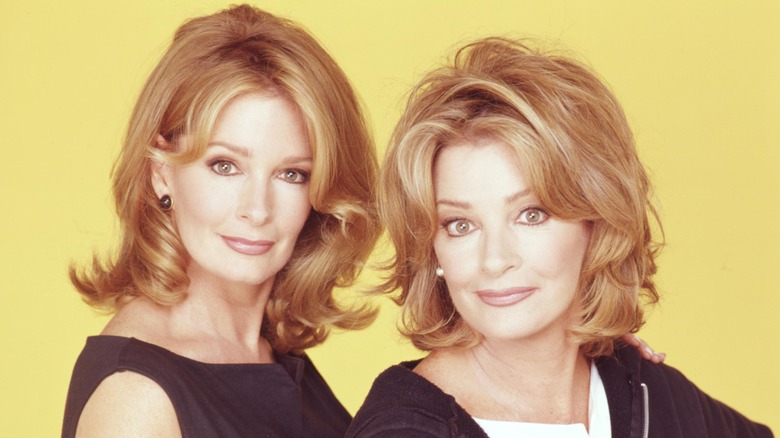 Getty Images/Getty Images
While the death deception allowed Deidre Hall to learn just how much her fans adored her, she told The TV Watercooler, "That was my sister whose character they killed off! I was not happy about that. So, it was upsetting." Worse yet, Deidre's twin, Andrea Hall-Gengler, had given up her job as a special education teacher to play Samantha.
Deidre told People that she actually came up with the twin idea herself, saying that she requested it when late "Days of Our Lives" head writer Ann Marcus asked her if there were any particular plotlines she was interested in exploring. It became Deidre's favorite "DOOL" storyline.
Deidre was stunned when her twin — who had no prior acting experience — was able to cry on cue like a seasoned pro for one scene. "I said, 'That was spectacular. How did you do that?' And she said, 'Well, I don't know. I've watched you do it for years. How hard could it be?'" recalled Deidre. Andrea did so well that she was asked to return to the show in 2000. But instead of Samantha being resurrected from the dead, Andrea played a new character named Hattie Adams. Hattie bore a striking resemblance to Marlena, even more so after undergoing plastic surgery. Speaking to "Brief Take," Andrea said of her twin's other role, "As a special education teacher, she's vibrant, and she's fun, and she's effusive, and she's physical, and that what's she brought to Hattie," 
The twins are both talented artists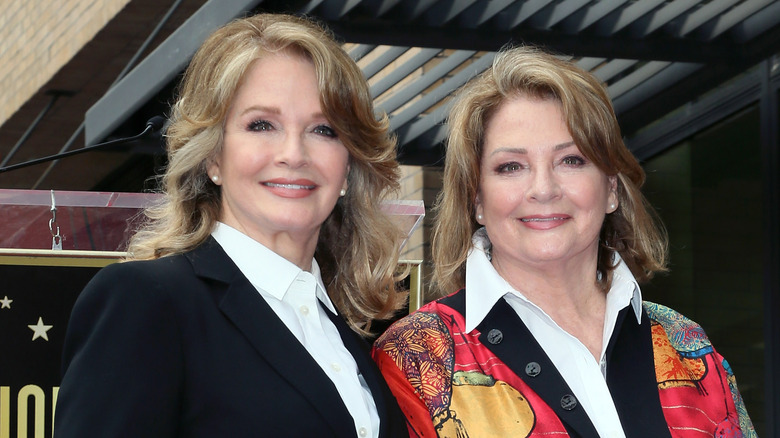 David Livingston/Getty Images
While Deidre Hall loved working with her sister, Andrea Hall ultimately decided that she preferred teaching over life in the spotlight. But Hattie Adams lived on through Deidre, who happily assumed the role. "Hattie was a character that I loved, loved doing. I would do her five shows a week," Deidre told "Brief Take."
Almost two decades after Andrea played Hattie for the last time, she and her twin found a different way to work together. In 2020, the sisters spent a few months together during lockdown and decided to pass the time by doing some watercolor painting. "We said, 'Wait a minute. July 4th is coming up. Why don't we make a set of July 4th cards and make them available to the fans?'" Deidre recalled to Soap Digest. Their cards featured depictions of Old Glory, and they decided to market them as The Westbrook Collection. "During our summer vacations as kids, we would drive up to Westbrook, Connecticut," Deidre explained. "It was just a magical, magical time and it has magical memories for Annie and me." The sisters later added other themed sets to the collection, including cards with summer scenes, animal portraits, and holiday imagery.
As for the possibility of the twins reuniting on the small screen someday, it's something Deidre would like to see happen. Her idea is for "DOOL" to use the long-lost sibling plot device again. "Maybe we were triples," she told The TV Watercooler.