The Letter JFK Wrote To His Lover A Month Before He Died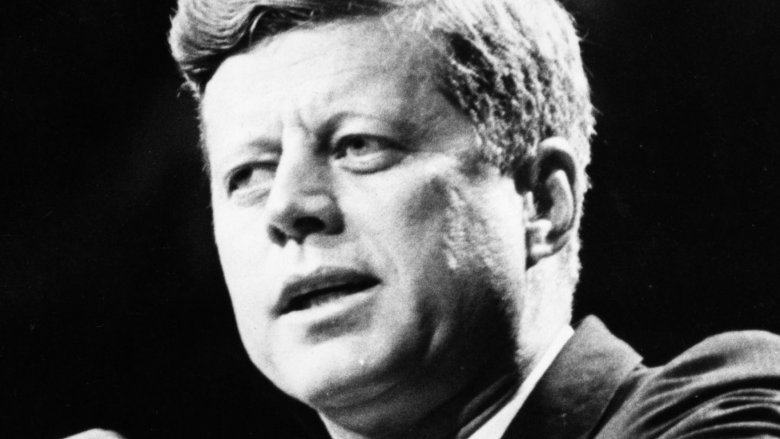 Getty Images
As we approach the 55th anniversary of late President John F. Kennedy's assassination, reports of an unsent love letter allegedly written to one of his lovers have resurfaced.
According to the Irish Central, in an article published on Thursday, Nov. 1, 2018, the 35th President of the United States reportedly had an affair with family friend and artist Mary Pinchot Meyer shortly before his untimely death, which occurred near the end of his first term in office.
Readers will most likely already be aware that JFK was assassinated on Nov. 22, 1963, while riding in a motorcade with his beloved wife, First Lady Jackie Kennedy, in Dallas, Texas. He was just 46 years old. The love letter in question was believed to have been written to Pinchot Meyer on official White House stationary in October 1963 — just one month before JFK died. 
"Why don't you leave suburbia for once — come and see me — either here — or at the Cape next week or in Boston the 19th," it read. "I know it is unwise, irrational, and that you may hate it — on the other hand, you may not — and I will love it. You say that it is good for me not to get what I want. After all of these years — you should give me a more loving answer than that. Why don't you just say yes."
The Boston, Mass-based organization  R.R. Auction put the letter up for auction in June 2016. As Executive Vice President Robert Livingston told The New York Times at the time, it's unclear whether JFK and Meyer actually did meet up on Oct. 19, 1963. However, he said, "It's something you wouldn't expect to see from a president. And the fact that he didn't send it, obviously he came to his senses."
That said, the alleged pairing had been seen in public together, and were even filmed together in rare archival footage said to be taken in late September of that year. Pinchot Meyer is reportedly the woman sporting sunglasses and standing behind the late president.
Of course, reports of JFK's alleged extramarital affairs have been heavily documented for decades. As Nicki Swift previously reported, the former president is notorious for having been romantically linked with several women during his marriage and presidency, notably including his wife's secretary, Pamela Turnure, the supposedly mob-connected Judith Campbell Exner, Swedish socialite Gunilla von Post, stripper Blaze Starr, actress Marlene Dietrich, and multiple White House interns. But JFK's most infamous alleged romance was with pop culture icon Marilyn Monroe, who famously serenaded him with her performance of "Happy Birthday, Mr. President" in 1962.
However, Kennedy's alleged romance with Pinchot Meyer apparently took on greater significance following her own untimely passing less than a year after the former president's death. At least, it did in the eyes of the government and the CIA. "This was a dangerous relationship, Jack was in love with Mary Meyer," journalist Charles Bartlett once stated (via the Irish Central). "He was heavily smitten. He was very frank with me about it."
Pinchot Meyer was shot on Oct. 13, 1964, while on a walk near a canal in the Georgetown area of Washington, D.C. While a man named Raymond Crump Jr. was arrested in connection to her murder, he was later found not guilty. Pinchot Meyer, whose death has since remained a mystery, apparently documented her reported affair with JFK in her diary, which was later found and kept in secret by her brother-in-law, former Executive Editor of The Washington Post Benjamin C. Bradlee, shortly after she died. However, according to the Irish Central, the CIA apparently later destroyed the book in question.
For her part, Jackie Kennedy Onassis wasn't exactly immune to stirring up her own scandals, particularly following JFK's assassination. According to the Daily Mail, Jackie O reportedly began an intimate relationship with her late husband's younger brother Bobby, which allegedly lasted until RFK himself was assassinated in 1968. In addition to being secretly romantically linked with a number of famous men throughout her marriage with JFK — most notably including the likes of Warren Beatty, Paul Newman, Gregory Peck, Frank Sinatra, and Marlon Brando — her second marriage to shipping magnate Aristotle Onassis was reportedly an open relationship until his passing in 1975.