The Wild Affair Rumors Involving Madonna And Charles Barkley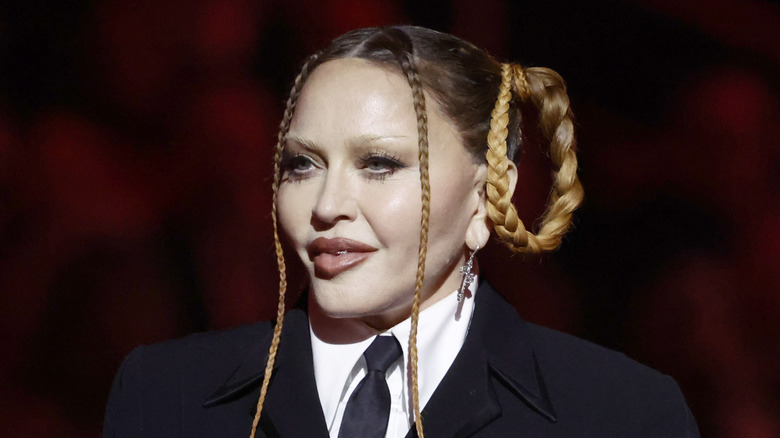 Frazer Harrison/Getty Images
Before Madonna was romantically linked to Dennis Rodman, rumors swirled about the singer possibly having a tryst with Charles Barkley in the early '90s. This was somewhat controversial as Barkley tied the knot with his wife, Maureen Blumhardt, in 1989. In 2022, the former Phoenix Suns star spoke about the couple's enduring marriage. "Well, number one, I'm gone a lot. That always helps," Barkley said on "The Volume" podcast. "I think the main reason is she accepts my flaws and all," he said of his wife.
The couple hit a reported rough patch in 1993, which coincided with rumors that the NBA All-Star was dating Madonna. That year, the "Vogue" singer gushed over Barkley during a joint interview with her "A League of Their Own" co-star Rosie O'Donnell for Mademoiselle Magazine when the two were asked who they would rather have a child with, Denzel Washington, Damon Wayans, or Charles Barkley. Madonna did not mince words. "Charles Barkley is God," she said (via GQ). "I think Charles is probably married. See, all the good ones are taken ... but that doesn't mean they can't father your children!" 
Later that year, Barkley went on a double date of sorts with Arsenio Hall, Madonna, and O'Donnell. "Then we went to a Laker game where Charles Barkley was Madonna's date and I was Rosie's date," Hall recalled to VladTV in 2014. That double date sparked the flames for a rumored Madonna-Barkley romance.
The Madonna dating rumors affected Charles Barkley's family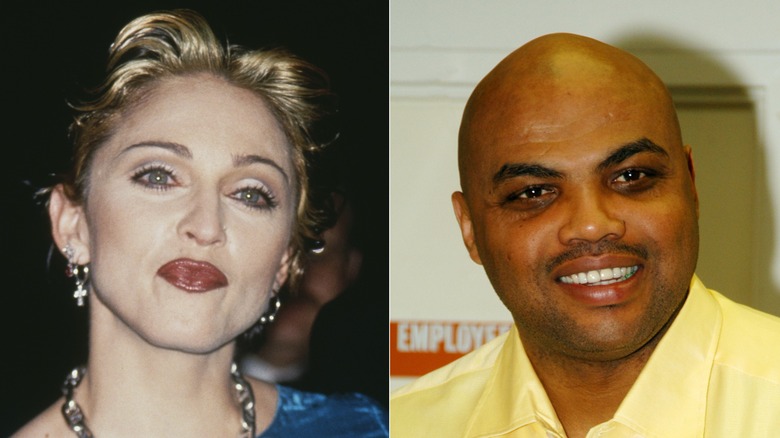 Michael Ochs Archives/Getty & Carley Margolis/Getty Images
After Madonna hung out with Charles Barkley in 1993, tabloids ran with the story that the two were dating. "She's awfully short. He's awfully married," Philadelphia Daily News writer, Ann Gerhart, wrote in her gossip column "Tattler" at the time. Gerhart even added insights into the potential couple's bedroom activities.
The purported liaison between Madonna and Barkley had consequences on the NBA player's family, as he implied that the salacious press coverage led to his wife Maureen Blumhardt's mother having a heart attack. "She [his mother-in-law] has had a lot of stress from the jokes about me and Madonna [dating] and has been harassed with people [media] calling the house," Barkley told the Chicago Tribune in 1993. Barkley maintained that there was no romance between him and the pop star. "I only met her [Madonna] one time when she was in Phoenix. We don't date. We don't have a relationship," he said. "When my wife goes out, they play Madonna songs, they're calling my in-laws," Barkley added. This took place while Barkley and the Phoenix Suns were playing Michael Jordan's Chicago Bulls in the 1993 NBA Finals.
Years later, rumors of the Madonna-Barkley romance still circulated. While recapping Madonna's past romances, the Daily Record wrote in 1998 that Barkley broke off their reported romance. "I ain't interested in the girl. We met, had some fun, and that's it," he supposedly told friends. Both Madonna and Barkley would discuss their rumored affair in interviews.
Charles Barkley sets the record straight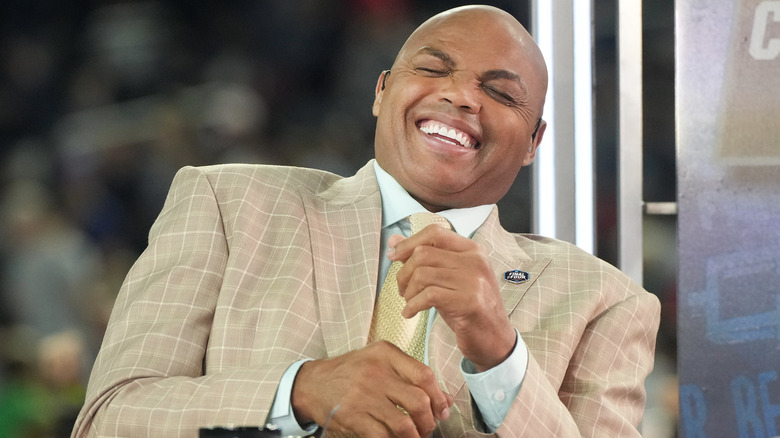 Mitchell Layton/Getty Images
A year after the rumored romance, Madonna appeared on "The Late Show with David Letterman" where she was asked about her relationship with Charles Barkley. "So now let's talk about your interest in the NBA. You go to a lot of games. You were friends with Charles Barkley," David Letterman asked Madonna — during one of her more infamous appearances on the show. "I wouldn't go that far," she responded. "You weren't friends with Charles Barkley?" Letterman followed up. "I don't think he understands the meaning of friendship," Madonna replied. The host tried to change the topic and asked the "Take a Bow" singer if getting her nose pierced hurt. "I thought you were gonna continue the Charles Barkley line of questioning," Madonna said, as sexual innuendo, although she did not offer details about her relationship with Barkley. 
Nearly three decades later, in November 2022, GQ did some digging on the rumored fling between Madonna and Barkley. The outlet spoke to chef Tony Hamati, who ran Barkley's favorite restaurant in 1993 and was introduced to Madonna through the NBA All-star. The following month, Barkley confirmed the dinner with Madonna took place, but that was as far as their relationship went. "I have met Madonna one time in my life," he said, appearing on "The Dan Patrick Show" in December 2022. "We had dinner one time because a friend of mine, Arsenio Hall, said, 'Hey, Madonna's in town,'" Barkley added that the pop star was "an awesome lady."