The Medical Diagnosis That Changed Jennie Garth's Daughter Lola's Life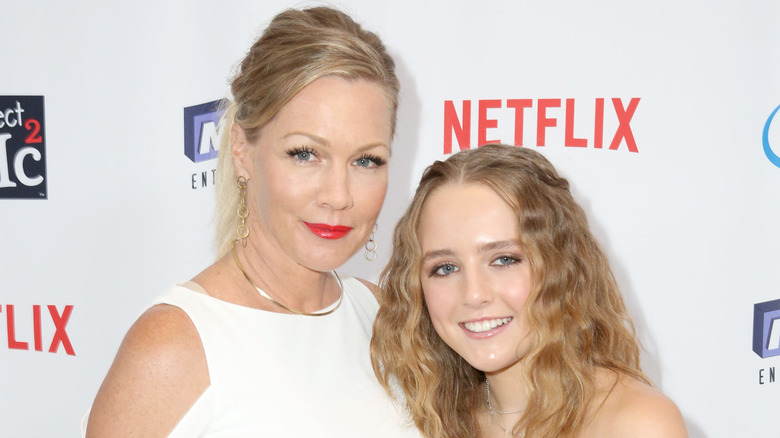 Rachel Murray/Getty Images
Jennie Garth was portraying teenager Kelly Taylor in the original cult classic TV show "Beverly Hills, 90210" when she became a mom at the age of 25. The actor had her first child, Luca Bella, in 1997 and, in time, she and ex-husband Peter Facinelli would add to their brood. Lola Ray was born in 2002, and Fiona Eve made her appearance in 2006. The star revealed that she had a close relationship with her daughters but also shared that parenting was hard work. 
Garth then told People that days prior to the interview she had to put Lola Ray in four timeouts. The reason for the timeouts? "She kept hitting," Garth explained. She added, "I don't spank, though sometimes I think these timeouts aren't working." Many years later, and it seems as if Garth's "consistency and not making idle threats" have paid off. On her 20th birthday, Garth posted a tribute to Lola, saying, "Made of a gentle light, quiet grace, and the kindest soul, you are such a gift to your family, your friends, and this world ... The days of just being together, holding hands, and walking quietly with you are my most cherished." And amid all the parenting, long walks, and growing up years, Lola Ray faced her own health challenges.       
5-year-old Lola Ray Facinelli was diagnosed with JRA
Lola Ray Facinelli was diagnosed with juvenile rheumatoid arthritis (JRA) when she was just five years old. The condition affects the joints of children under the age of 16, Her parents, Jennie Garth and "Twilight" star Peter Facinelli initially didn't realize that her aching knees, fingers, and elbows were symptoms of a serious condition. Lola also tired quickly and wanted her parents to carry her around, but Garth and Peter ascribed her body cues to growing pains. However, when she started to get recurrent high fevers and a widespread rash, they sought medical help. Lola's blood tests indicated were atypical, indicating that something was going on with her. But, after nine days of tests, Lola still had not officially been diagnosed. It was only after Peter and Garth started their own research that they got any answers.
In 2008, Garth spoke to WebMD and said, "We brought her to an incredible specialist at UCLA hospital, who then treated her for 'Still's disease,' a rare form of JRA ... She responded well to the treatment and is now in remission... My husband and I have never been more thankful to God, that we were able to get her through this and that she is back to her old self, running and playing." Thanks to her parents' persistence, Lola received the correct medical intervention. Garth shared more of Lola's story in 2022, and told People, "It was definitely a hard time for our whole family." 
Lola Ray Facinelli's recovery from JRA
"What I Like About You" star Jennie Garth spoke to People about her osteoarthritis diagnosis at the age of 45. She was the second person in her immediate family to be diagnosed with an arthritic condition. Lola Ray Facinelli had been a preschooler when she was first treated for a rare type of arthritis called Still's disease. Garth shared, "Seeing my daughter suffer was one of the hardest things I ever had to go through." However, it seems as if Facinelli's treatment was successful and she is no longer in the same type of pain that put her in the hospital as a young child. Garth added, "She's doing great now! She's off at college with no signs whatsoever of any recurrence of her symptoms." 
The actor also spoke about Lola's condition to Fox News Digital and shared that people can continue to have symptoms of Still's disease throughout their life, or it could go into remission. However, it seems as if Lola no longer has the condition. Garth confirmed the fact that her daughter, who is now in her 20s, is doing well. "Time will tell with her. Right now, there are no signs of any kind of inflammation or flare-ups for her. And we're just thinking the best in thinking that that was something that happened and it's no longer an issue," she said.