Terry Funk, WWE Icon, Dead At 79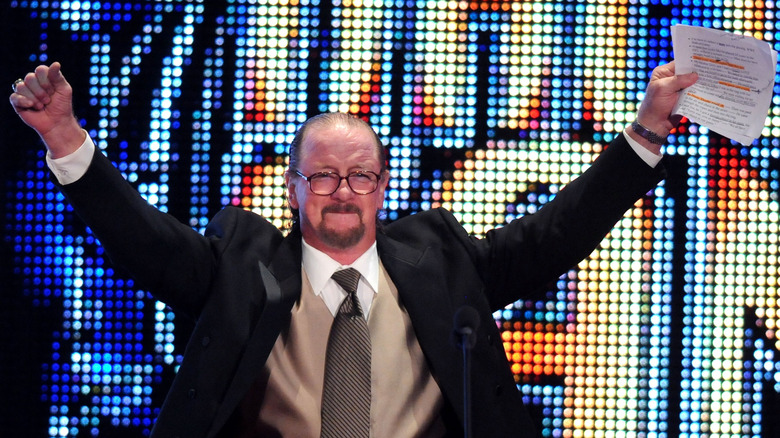 George Napolitano/Getty Images
The WWE world is left heartbroken following the news of legendary wrestler Terry Funk's death at age 79. Wrestling News confirmed the Texan's death on August 23 following a statement from WWE's Ric Flair on Twitter. "In My Entire Life, I've Never Met A Guy Who Worked Harder," Flair wrote. "Terry Funk Was A Great Wrestler, Entertainer, Unbelievably Fearless, And A Great Friend! Rest In Peace My Friend Terry Funk Knowing That No One Will Ever Replace You In The World Of Professional Wrestling!" 
Per Bleacher Report, the WWE Hall of Famer came from a family of wrestlers. His dad was Dory Funk, and his brother, Dory Funk Jr. Terry and his sibling started out their careers under the tutelage of their famous father and fought in the National Wrestling Alliance for 15-20 years before moving on to the WWE. 
Terry made a major impact on the sports world. In 1975 he beat Jack Brisco to become the NWA World Champion. He went on to fight in the WWF before entering the world of Extreme Championship Wrestling. Over the following decades, he fought in the ECW, WCW, and the Ring Of Honor before retiring in 2009. Terry's fans and fellow wrestling luminaries flocked to Twitter to share their condolences. 
Terry Funk was an inspirational innovator and winner
The tragic death of wrestler Terry Funk will leave a gaping hole in the hearts of fighters and fans alike. At the time of posting, the WWE star's cause of death has not been revealed. However, Wrestling News reports that Terry had been battling dementia for several years before his passing.
Per Fox 2 News, Terry was born in Hammond, Indiana, in June 1944. He first hit the ring when he was 22, taking on Sputnik Monroe in Amarillo, Texas. Terry went on to enjoy a stellar future with a glittering array of championship wins and accolades under his belt. In addition to his solo career, Terry partnered with his older brother, Dory Funk Jr., to compete in tag team championships worldwide. The two siblings won the World's Strongest Tag Determination League three times, wowing the Japanese crowds as they battled fellow WWE legends such as Abdullah the Butcher and Bruiser Brody.
"There are a lot of wrestlers who have had lengthy careers," the narrator of "Hardcore Legend: The Terry Funk Story" shares. "There are also lots of wrestlers that have managed to have success in several different places. That said, perhaps no one has had a lengthier and more storied run than Terry Funk." According to the documentary, the Funkster's career in the ring spanned five decades. Funk's hardcore fighting style and unique moves inspired a generation of wrestlers to come, and he's believed by many to be the greatest pro wrestler of all time.