Bold And The Beautiful's Katherine Kelly Lang Once Suffered A Serious Injury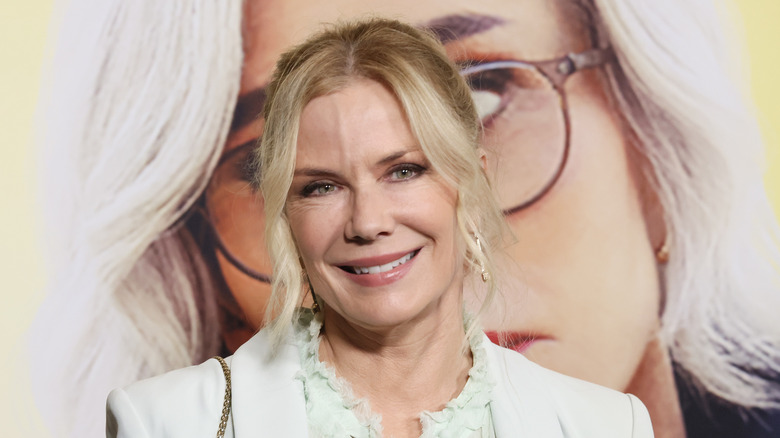 Rodin Eckenroth/Getty Images
Katherine Kelly Lang has played the role of Brooke Logan in the hit daytime soap "The Bold & The Beautiful" since it premiered on CBS in March 1987. Along with John McCook, who plays Eric Forrester, Lang is one of the only two original cast members to still act regularly on "B&B" more than 35 years since it first aired. Reflecting on her time on the show, Lang told ET, "It's incredible. ... I'm so grateful to be here for years, to have a job for years. And I don't even like calling it a job because — it's like playtime. Something that I really enjoy doing." Adding, "I love coming to work with all of these people. They're wonderful. It's like coming home, we're working with family."
Chatting with Soap Opera Digest in 2017, Lang said she would be willing to play the role of Brooke until she's old and gray. "Why not?" she said. "I want to continue ... I can't imagine not having Brooke in my life. It's been 30 years, so she's become a part of me." She added that she wants to keep working for as much and as long as she can. "Acting is something I love to do, [and] I want to act every day," she said. However, in 2022, Lang was forced to take a short break from work after getting involved in a scary accident while horseback riding that left her with such severe injuries that she was hospitalized for a short time.
Katherine Kelly Lang underwent surgery for the injury
In May 2022, Katherine Kelly Lang revealed that she underwent surgery after sustaining an injury on her foot while horseback riding with friends on Mother's Day. In a post on social media, the actor shared photos and clips of herself riding a horse on a trail at the Malibu Creek State Park as she recounted the accident. "I started out on a beautiful ride yesterday with friends. Our plan was to do 40 miles for training for the 50 mile-horse race coming up in June. It was a beautiful day!" Lang recalled. 
However, when she decided to allow the animal to rest as they navigated a particularly rough bit of terrain, Lang tripped on a rock and severely injured her foot in the process. "My ankle and foot dislocated off to the left at a 90-degree angle to my leg. I pushed it back into place. It was so gross but I had to do it," she revealed.
Lang was immediately brought to the hospital, where an X-ray revealed that she had three broken bones in her ankle and would need surgery to repair them. "Had surgery late that night and now have rods, pins, and screws in my ankle," Lang shared in her post, which included photos of her injured foot and a snap of her on a hospital bed. Despite the accident, the "Bold & The Beautiful" star tried to remain positive. "There is always a lesson to be learned," she said.
She returned to work three weeks later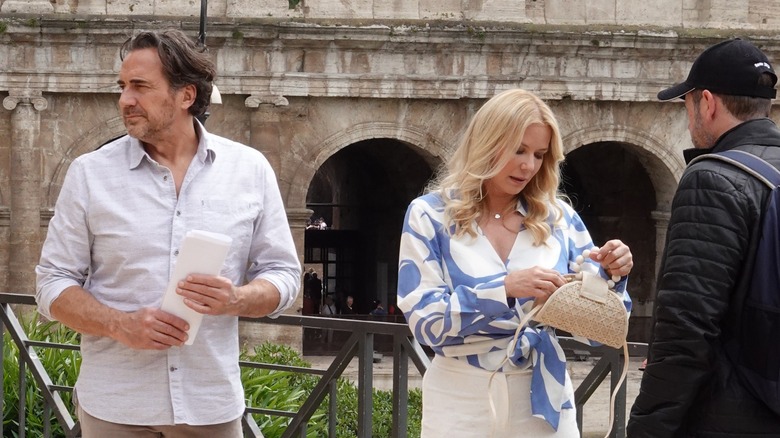 Mega/Getty Images
Katherine Kelly Lang returned to the set of "The Bold & The Beautiful" three weeks after she figured in an accident. On Instagram in June 2022, the actor posted a photo of her inside the CBS Television Studios while using a knee scooter to support her injured left foot. "Thank you @kneerover for helping me get around at work and at home with my broken ankle," she captioned the photo. 
She also thanked the production team of "B&B" and her co-star Kimberlin Brown for providing her with an electric sitting scooter and a wheelchair. "All of them come in handy!" she said. "I really appreciate everyone's help to make my life a bit easier at this moment in time." Some of Lang's co-stars were pleased to see her back at work, including Matthew Atkinson, who wrote in the comments (via Soaps), "Yes! Glad to see you back on stage." Krista Allen also said, "We are all here for you and love you! You did so good today!"
In November 2022, Lang gave an update on her ankle injury in an Instagram video showing her exercising outdoors. "Just get outside and hike. Feels so good to be in the sun and the nature," she wrote. At one point in the clip, the actor is seen with her right leg high up in the air. "Happy to be doing my running shuffle," she said. "Ankle is coming back. Some exercise and vitamin D [really] does a body [good]."