Lawyer Tells Us Donald And Melania Trump's Marriage Doubles As Ironclad Legal Strategy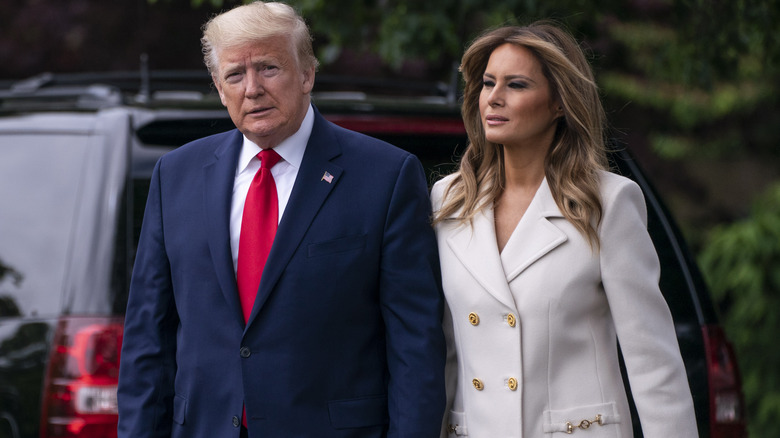 Sarah Silbiger/Getty Images
As Donald Trump appears to have a long road ahead of him with some 91 criminal charges looming, many of which carry life-altering consequences, such as time behind bars, if the former president is convicted. With an election year drawing closer by the day, it's safe to say that the 2024 presidential hopeful has a lot on his plate. And, as things continue to unfold, many are wondering about the state of Trump's marriage. The 45th president has been married to his wife, Melania Trump, since 2005. However, many people have been curious about the status of their relationship for years — and those reluctant hand-holding moments haven't helped. On August 24, Mr. Trump landed in Georgia where he turned himself in Fulton County. He was booked and his mugshot was snapped, marking a first for any U.S. president ever. Now, it seems people all over the country are wondering if this could be the final straw for Melania.
Nicki Swift reached out to family law attorney Holly Davis of Austin-based Kirker Davis LLP who has extensive experience in high-net-worth divorce cases for some 411. We asked Davis if she believes that Melania will file divorce papers in an effort to get out of dodge before things get even more complicated, but Davis doesn't think that will happen. However, it may not be because the two are living in wedded bliss. 
Melania Trump could benefit from staying in her marriage (and so could her husband)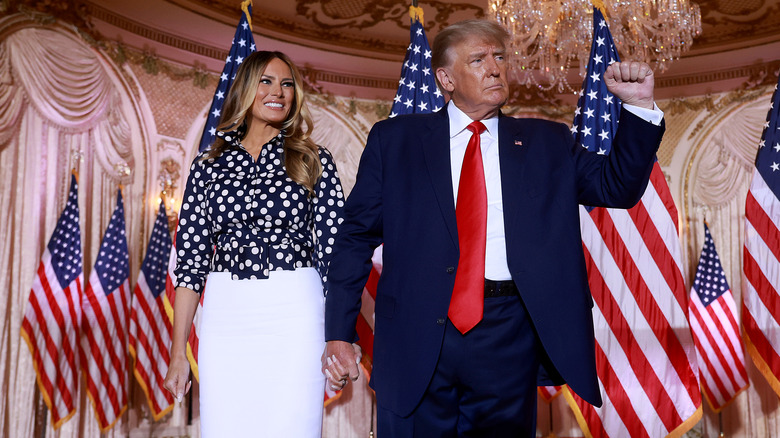 Joe Raedle/Getty Images
According to Holly Davis, a Donald Trump divorce may not actually benefit Melania at the present time. "I do not think she will divorce Trump in the middle of his indictments if there is some benefit she would get financially under the terms of her premarital agreement, or for her son Barron," Davis tells Nicki Swift exclusively, calling the former first lady a "strategist." Davis then explains that it's possible that the Trumps' union could actually help them when facing legal proceedings. "If they remain married during the indictments and federal cases, they may invoke spousal privilege to avoid anyone having to testify against the other. This would protect both of them if Melania had any culpability or responsibility for any of the things Trump is charged with," Davis explained.
For those unfamiliar with spousal privilege, it is basically a shield that protects a married couple so that if the two discuss matters, say, in the privacy of their own home — even about wrongdoings — they would be protected from having to testify against the other person. This means that Melania Trump would be spared from having to give a testimony against her husband and she would also be protected from being implicated in any potential related crimes. 
There is a loophole that could possibly harm Donald Trump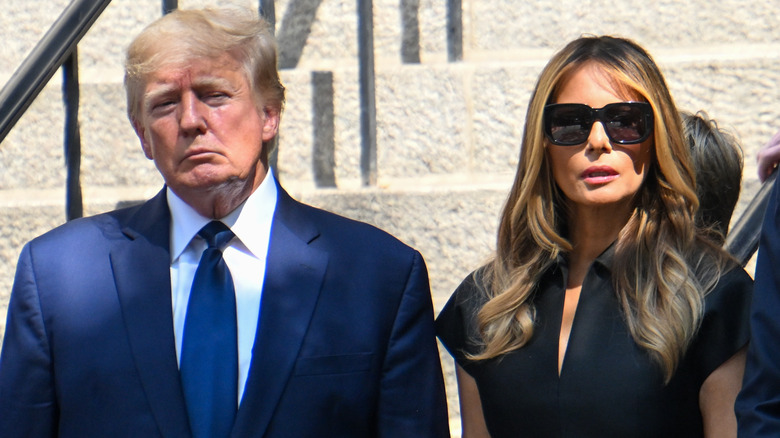 Alexi J. Rosenfeld/Getty Images
Attorney Holly Davis suggests that there could be even more bad news for Donald Trump if his wife filed for divorce. "Trump knows that Melania could cooperate with prosecutors depending on whether or not she feels that it would be beneficial to her individually to do so," Davis says. And while the Trumps may seem as though they have a transactional relationship, Davis believes that they're going to stick out their marriage — at least for the time being. "My thinking is that they have been on this ride together, may have joint liability and responsibility, and have already negotiated amongst themselves the benefit of remaining silent against the other," Davis tells Nicki Swift. However, there is a loophole of sorts that could supply prosecutors information to help build the case against the 45th president. Davis says that any communication that Melania Trump may have had with someone other than her husband about Donald or his dealings could be fair game.
Davis points out that the prosecution's request to see Melania's emails in the New York case was denied, but says that other emails "may come out if the request is narrowly tailored." So, what does this mean, exactly? "If [Melania] sent a communication about him to a third party, it won't be protected," Davis explained. "I imagine there are emails out there to others from Melania that could be very damaging, and this should be the focus of the prosecution's discovery efforts in the future," she concluded.