Ariana Grande's Brother Frankie Is In A Relationship With A Married Couple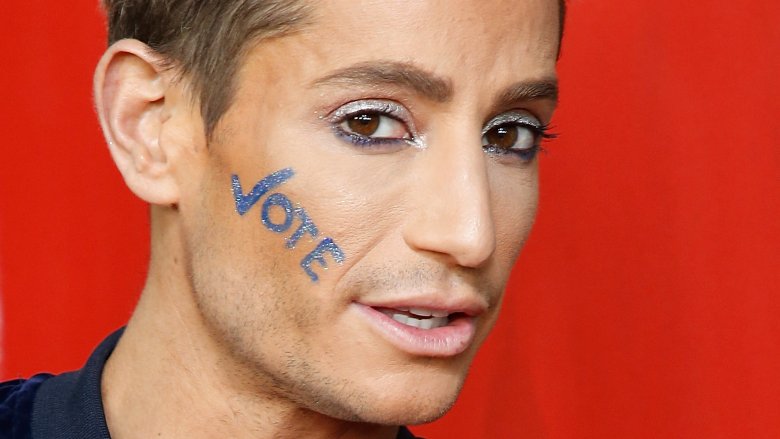 Getty Images
Pop star Ariana Grande's brother, dancer, reality TV star, and YouTuber Frankie Grande, is apparently dating a married couple.
Frankie Grande spoke with Us Weekly at Bette Midler's New York City Hulaween soiree on Oct. 26, 2018, and revealed that he's a part of a modern romance. "These are my boyfriends," he said, introducing two married men Daniel Sinasohn and Mike Pophis. "[We've been dating for] almost three months, but in the gay world, it's like five years."
Dressed as the cosmos with Sinasohn at the Halloween party (Pophis was Ziggy Stardust), Grande further opened up about his relationship. When the magazine asked him what his favorite thing about Sinasohn was, Grande responded, "He said his d**k," before adding that Sinasohn is "very smart." He added, "So is Mike, Mike is also very smart." According to their Instagram accounts, Pophis is a doctor of internal medicine, while Sinasohn is involved in human rights law.
A couple of days later, Grande touched on his current relationship status while attending supermodel Heidi Klum's annual Halloween party on Oct. 31. "I'm the new addition," Grande shared. When Us Weekly inquired into how their unusual romance works, he replied, "Let's just say it does."
However, that wasn't all Grande said about his new relationship. He also released a statement to Us Weekly shortly afterwards, saying, "Mike and Daniel are both extraordinary people and I think the world of them." He continued, "Each of them complete me in different ways and I am honored to be in this very special, very fun relationship."
Grande hasn't been shy about sharing moments in his romance with Sinasohn and Pophis on Instagram. Besides attending Halloween parties with his boyfriends in full costume, Grande has done just about everything with Sinasohn and Pophis — from seeing Harry Potter and the Cursed Child and carving pumpkins for Halloween to going on vacation and watching the results of the 2018 midterm elections. So, obviously these three are pretty serious.
As noted by Us Weekly, Grande came out to his now-famous sister back when she was a preteen, and, he noted, she's been supportive of him every step of the way. "When I came out to her, she was 11 years old and I was like, 'I have to tell you something.' She was like, 'What?' I said, 'I'm gay,'" he once recalled (via The Sun). "And she was like, 'OK, cool. Do you have a boyfriend? Great, do I get to meet him?' It didn't faze her at all."
Since then, Grande shared, the singer has been a big supporter of the LGBTQ+ community. "She and I support the community with every chance we get. I basically raised her," he said. "Ariana and I are ten years apart and she grew up with a really gay brother who just loves her unconditionally, and it's reciprocated."
No word yet on if Ariana likes her older brother's relationship with the married Sinasohn and Pophis, but, if we know Ariana at all, we'd say that she's super supportive of whatever makes her big bro happy.
Ariana herself has had some major relationship drama in recent months. The "No Tears Left to Cry" songstress got engaged to Saturday Night Live comedian Pete Davidson in June 2018, not too long after they started dating. Though their romance seemed promising at first — with Ariana claiming that she wanted to marry him pretty much since she first met him — it was short-lived. They later called off their engagement in October 2018. Their breakup may have been prompted by the untimely death of Ariana's ex-boyfriend Mac Miller and Davidson's apparent habit of oversharing details about their relationship.
Following their split, Ariana released the single "Thank U, Next," thanking her ex-boyfriends for their influence in her life and commenting on how she's grown as a person.
And fortunately, Ariana has a strong support system in place to keep her looking forward to the future. While speaking with Entertainment Tonight at Bette Midler's 2018 Halloween party, Frankie Grande shared that he and his sister were spending some quality time with each other and with their family. "Ariana is doing well," he told the celebrity news publication. "We just had game night together, the other night. It was me, Mommy, and Nona, and we just had a great time. Mommy won! It was Phase 10, Mommy won. But it's good."
Maybe Frankie Grande's two boyfriends can join in on the game night fun next time.