Brian Austin Green's Ex Makes Surprising Claim About Him
Getty Images
Brian Austin Green's ex-girlfriend Vanessa Marcil took to social media to air her complaints against the former Beverly Hills, 90210 star, with whom she shares 16-year-old son Kassius.
On Sunday, Nov. 11, 2018, Marcil — an actress best known for appearing on shows like the '90s classic 90210, the drama Las Vegas, and the soap opera General Hospital — posted a lengthy message on Instagram, calling Green out for his alleged absentee parenting. According to Marcil, Green hasn't even seen their child in five years.
Speaking out about the custody battle she's endured with Green and his wife, fellow actress Megan Fox, Marcil began her post by expressing her interest to see an episode of journalist Lisa Ling's show This Is Life about custody agreements. Why? Well, because Marcil has gone through her own stressful custody battle with Green. "12 years ago I was served legal papers and then spent 8 years+ defending myself and my son in custody court in response to his father & his stepmother trying to get full custody (that means I would have seen my son four days a month) and then asking me to pay them child support," Marcil wrote. "They lost that case & a civil case asking me for 200,000."
She noted that she never spoke out to the public about her situation because she didn't want to cause a press storm around her young son. She claimed that she never requested child support from Green and that she never tried keeping their son away from him.
"In the end they lost all of these court cases," she said, adding that a judge called Green and Fox's requests "frivolous," which TMZ had previously reported back in 2012. Though Green and Fox maintained joint custody of Kassius, Marcil said, "5 years ago on their own they decided to completely cut Kass out of their lives and his younger brothers' lives."
Marcil alleged that her son has never even met his youngest brother, Journey River Green, who was born in August 2016. She also claimed that Kassius "is not allowed to know where his bio father, stepmother and three younger brothers live."
Concluding her post, Marcil wrote, "Custody cases hurt the children only and the truth shall set us all free. Put the kids first you guys. There shouldn't be a 'more important parent' kids love both parents equally no matter what either parent's struggles may be." She continued, "Kass has been truly heartbroken since being cut out of his other families lives with NO explanation. Let's do better for our kids."
According to TooFab, reps for Green and Fox have not yet released statements regarding Marcil's claim.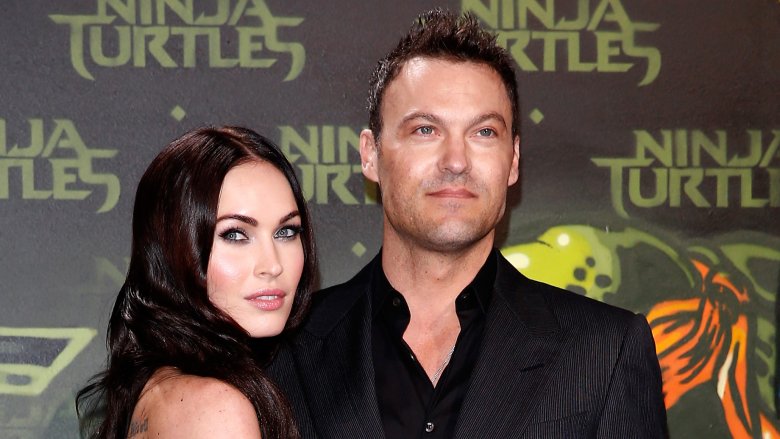 Getty Images
Marcil and Green welcomed Kassius back in 2002. After they broke up, Green started a relationship with Fox, whom he married in 2010. Green and Fox, who broke up in 2015 after 11 years together before later reconciling, share not only Journey but also sons Noah and Bodhi.
For her part, Marcil married CSI:NY star Carmine Giovinazzo in July 2010, as reported by Access Hollywood. But after just two years of married life together, Marcil filed for divorce, citing "irreconcilable differences" as the reason for the separation (via E!). She's since gotten engaged to another man, but his identity has remained a secret, as she only refers to him as "MC" on social media. In November 2017, she announced that she and her fiancé were expecting a child, but, sadly, she suffered a miscarriage — her seventh — a couple of months later (via People).
While Marcil has claimed that Green has essentially cut ties with their son, he did post a photo of Kassius acting in a school play on Instagram in August 2018. "Kass playing Aladdin in a play," he wrote. "It was awesome." However, it's not clear if Green was actually at the production. As reported by Us Weekly, Marcil wrote in a comment beneath the post, "Photo taken by Vanessa FYI."
Speaking with Dax Holt on Hollywood Pipeline's Facebook Live a year earlier, Green referenced Kassius when asked if he'd have any more children with Fox. "I don't know. I have four boys now, a fifth is a basketball team. So, that would kind of be awesome," he shared.
He noted that he'd "really like" a baby girl but he's hesitant to welcome yet another boy into his family. "I'm worried that, if I try, I'll just get another boy," Green stated. "Not 'just' 'cause I love my boys, but I'll have another boy, and I don't know if I'm ready for five."
Hopefully, before Green has any more children with Fox, he'll fix his his alleged broken relationship with Kassius first.