How Many Airplanes Does Donald Trump Own?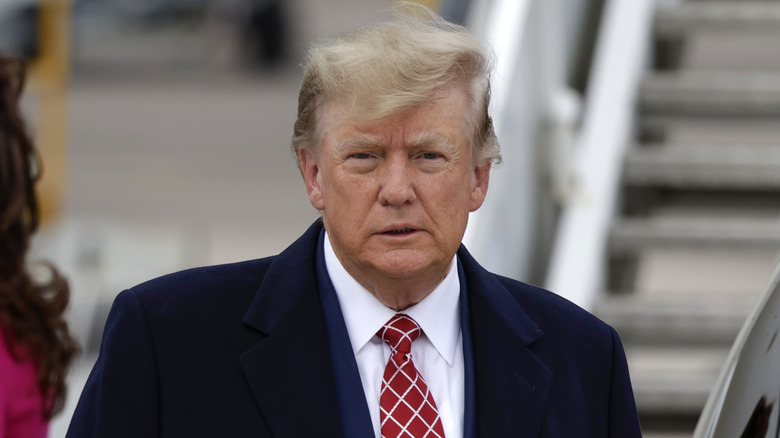 Jeff J Mitchell/Getty Images
It's no secret that former president Donald Trump enjoys a lavish lifestyle. With a reported net worth of $2.5 billion, one could argue that the businessman-turned-politician not only prefers but demands the finer things in life. But don't just take our word for it. "I have a Gucci store that's worth more than Romney," Trump once boasted to the Des Moines Register. 
And once he was elected president in January 2017, the good times kept on rolling. "Beautiful, a great plane, terrific," Trump gushed to a gaggle of reporters after taking his first ride on Air Force One. It should be noted, however, that this wasn't the newly-minted president's first rodeo jetting across the country on a Boeing 757. Ironically, Trump's got one of his own — complete with Italian leather sets, 24-karat gold-plated accents, and a private theater to boot — and that's just one of his private airplanes.
So just how many planes does "The Donald" have at his disposal? Here's what we know... 
Trump owns two planes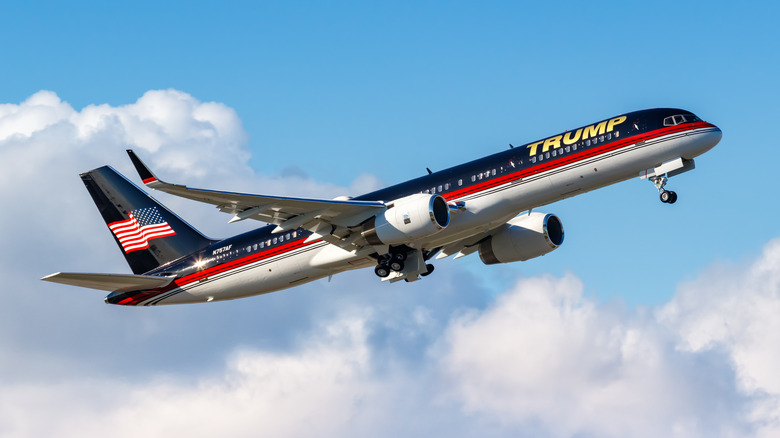 Boarding1now/Getty Images
Donald Trump owns not one but two airplanes. According to the Trump Organization's official website, the former president owns a custom Boeing 757 and a Cessna Citation X. Trump first purchased the 1991 Boeing 757, which he warmly refers to as "Trump Force One," in 2010, from late Microsoft magnate Paul Allen. Alas, not just any old plane would do. In true Trump fashion, the hotelier opted to trick the aircraft out in gold-plated accents and stamp his last name in large capital letters on the side. "Everything that they did on it is very, very spectacular," Trump's pilot, John Dunkin, once boasted to the Smithsonian Channel's "Mighty Planes," per CNN.
Then, sometime later, the businessman turned politician acquired a 1997 Cessna Citation X — a smaller, albeit speedier, aircraft aptly dubbed the "rocket in the sky." It should be noted, however, that Jack Sweeney — the college student perhaps most famous for his tracking of Elon Musk's private jet — tweeted in May that Trump had put the Cessna Citation up for sale "now that his 757 is fixed." In May 2021, Trump announced in an email statement that "the beautiful Boeing 757" was being "fully restored and updated" and would be ready to fly by the end of the year. Alas, it wasn't until July 2022 when Trump's son, Eric Trump, took to Twitter to let everyone know his father's beloved "Trump Force One" was officially back in action. "She's back," he penned.
Trump's got chopper(s) too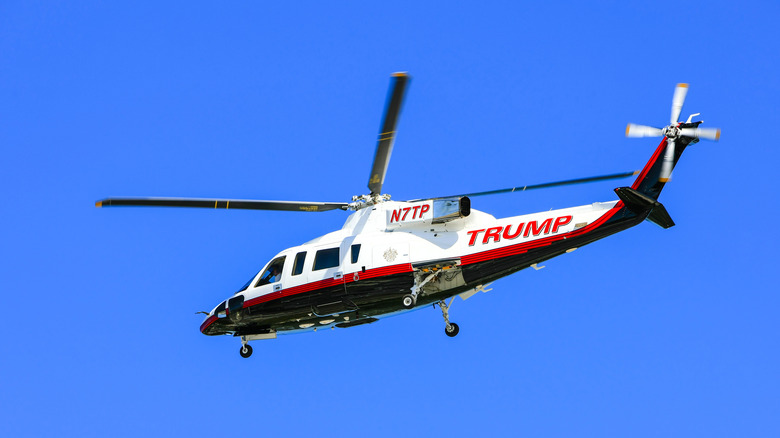 Csfotoimages/Getty Images
Boeing 757s and Cessna Citations and Sikorsky helicopters, oh my! If you think Donald Trump's line of aircraft stops at planes — think again. Trump also owns a helicopter... or two... or three. The Trump Organization's official website notes Donald Trump has "a fleet of spectacular Sikorsky S76 Helicopters." And while the word fleet can mean anywhere from two or more, it's been widely reported that the former president owns three helicopters. That said, CNN reported in 2015 that the presidential hopeful only possessed two Sikorsky S-76B helicopters. However, in 2023, Forbes noted that the former president was down to only one chopper. Bless his heart. 
And while we may still not know the actual number of helicopters owned by the stable genius, we do know he loves to use them to make a grand entrance. In 2015, Trump arrived at the Iowa State Fair in a personal helicopter. And while he certainly used the trip as a campaigning opportunity, he saved some time at the end of his speech to appease a few youngsters with a ride on the chopper. "I am Bat Man," he told one young boy right before he whisked him away for a ride on the chopper. And some might argue that with a fleet of aircraft like that, maybe he's not wrong.