The Worst Outfits From The 2016 Met Gala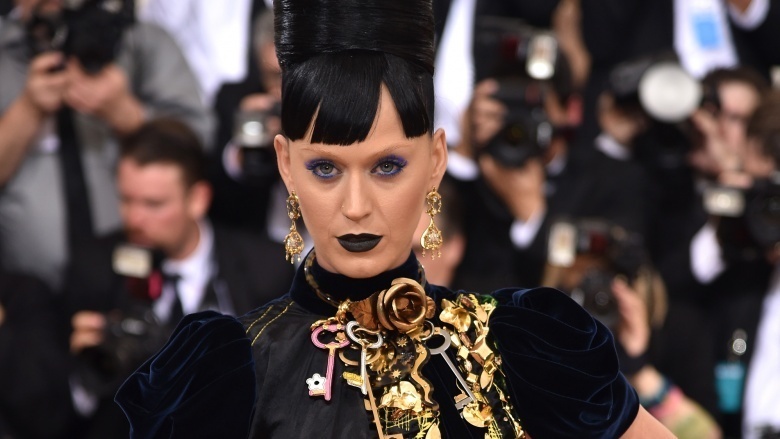 Getty Images
Once again, Hollywood's biggest stars donned their weirdest and wackiest outfits for the 2016 Metropolitan Museum of Art Costume Institute Benefit (aka the Met Gala) in New York City. This year's theme, "Manus x Machina: Fashion in an Age of Technology," promised to be especially wacky. Which celebrities took the theme a bit too far, and who wound up looking just plain blah? Here now are the night's biggest fashion victims.
Taylor Swift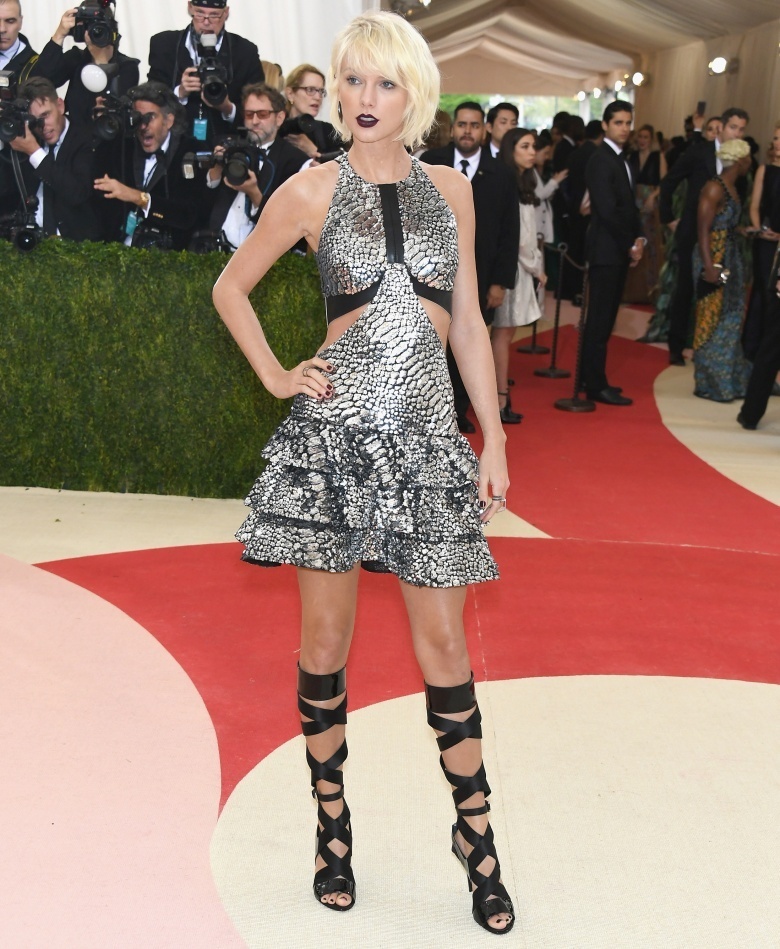 Getty Images
As one of the co-chairs of the Gala, Taylor Swift was inevitably going to have to make some type of statement. Still, we wish she hadn't taken the night's theme so literally. The silver shade of the dress, designed by Louis Vuitton, made her look way too robotic and clashed terribly with her bleach-blonde bob. The fabric's scales took her out of the Met Gala and put her in a strange audition for a post-apocalyptic version of Jurassic World. This look might have won her "Best Dressed" honors at a Halloween party, but at the Met Gala, it takes the prize for "Biggest Snooze."
Alicia Vikander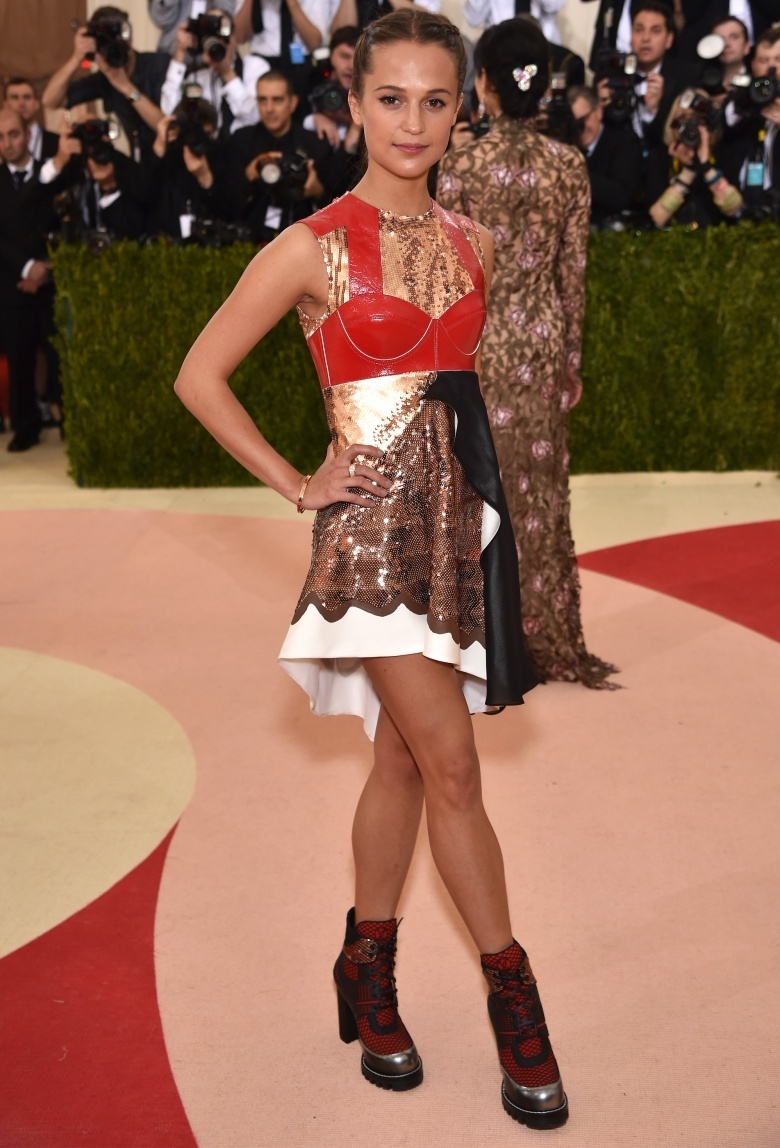 Getty Images
After starring in Ex Machina, you'd think Alicia Vikander would know a thing or two about man versus machine, which is why we were more than disappointed by the dress she donned to the Gala. It looked equal parts half-finished and half-thought-out. Sadly, this look adds yet another misfire to Louis Vuitton's collaborations with Vikander—​they teamed up on just about every gown Vikander wore during this year's awards season. If ever there was a time for the two to part ways, tonight might just be the night.
Sarah Jessica Parker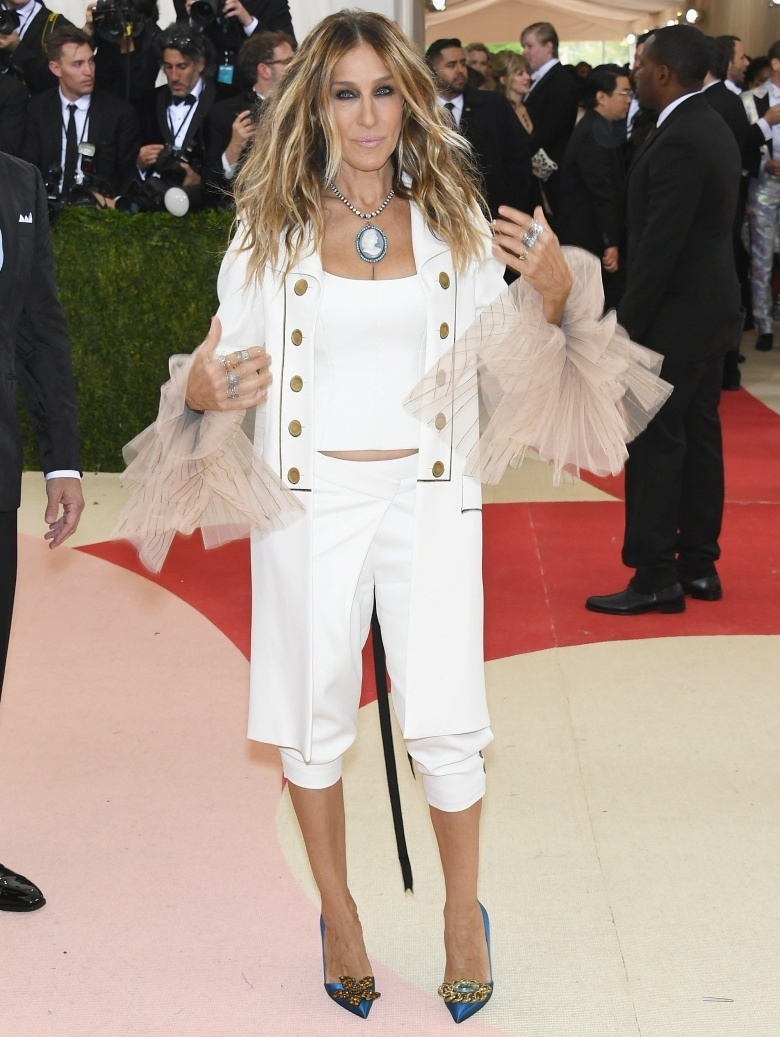 Getty Images
Sorry, but what part of "Manus x Machina" has anything to do with the Revolutionary War? Seriously, out of everyone who attended the benefit, Sarah Jessica Parker's Hamilton-inspired outfit takes the cake for biggest head-scratcher of the night. It's not that she necessarily looked bad, per se; she just looked completely out of place. Look, we get it: Hamilton is a brilliant musical, but last time we checked, the Tony Awards aren't until June. Carrie Bradshaw should know better.
Demi Lovato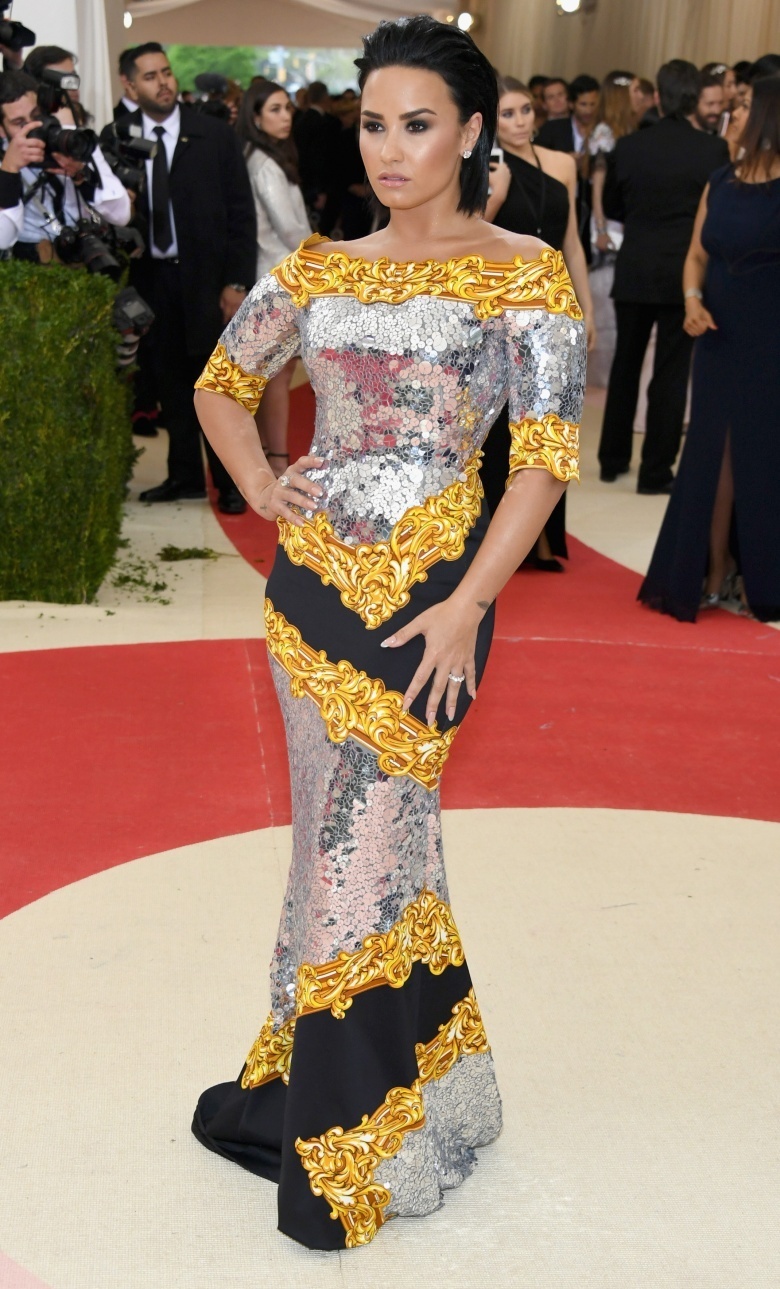 Getty Images
Gold is a tough color to wear to any red carpet event. Oftentimes, it can drown out a celebrity completely, making them look less glamorous and more like Las Vegas' cheap and tacky interpretation of the Roman Empire, which, wait a minute, perfectly describes Demi Lovato's unflattering custom Moschino by Jeremy Scott dress. Sorry, Demi, but this look just ain't cool for the summer.
Kate Hudson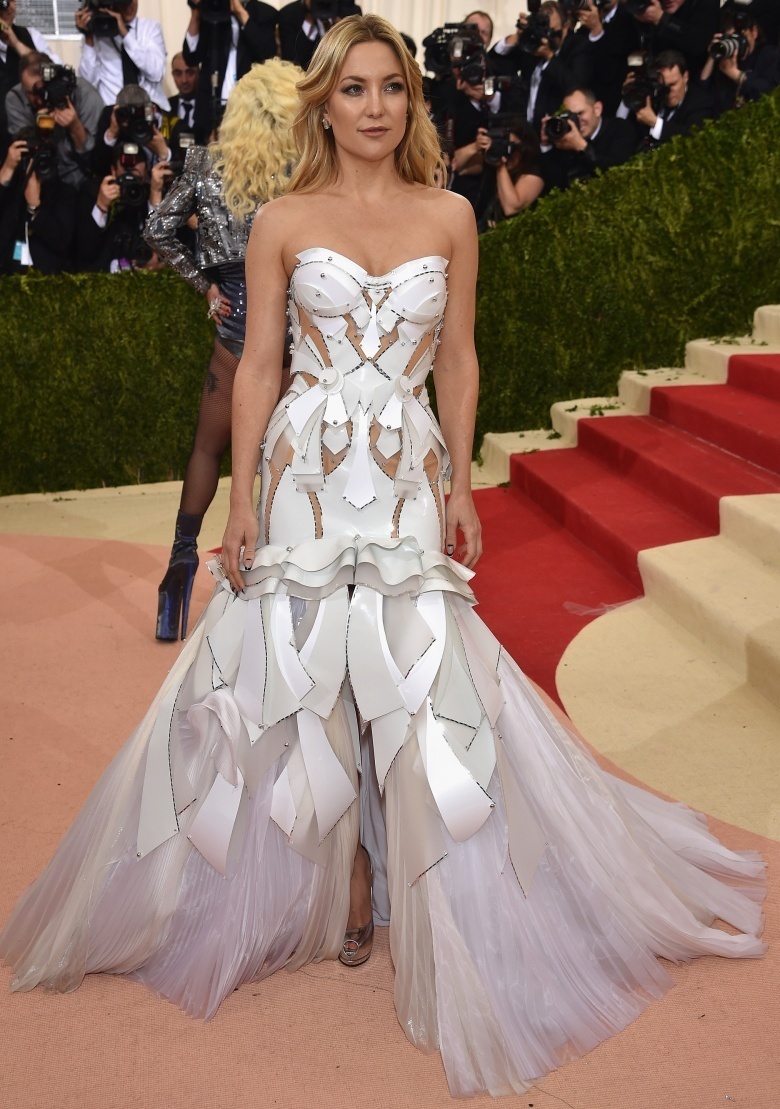 Getty Images
What's the only thing that might possibly be worse than the movie Mother's Day? The white dress that star Kate Hudson wore to this gala. The gown's disastrous and messy cut-out design made Hudson look like she was wearing your kid's really bad art project—the one you hang on the fridge out of guilt until they're too old to remember they made it in the first place. What was Hudson thinking as she donned this dress? Maybe it's better not to ask.
Lady Gaga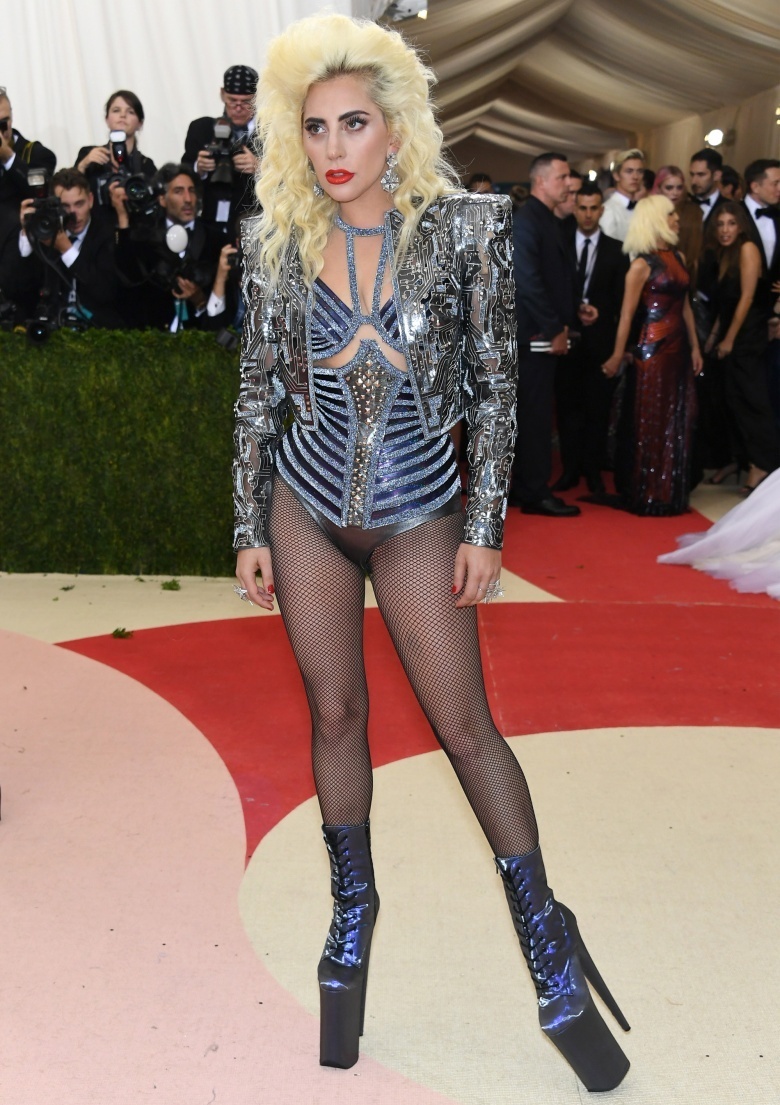 Getty Images
At this point, Lady Gaga wearing something crazy on a red carpet is about as predictable as the ending to a Katherine Heigl movie. On the one hand, we give Gaga credit for actually sticking to the night's theme, which so many other celebrities simply did not do. On the other hand, between her hair and fishnet stockings, Gaga wound up looking like a cheap imitation of Cher's "If I Could Turn Back Time" video. Honestly, if we could turn back time, we'd much rather see the real Cher on the red carpet.
Katy Perry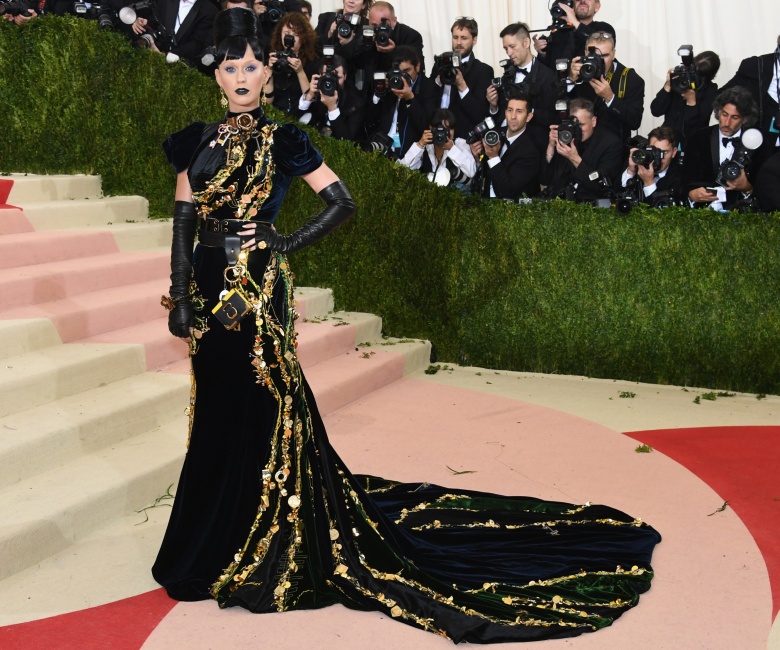 Getty Images
Much like Gaga's ensemble, Katy Perry's dress walked the fine line between honoring the night's theme and mocking it. Certain parts of her style were admittedly cool. She looked like she walked off the set of the movie The Cell, ​and anything that reminds us of The Cell is automatically awesome. Unfortunately, her dress was ruined by its silly accessories, including an old Tamagotchi that made the entire ensemble look Tacky with a capital T. Thanks, but no thanks.
Kerry Washington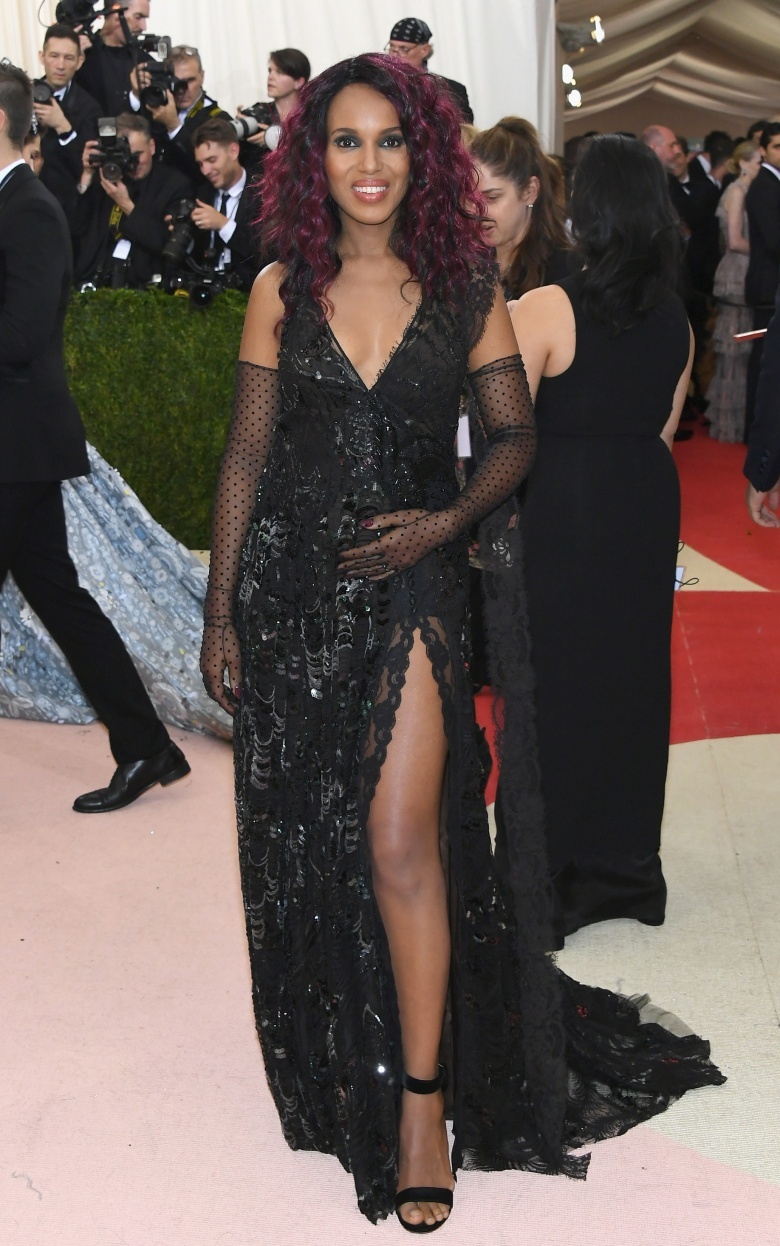 Getty Images
We're thrilled that Kerry Washington is expecting baby no. 2, so we can't really hate on her too much. What we will say, though, is that her Marc Jacobs look veered away from the night's theme a bit too much. If anything, it would probably be better suited for a midnight showing of The Rocky Horror Picture Show. But, yeah, congrats on the baby!
Madonna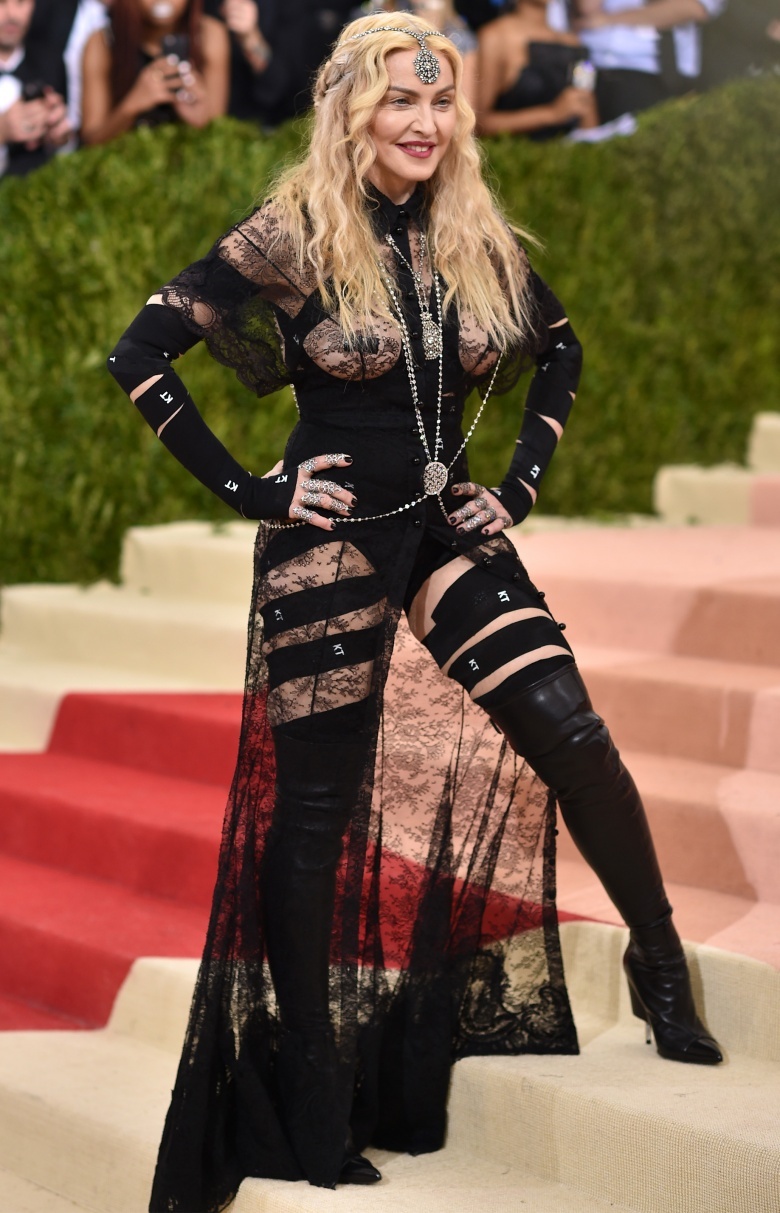 Getty Images
Shocking or eye-roll? After seeing stars like Beyonce, Blake Lively and, heck, even the Jenner sisters, class it up, we can't help but place Madonna's tacky and all-too-revealing Riccardo Tisci for Givenchy dress in the latter category. If things are really going to come down to man versus machine, in this case, we're totally rooting for the machine.
Emma Stone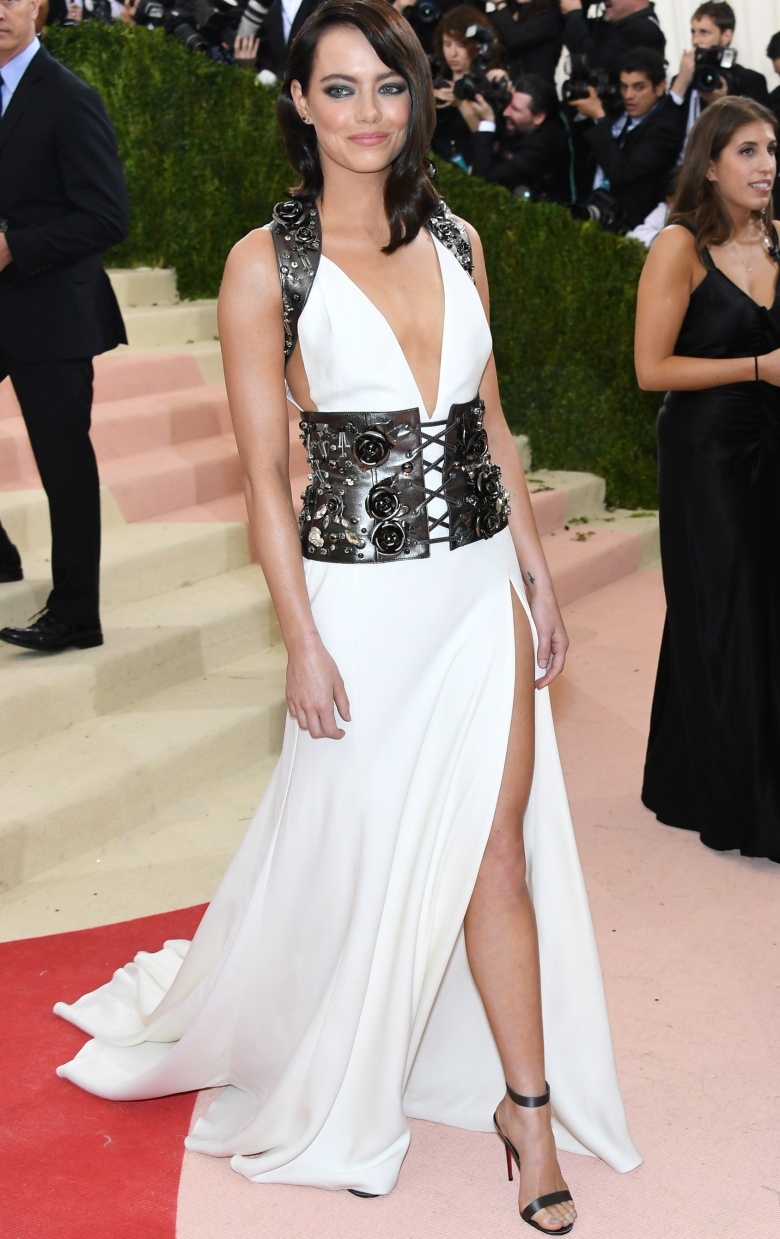 Getty Images
On most night's, Emma Stone's Roman-inspired gown by Prada would have passed as average, it's mediocrity due in great part to its oversized corseted belt. Unfortunately, the look fell into "Worst Dressed" territory when paired with Stone's overly tanned skin and all-too-dark makeup, which rendered the lovable movie star practically unrecognizable. Half the time, we thought we were actually looking at someone trying to impersonate actress Margot Robbie.
Lupita Nyong'o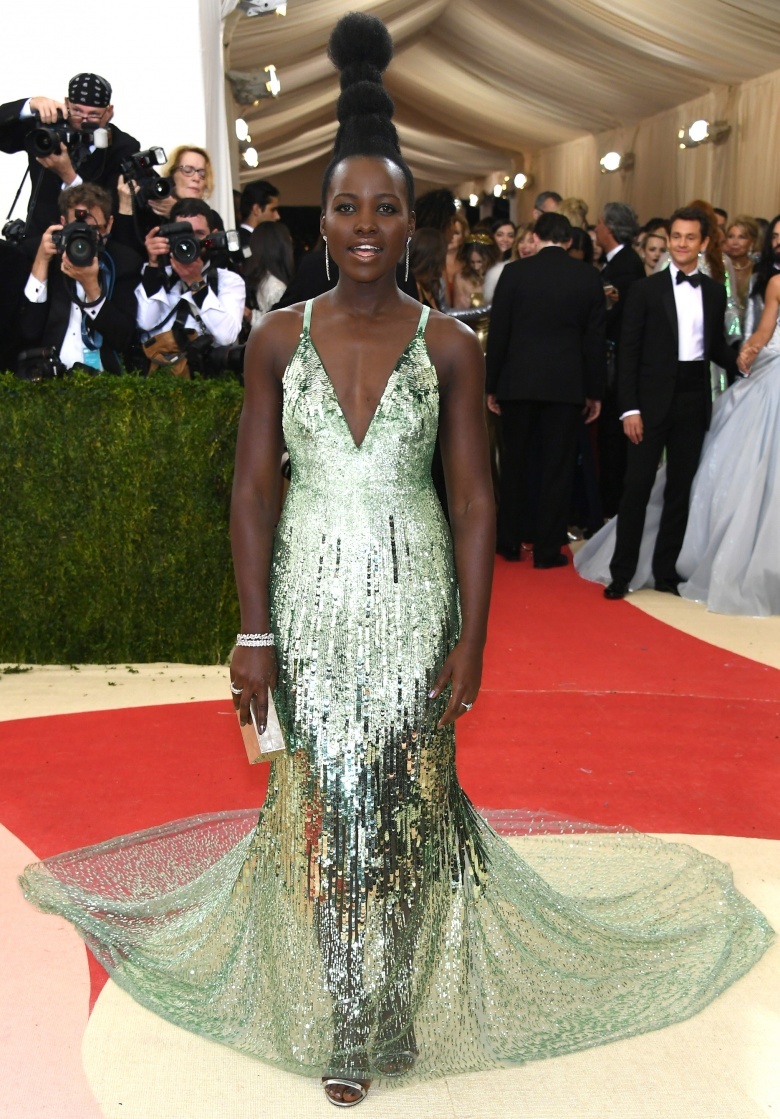 Getty Images
Normally, Oscar-winning actress Lupita Nyong'o kills it on the red carpet. This look, however, gives new term to the term "hair-raising." We always love it when a celebrity takes a risk at the Met Gala. It's what makes the event so much fun to watch, but in order for the risk to pay off, it has to at least make some sense. Nyong'o's up-up-up-do was a do-do-do not.
Miranda Kerr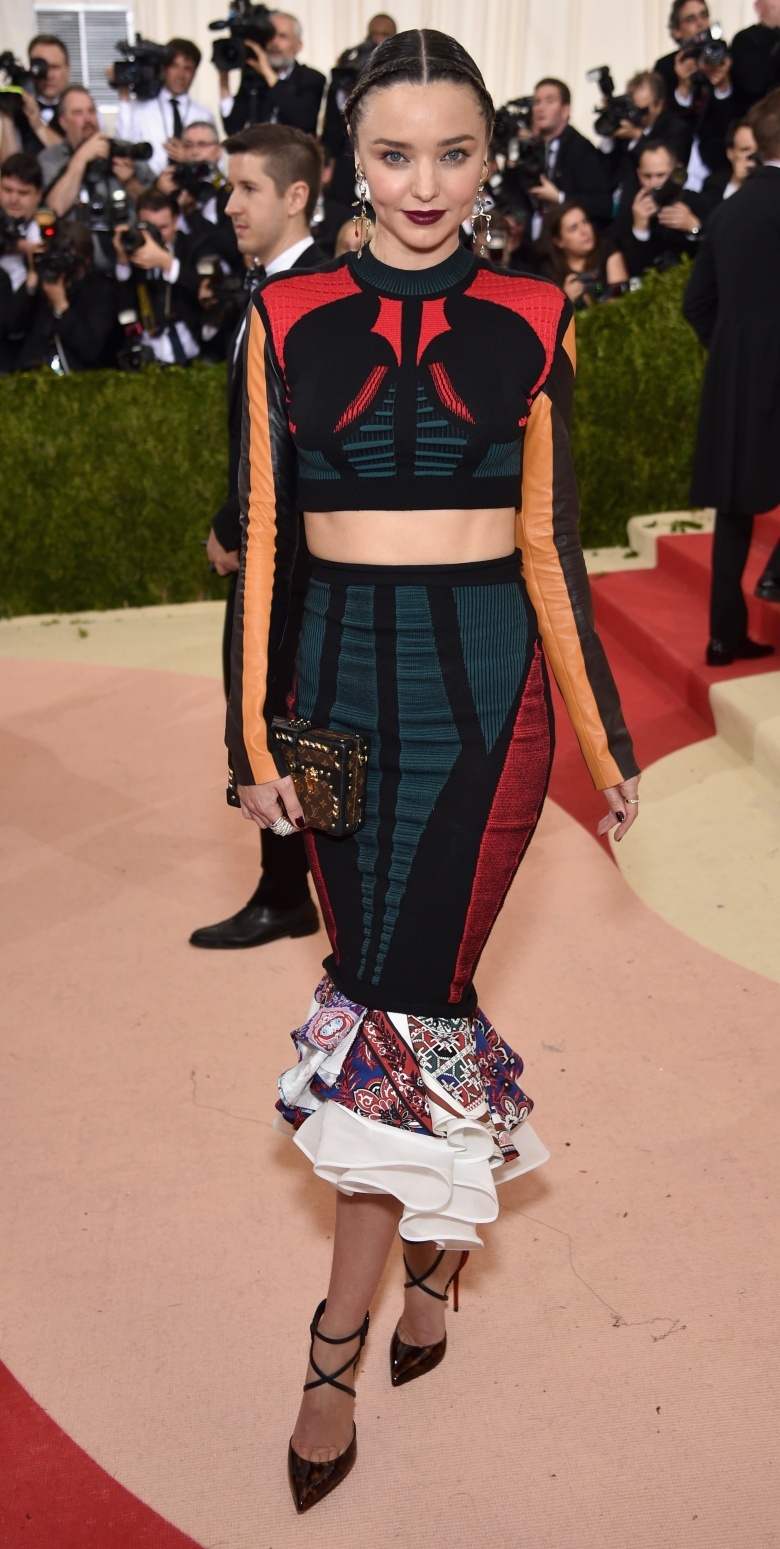 Getty Images
Miranda Kerr's ensemble marked strike no. 3 for Louis Vuitton. The Victoria's Secret model made a rare misstep in this underwhelming cut-out dress that looked like it was pieced together using leftover fabric from Alicia Vikander's outfit. In other words: not great.
Nicki Minaj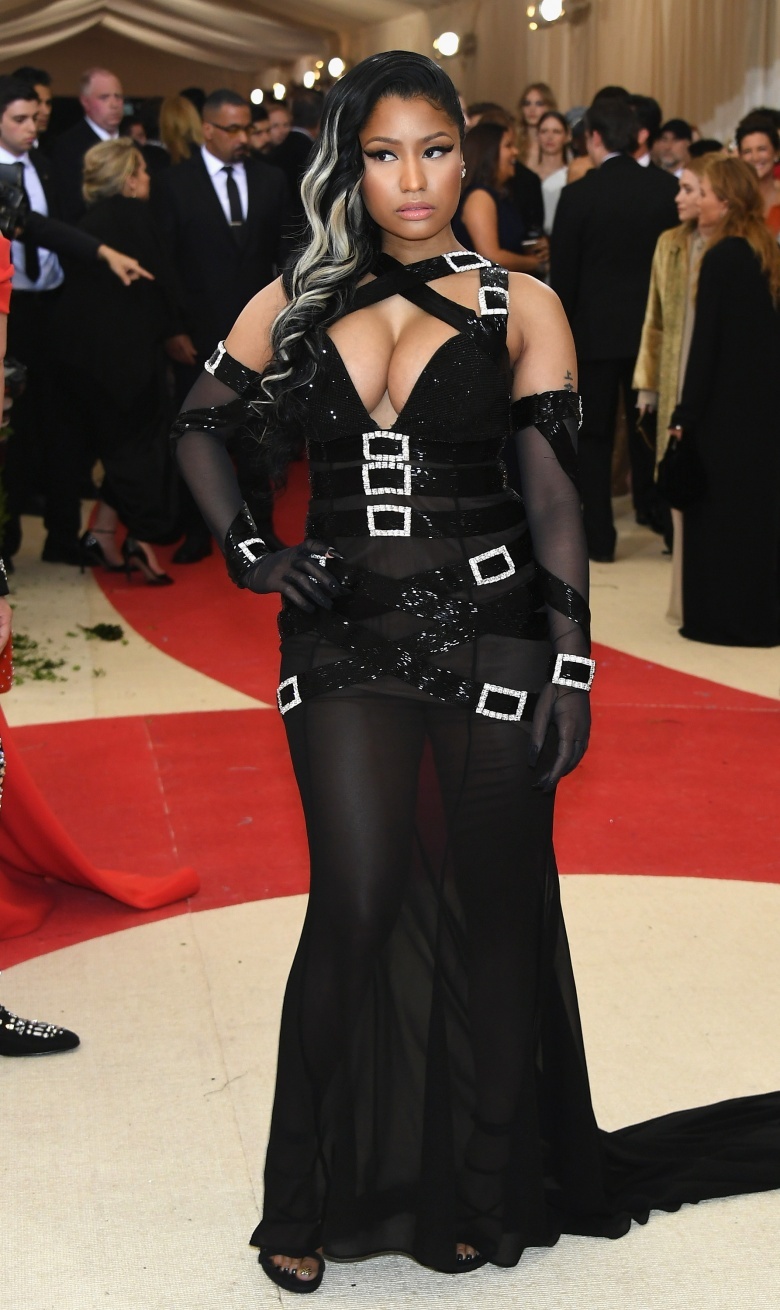 Getty Images
Singer-rapper Nicki Minaj helped end the red carpet on a low note in this unflattering custom gown by Moschino that featured way too much cleavage and one too many rhinestone-buckled belts. If anything, we were mostly disappointed that Minaj chose to wear all black, which made her normally standout personality blend in with the crowd. It was enough to make us miss her Pink Friday days.