The Bachelor's Arie Luyendyk Jr. Expecting First Child With Lauren Burnham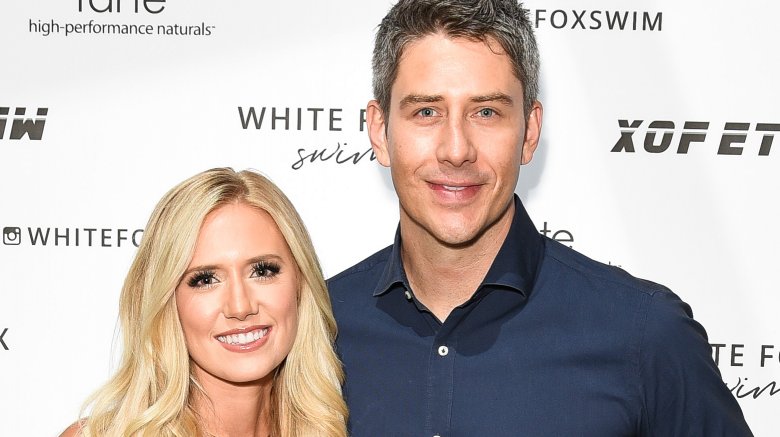 Getty Images
Arie Luyendyk Jr., the leading man of The Bachelor's 20th season, and his fiancée, Lauren Burnham, are going to be parents!
Luyendyk and Burnham revealed their pregnancy news to Us Weekly, giving the magazine and its readers a glimpse of a few sonograms of their future baby. Regarding how they learned they were expecting, Burnham shared, "I kind of had a feeling that I might be pregnant. So my friend insisted on bringing a pregnancy test over." Explaining that she had Luyendyk learn the results of the pregnancy test first, she said, "Arie came out with the test in his hand and tears in his eyes. He was like, 'You're pregnant!'"
Of course, like many women shocked by a positive pregnancy test, Burnham reportedly got six more tests, and, sure enough, they all read positive.
Since then, Burnham has had to cope with morning sickness, and, according to her, the month of October was "miserable" for her. Fortunately, she's been feeling much better.
Admitting that they "weren't trying" to have a baby, Luyendyk, who theorized that he'd be a "softie" parent while Burnham will likely be "more of the disciplinarian," said that they were looking forward to welcoming a new life into the world: "It's going to be a whole new chapter in our lives."
And for fans of the pair's romance, don't worry — the couple has no plans to postpone their January 2019 wedding. Burnham is reportedly working with designer Hayley Paige on her wedding dress.
Luyendyk and Burnham announced their engagement in March 2018, following the Bachelor's nasty breakup with contestant Becca Kufrin. As noted by E! News, Burnham had proposed to Kufrin at the end of The Bachelor, but he soon after he broke up with her, as he realized he wanted to be with Burnham instead. Luyendyk then traveled to Burnham's parents' home and asked her to marry him.
"I have made some bad decisions, but the best decision was running back to you," he told her. "I can't imagine a life without you. You have shown me a love that is patient, a love that is kind, and I truly believe you are my soulmate."
And the two have been together ever since.
Congratulations to Luyendyk and Burnham on their pregnancy!