Here's Why We Don't See Much Of Ashley Tisdale Anymore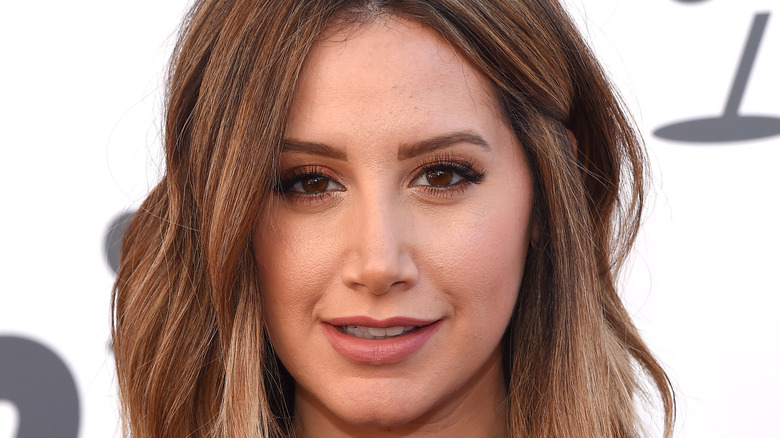 DFree/Shutterstock
They may have graduated from the fictional East High years ago, but Disney's "High School Musical" stars have lived on in our memories decades later. From Troy Bolton and Gabriella Montez's iconic love story to, Sharpay being the ultimate mean girl, the storylines in the hit musicals are woven into the fabric of Gen Z and millennials worldwide. 
The coming-of-age story involves a group of teenagers navigating the ups and downs of high school, complete with musical soundtracks that became chart-topping hits. The premiere of "HSM" in 2006 shattered records, becoming the network's highest-rated telecast at the time. Since its debut, "HSM" spanned into three film installments, a spin-off, and a Disney+ revival series.  Not to mention, it launched the careers of many of its most notable stars including Zac Efron, Vanessa Hudgens, and Ashley Tisdale.
While some Disney stars have gone on to be some of the industry's most recognizable names (Miley Cyrus, anyone?), others have more or less faded into obscurity. While Tisdale played an over-the-top diva in "HSM," her life off-screen was a different reality. Many have wondered what exactly the "Suite Life of Zach and Cody" star has been up to since her rhinestone-encrusted days playing Sharpay. We're taking a look at all the reasons why we don't see much of Ashley Tisdale anymore.
Ashley Tisdale is busy being a mother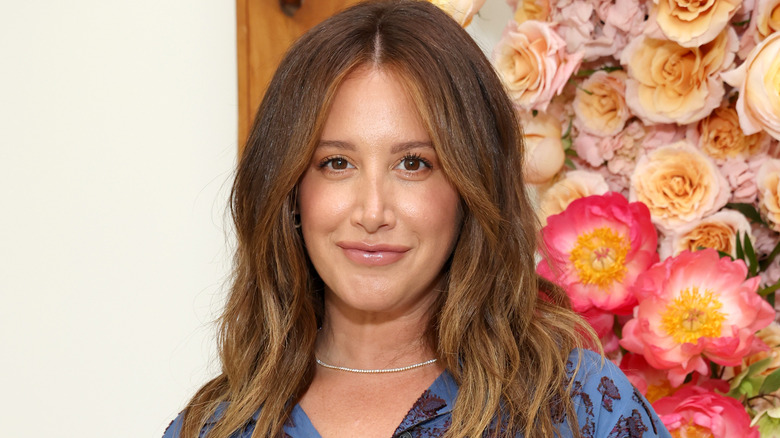 Phillip Faraone/Getty Images
Ashley Tisdale's days of ruling the halls of East High School in "High School Musical" as the villainous Sharpay are long gone. Nowadays, the former Disney star is enjoying life as a mother alongside her husband, Christopher French. Tisdale first got together with the music composer in 2012, and the pair wed in 2014. Their love story inspired much of Tisdale's music, with French producing her track "You're Always Here." The former Wildcat admitted during "On Air with Ryan Seacrest" (per Elle) that "I think from the moment that him and I met, I just knew it. I was like, 'Okay this is the guy,' and he knew the same thing. It doesn't get any better. I just can't explain it."
Tisdale and French welcomed their first child together, a daughter named Jupiter, in 2021. In an Instagram post, she admitted her experience giving birth was "powerful and life-changing," adding that her husband helped calm her down with breathing exercises. Raving about French's newfound dad life, she posted a since-deleted Instagram story (per People) of her husband swaddling their newborn shortly after she gave birth. "But seriously how sweet is he? Best dad," Tisdale wrote.
Despite being a busy mother, the artist still finds time for herself in addition to caring for her toddler. Per her morning routine, she told Refinery29, "I meditate and then get myself a cup of coffee. I like to have a moment to myself before my baby wakes up so I can feel calm and focused for the day ahead."
Ashley Tisdale runs a production company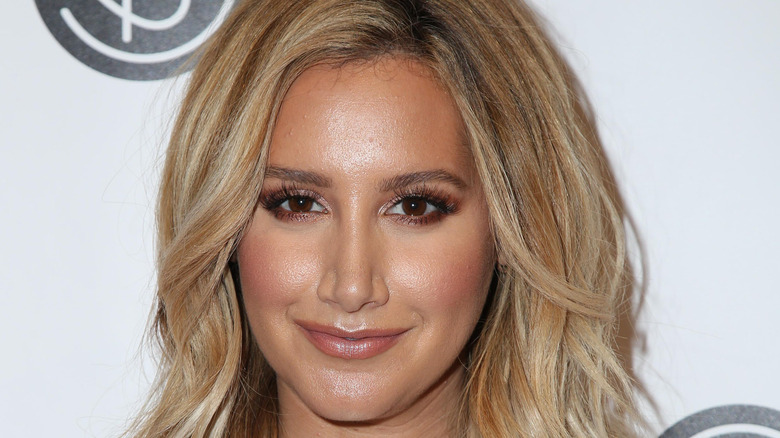 Kathy Hutchins/Shutterstock
Ashley Tisdale is not only a successful actor but an entrepreneur as well. The "High School Musical" star went into business with her sister Jennifer in 2008 when they co-founded their production company Blondie Girl Productions. The Los Angeles-based business produces television programs with an emphasis on women and has signed deals with the likes of Warner Horizon and Relativity Media. 

While her co-stars signed deals for merchandise lines and branding deals at the height of their "High School Musical" fame, Tisdale admits she went a different route. "Six or seven years ago, I just remember my manager talking to me on the set of 'High School Musical 2' and being like 'What do you wanna do? Do you wanna do a clothing line?' she told Entertainment Tonight. "I've always been the type of person that likes to do things differently and a lot of people were doing clothing lines at the time. I was just like, 'You know what? I kind of wanna do something different.'"
Tisdale may be known for her talent onscreen, but her work behind the scenes has also earned plenty of accolades. Blondie Girl Productions has been behind popular television series and films like "Young & Hungry," "Miss Advised," and the "High School Musical" spin-off film "Sharpay's Fabulous Adventure." The company also previously signed a deal to create content for Asylum Entertainment, the production company responsible for popular docu-series like ESPN's "30 For 30."
Ashley Tisdale has a wellness brand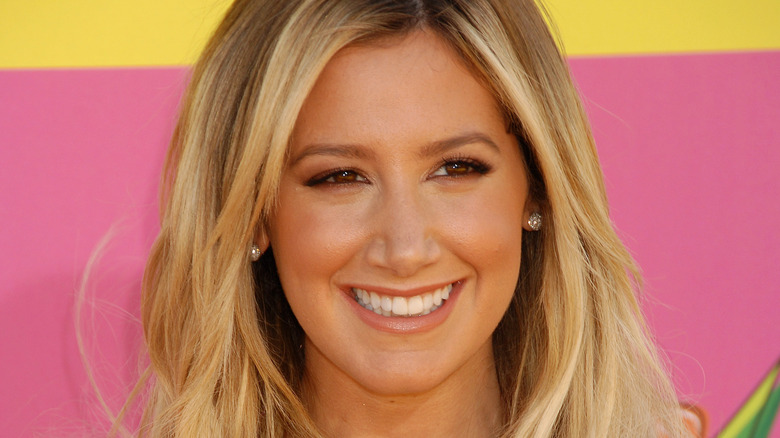 Ga Fullner/Shutterstock
Ashley Tisdale can now add wellness ambassador to her long list of accolades. The entrepreneur launched her brand Frenshe in 2020, a lifestyle blog that aims to answer questions about health, wellness, and clean products to use in everyday routines. As per the official website, Tisdale dubbed it as a "community-based platform where wellness didn't have to be complicated, expensive, or inaccessible."
Tisdale opened up to People about starting her blog, admitting it was founded out of a desire to learn more about self-care and how to balance stress. "I knew it was going to be a very personal platform of mine, where I talked very openly and authentically about everything that I'd gone through," she said, admitting that years ago she reached a point where she was overwhelmed by anxiety.
On the Frenshe website, the former Disney star admitted starting the brand helped her through a period of depression. Tisdale compiles expert articles on toxic-free living, beauty secrets, and health and wellness rituals to help those on a self-care journey. As per Frenshe's mission statement, the "Picture This" star hopes "to uncomplicate wellness and empower our audience to their best, authentic selves."
If you or someone you know needs help with mental health, please contact the Crisis Text Line by texting HOME to 741741, call the National Alliance on Mental Illness helpline at 1-800-950-NAMI (6264), or visit the website for the National Institute of Mental Health.
Ashley Tisdale has a beauty product line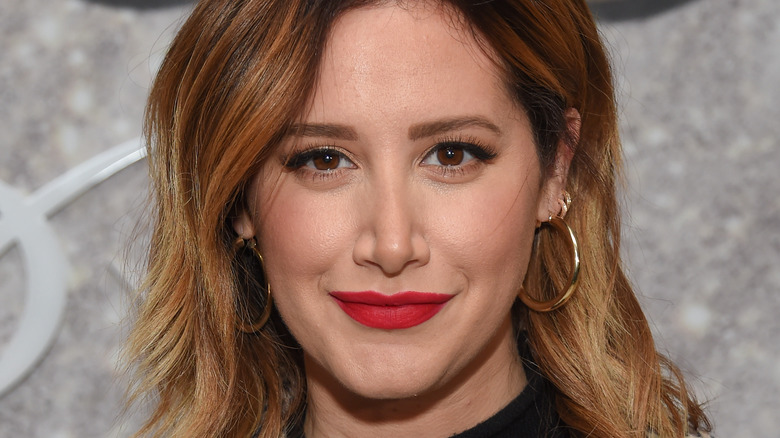 DFree/Shutterstock
Ashley Tisdale's wellness brand went from a lifestyle blog to a product line sold exclusively at Target. The actor launched "Being Frenshe" in 2022, offering a range of products to amplify your daily self-care routines. From body creams and hair products to candles and perfumes, Tisdale has a range of several products available at the retail store, all with a price tag of $17 or less. 
Tisdale opened up to People about the launch of her product line, admitting it was born out of a need for healthy rituals amid the COVID-19 pandemic. "I started to research how fragrance and essential oils can lift our moods. And I was like, 'What if we put them in your everyday products?' So that was where it was born," she said.
With the goal of having a wellness line that is affordable and accessible, Tisdale felt Target was the perfect home for Frenshe. "It's one of my favorite places; I always shop there. And I dreamed of having a line there," she said, adding, "Frenshe is for everyone, wellness is for everyone."
Ashley Tisdale is big on interior design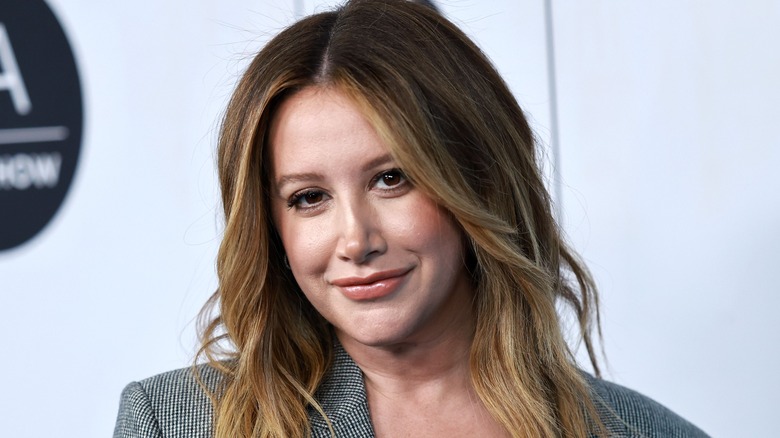 Matt Winkelmeyer/Getty Images
Ashley Tisdale wasn't just developing a new product line during the COVID-19 pandemic, but investing in another passion of hers — interior design. The "Suite Life of Zach and Cody" star launched Frenshe Interiors in 2021 after she fell in love with flipping homes. The actor discovered her creativity for home furnishings after decorating her first home, which her father built. "I designed the kitchen in my last house with my dad, and because of how great it came out, the owner who bought my last home reached out, and I designed her kitchen as well. It's fun getting to work with my dad on other projects, not just my own," she told Architectural Digest. 
Tisdale's home renovation efforts have paid off. The former "High School Musical" star sold her and her husband's former Los Feliz villa for nearly $6 million, up from $4 million when they purchased it in 2019. In 2021, she and French purchased a Mediterranean-style home in the Hollywood Hills for nearly $5 million, complete with three bedrooms and three and a half baths. 
Despite her success with interior design, Tisdale admitted acting is her first love. When asked about her goals for Frenshe Interiors, she admitted: "To have fun. This isn't my full-time job. I'm an actress first. I just have a passion for interior design and will continue to help friends and clients when I have the chance. It's really just something I can do that's not in my direct business that's a hobby."
Ashley Tisdale sold her home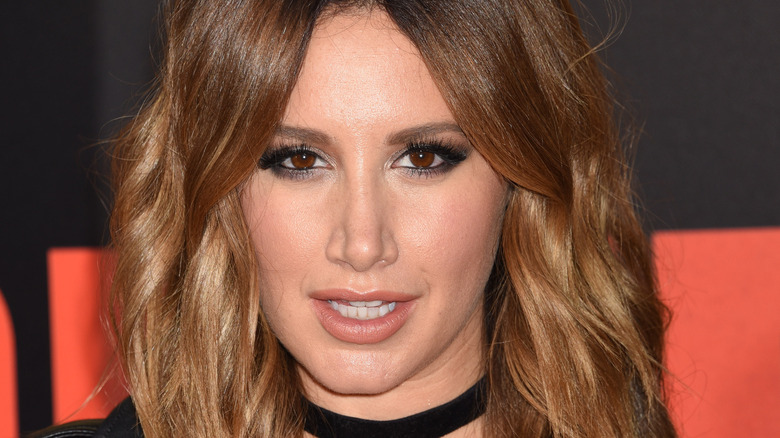 Ga Fullner/Shutterstock
Ashley Tisdale didn't stay in her Mediterranean-style home for long before it landed in the hands of another celebrity buyer. The actor was responsible for all the interior design involved in the 1923-built home, so it was move-in ready by the time it was sold in 2021. According to Dirt (per Architectural Digest), singer Madison Beer was the lucky buyer of Tisdale and her husband Christopher French's former home. 
While the former Disney star has worked with famous designers Jake Arnold and Pierce & Ward on previous renovations, Tisdale admitted that she decorated the Mediterranean-style home alone. Beer now lives in the three-bedroom house, complete with an open floor plan, French doors, and large windows that filter in natural light with a view of the Hollywood Hills. The home also boasts an entertainment room, an outdoor sauna, and a pool.
Tisdale went on to purchase a midcentury modern ranch-style home in the Hollywood Hills shortly after the sale of her villa. The five-bedroom home is an upgrade for the actor, complete with floor-to-ceiling windows and wooden ceiling beams. Her spacious home is surrounded by a Japanese garden, an outside dining space, and a guest house.
Ashley Tisdale's stress overload led to hair loss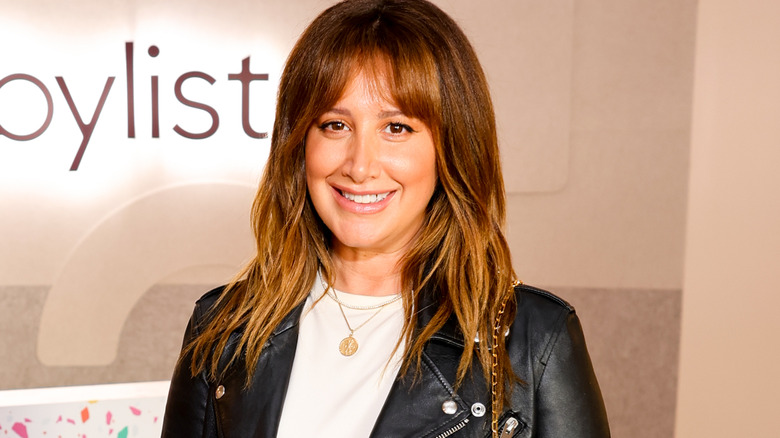 Matt Winkelmeyer/Getty Images
Ashley Tisdale isn't afraid to open up about her personal life — including her struggles with hair loss. The former Disney star got candid about having alopecia, which, according to News Medical, is a hair loss condition that can result in patches or complete loss of all hair. Tisdale took to Instagram to talk about her hair journey, writing, "Any type of hair loss can affect your self-esteem, especially if you feel like you're the only one going through it. That's why I want to talk about it openly — because it's nothing to be ashamed of. Sometimes it's connected to hormones, other times to heredity, and for me, it's connected to stress overload."
In a Frenshe blog post, Tisdale revealed she underwent platelet-rich plasma treatment to help re-grow her hair. The treatment involves micro-needling the scalp to help grow hair follicles. In addition to treatments and specialized shampoo, Tisdale admitted that self-care has helped her cope with her condition. "Meditation is a powerful practice for me, since it takes only five or 10 minutes to lower my stress level. Eating with a focus on gut health also helps me thrive," she wrote. To combat excess stress, the "High School Musical" star admitted she went on a 30-day autoimmune paleo diet to help cleanse her system. "I like it because it's full of vegetables, fruit, fermented foods, seafood, poultry, and herbs. I loved the way I felt, and I also felt great about eating fresh food..." 
Ashley Tisdale is producing and starring in a CBS series
Kathy Hutchins/Shutterstock
Ashley Tisdale may have a producing business that keeps her busy behind the scenes, but the star hasn't given up being an onscreen star. As per The Hollywood Reporter, Tisdale is set to star in the CBS comedy series "Brutally Honest," a semi-autobiographical project about "how having a baby can ruin, save, change, destroy, and inspire your marriage ... all before lunch," according to the show's tagline. 
Tisdale will also be an executive producer on the project, working alongside writers Sarah Haskins and Emily Halpern. Haskins and Halpern previously wrote the comedy "Carol's Second Act" for the network, which also featured Tisdale. As of the time of writing, no air date for the project has been released. 
The Frenshe founder has kept herself busy throughout the years with several roles in television series and films. In addition to her voiceover work for Disney's "Phineas and Ferb" franchise, she starred in the 2019 Netflix series "Merry Happy Whatever," "Carol's Second Act," and has released several music albums since her Disney debut. 
Ashley Tisdale's struggles with anxiety inspired her music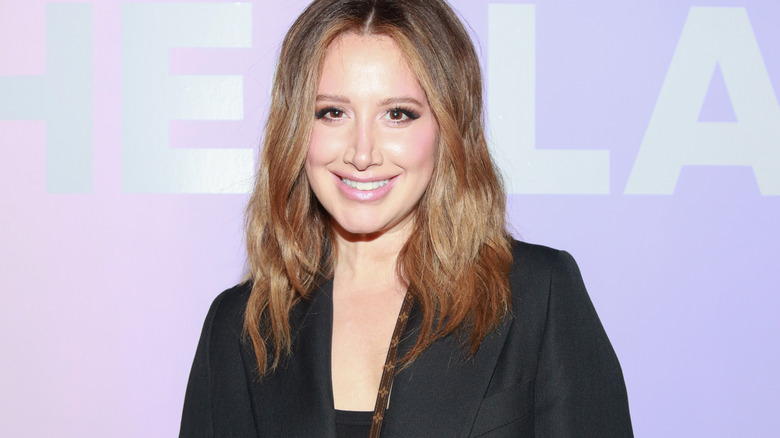 Steven Simione/Getty Images
Ashley Tisdale's music career took off shortly after her big break playing Sharpay on "High School Musical." The actor debuted her first album "Headstrong" in 2007 and went on to release the album "Guilty Pleasure" in 2009. Tisdale took a long pause from music, however, but the decade since releasing "Guilty Pleasure" offered her the chance to find herself and give her new inspiration.
Tisdale released her album "Symptoms" in 2019, with each track representing symptoms she went through in her journey battling anxiety and depression. "This experience has been a lot of fun and I've really gotten to know myself as an artist. It was also very healing for me," she told Forbes. "This album is a piece of me, versus when I was younger, I didn't know who I was as an artist." The album even showed a lighter side not typically seen by fans, and was inspired by Tisdale's journey of self-care and by her relationship with her husband and fellow musician Christian French. 
"This record is a very fun record and I wanted to talk about these feelings, but not dwell on them. Having anxiety and depression makes you who you are and I'm very proud of these things," she told Forbes.