Smash Mouth's Steve Harwell Dead At 56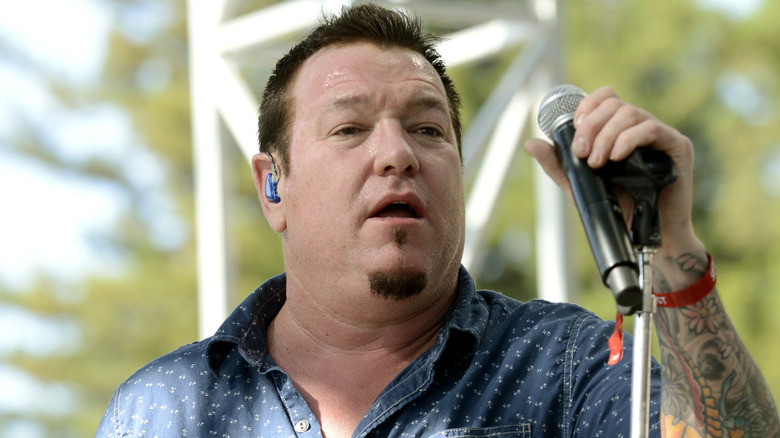 Tim Mosenfelder/Getty Images
Steve Harwell, former vocalist and founder of the American rock band Smash Mouth, has died. He was 56 years old.
The news came after Smash Mouth's manager, Robert Hayes, announced that Harwell was receiving hospice care at his home for the final stage of liver failure on September 3 and would likely die within days. "He is surrounded by family and friends," Hayes said in a statement to Vulture, adding that the rock star was being cared for by his fiancée. "My only additional comment is that we would hope that people would respect Steve and his family's privacy during this difficult time." His death was later confirmed by The New York Times. Hayes told Rolling Stone that Harwell "passed peacefully and comfortably" and that the singer's "legacy will live on through the music."
Born Steven Scott Harwell in Santa Clara, California on January 9, 1967, the rock star formed Smash Mouth in 1994 with his original bandmates — guitarist Greg Camp, bassist Paul De Lisle, and drummer Kevin Coleman. The group is known for hits like "Walkin' on the Sun," "Then The Morning Comes," and "I'm a Believer." In 2000, the band was nominated for a Grammy for Best Pop Performance by a Duo or Group for their song "All Star," which was later featured on the soundtrack for the 2001 animated film, "Shrek." "Steve's iconic voice is one of the most recognizable voices from his generation," Hayes told CNN. "Steve loved the fans and loved to perform."
Steve Harwell dealt with several health issues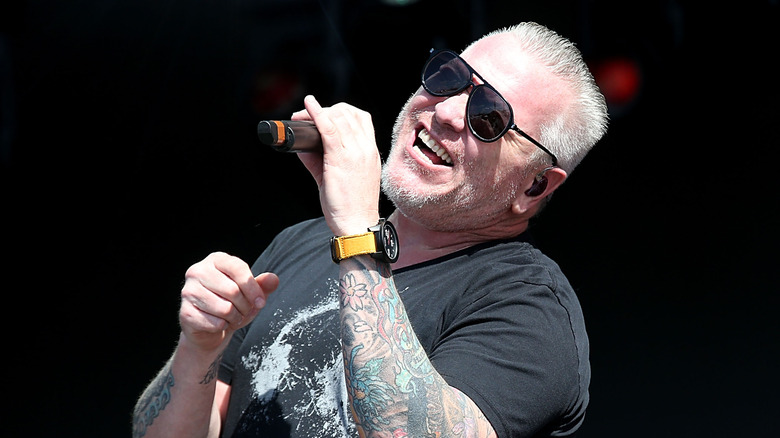 Gary Miller/Getty Images
After almost 30 years performing with Smash Mouth, Steve Harwell announced he was retiring from the band in October 2021. The announcement came following a controversial performance at a festival in Bethel, New York where Harwell, seemingly intoxicated, appeared to threaten the audience and give them a Nazi salute, according to the Los Angeles Times. At the time, TMZ reported that Harwell had been battling several health issues — including cardiomyopathy, heart failure, and Wernicke's encephalopathy — and was struggling from substance abuse. 
"Ever since I was a kid, I dreamed of being a rock star performing in front of sold-out arenas and have been so fortunate to live out that dream," he told Billboard. "To my bandmates, it's been an honor performing with you all these years and I can't think of anyone else I would have rather gone on this wild journey with."
He was later replaced by Zach Goode — formerly the lead singer of Ghoulspoon, Divided By Zero, and The Secret Seven — as Smash Mouth's new vocalist. "To our loyal and amazing fans, thank you, all of this was possible because of you," said Harwell. "I've tried so hard to power through my physical and mental health issues, and to play in front of you one last time, but I just wasn't able to," he added.
If you or anyone you know needs help with addiction issues, help is available. Visit the Substance Abuse and Mental Health Services Administration website or contact SAMHSA's National Helpline at 1-800-662-HELP (4357).