Who Is Chicago Fire Star Eamonn Walker's Real-Life Wife?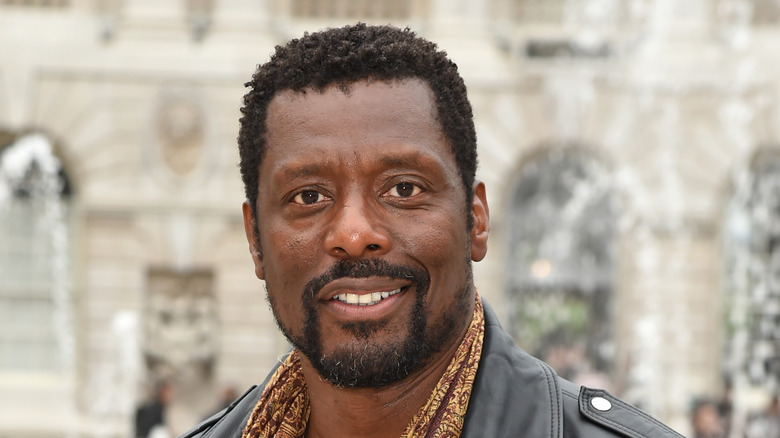 David M. Benett/Getty Images
"Chicago Fire" star Eamonn Walker has been playing the role of Wallace Boden since 2012. On the show, the firehouse chief has been married to Donna Robbins — played by Melissa Ponzio — since the second season, even though Ponzio hasn't been onscreen since 2021. And while Walker's alter-ego had a very public romance, the enigmatic star employed a different tactic with his personal life and kept much of it under wraps.
The actor, who trained as a dancer, is married to Sandra Walker, and they have raised three kids together. Walker's eldest children, Jahdine and Deke Roderique-Walker are twins and have also made their livelihoods with their creative pursuits. Jahdine specialized in comforting soul food, while Deke honed and sculpted his body as a bodybuilder. The youngest Walker, Kane, is a director and social activist who also spits some dope poetry. Even though Eamonn and Sandra came from different worlds, their marriage celebrates their family and love.  
Sandra Walker is a trained artist
Eamonn Walker has an eclectic background of blended cultures, growing up in London with his Trinidadian mom, Agnes Walker. He then went on to marry a Scottish lass who is equally as creative as he is. Sandra Kane Walker is an artist and illustrator who studied at the Glasgow School of Art. Sandra is an art lover and often visits galleries and shares pictures of her fascinating finds on social media.
She shows off some of lockdown her pen and ink drawings on her art Instagram page, including one of her husband simply titled "The Man." She captions the image, "The Daily Draw. The Man," and includes hashtags such as missing him, family, and love. It seems at one stage of the pandemic, Sandra and Eamonn were not spending a lot of time together.
Their separation was not a new thing in Sandra and the Chicago Fire star's relationship. In 2001, Eamonn told the Trinidad Express, "I love London and I miss my children a lot... I try to fly them out as much as I can, but it's not easy. As an actor, I go where the work is and right now that means America." Now that their children are grown, it just means that their family has expanded and there are more people to long for. 
Sandra Walker has close family ties
Sandra Walker clearly loves her family and is apparently open to different experiences. Now that she and Eamonn Walker are grandparents, they've stepped up their game. The artist shared a pic of her and the "Oz" actor dressed in their biker gear. She wrote "Hotrodders" and added the hashtags groovy grandparents and family time. They have at least three grandkids. Deke Roderique-Walker is the father of Milan and Paris, and Jahdine has a son called Cory.
Not only is Sandra a wife and a mother, but she also has close ties with her family of origin. With the pandemic in 2020, Sandra posted three sketches of her father as he isolated during the lockdown period. In July 2022, she shared that her father had passed away in 2021. She posted, "Dad. On this day one year ago I lost my dear auld dad. I have missed him every day since." In the comments section, Sandra revealed that she was a full-time caregiver for her parents at the time and that her father's death had come as a shock. 
Eamonn and Sandra have a full life with satisfying careers, children, and grandchildren. Perhaps Eamonn nailed his life story best when he told the Independent, "God has had his hand on me. When I've wanted to turn left, he's made me turn right."