Did Tish Cyrus' Five Kids All Attend Her Wedding To Dominic Purcell?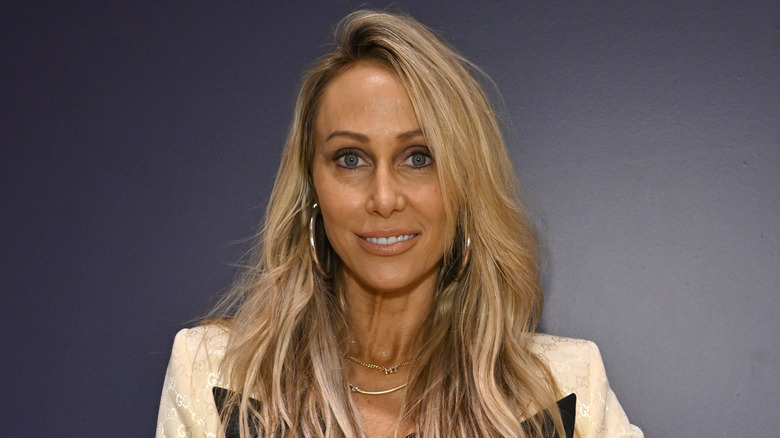 John Sciulli/Getty Images
When Billy Ray Cyrus and Tish Cyrus ended their decades-long marriage in early 2022, it seemed as amicable as could be. "It is after 30 years, five amazing children, and a lifetime of memories, we have decided to go our separate ways — not with sadness, but with love in our hearts," the longtime couple said in a joint statement to People in April 2022, before declaring that they will always be "family." Their shared family includes five kids: Miley, Braison, and Noah, as well as Tish's two older children, Brandi, and Trace, whom Billy Ray adopted after he married their mom in 1993.
But less than a year after their split, both parents were engaged to new loves. In August 2022, Billy Ray became engaged to singer Firerose, and in April 2023, Tish accepted a proposal from "Prison Break" star Dominic Purcell. She shared the news with a flash of her diamond ring on Instagram.
When Tish exchanged vows with Purcell on August 19, 2023, her three oldest children were all part of the ceremony. But noticeably missing from the wedding festivities were their youngest children Braison and Noah — and what they did instead appeared to be a pretty blatant diss toward their mom and her special day.
Braison and Noah Cyrus hung out together in L.A. as their mom got married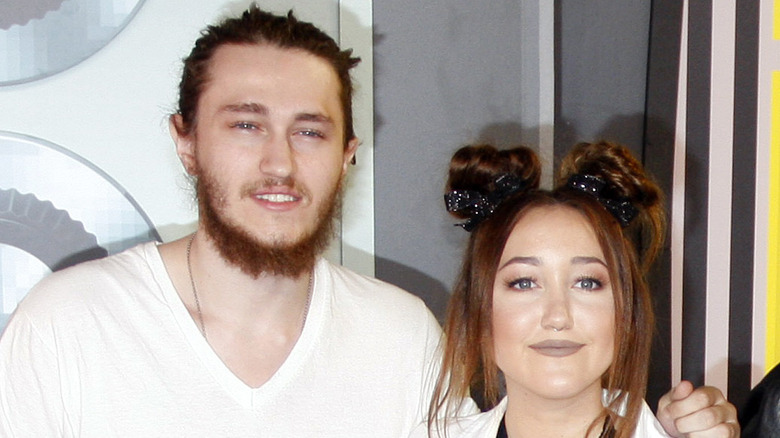 Tinseltown/Shutterstock
Tish Cyrus' two youngest kids skipped her wedding, but they spent the day together. The siblings posted photos to Instagram stories that showed them hanging outside of a Walmart store and getting coffee at a café as their mom wed Dominic Purcell on August 19, 2023, according to Page Six. The outlet also reported that Noah boasted that her older brother flew out to California specifically to see her, with no mention of their mom's wedding. Noah also wore a t-shirt with her dad Billy Ray's image on it, which seemed to be a deliberately shady wardrobe choice considering it was her mom's wedding day.
A source told OK! that the two boycotted their mother's wedding because they "don't approve" of the marriage and can't see her being married to anyone but their dad. The insider added that older sister Miley is "very frustrated and disappointed with Noah and Braison." Another source told Us Weekly, "It's fairly well established that Noah and Braison have had a very tough time seeing their mom settle down with Dominic." While the insider claimed that the new bride hopes the conflict will die down over time, Tish's reps told the outlet that rumors of a family feud are "absolutely false."
Tish Cyrus' wedding took place at her daughter Miley Cyrus' home in Malibu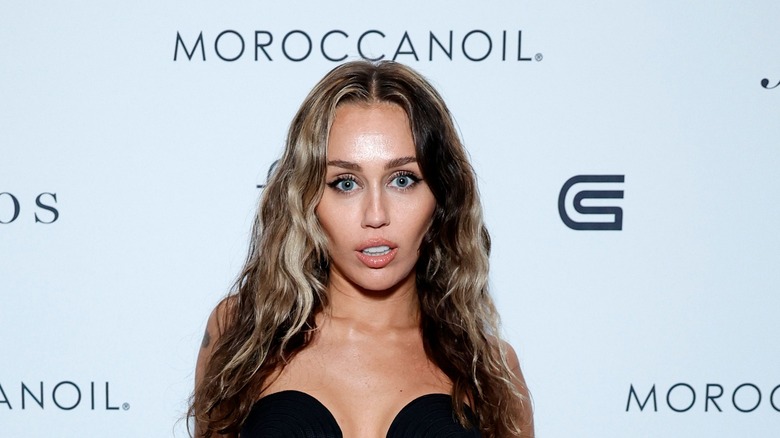 Stefanie Keenan/Getty Images
While only some of Tish Cyrus' five children attended her wedding, the three who did show up participated in a big way. Not only did Miley Cyrus host her mother's poolside wedding at her mansion in Malibu, but she also served as her maid-of-honor, a rep told USA Today. The bride's son Trace and daughter Brandi were also part of the wedding party, according to People.
Miley told Vogue she was happy to be her mom's wingwoman on her wedding day because she has always been supportive of all of her big decisions. "I feel honored to be that person for her, now that I'm older," the "Wrecking Ball" singer added. "To stand beside my mother and give her away to Dom is a moment I will cherish for the rest of my life."
Only time will tell if Miley will be as supportive of her dad Billy Ray's wedding when he marries Firerose in the future. A source told E! News that while Miley has remained close with her mom, she has a strained relationship with her dad following the divorce and "doesn't have a relationship" with his new fiancée.