Here's How Much Prison Time Tekashi 6ix9ine Is Facing
Rapper Tekashi 6ix9ine, who's also known professionally as Tekashi69 and 6ix9ine, could wind up spending a lot of time behind bars.
Tekashi, whose real name in Daniel Hernandez, is facing some serious prison time if found guilty of a number of recent charges. According to Rolling Stone, Tekashi, 22, could be sentenced to a minimum of 32 years and a maximum of life in prison if convicted on all charges. He has been charged with multiple counts of racketeering for his alleged involvement in shootings, armed robbery, and drug trafficking, as reported by NPR.
Prosecutors have reportedly accused Tekashi and five others, including former manager Kifano "Shottie" Jordan, of being a part of or of being associated with the Nine Trey Gangstas Bloods, a gang in New York City. As noted by the BBC, Tekashi has referenced the gang, which is also known as TreyWay, on social media.
According to NPR, the indictment against Tekashi and the other accused men specifically lists three alleged incidents in 2018. On April 3, Tekashi and gang members reportedly robbed a man at gunpoint in Times Square. On April 21, one of the men who was indicted, Fuguan Lovick, allegedly shot at someone in Brooklyn's Barclays Center arena. Then, on July 16, a bystander was reportedly shot when alleged gang members reportedly sought revenge against someone who'd "been disrespectful to Nine Trey."
According to TMZ, Tekashi may have been involved in all three of those incidents. TMZ also notes that prosecutors have alleged that Tekashi and his associates may have been dealing drugs, including marijuana, heroin, fentanyl, and MDMA, in New York City.
"In the history of the US, the one thing that seems to get someone locked up is racketeering, money-laundering or tax evasion," hip-hop writer Jesse Bernard told Radio 1 Newsbeat (via BBC). "This could be what takes him to prison."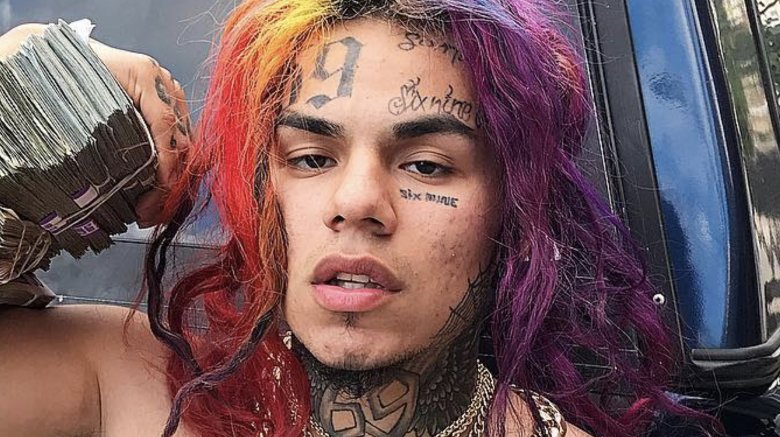 Instagram
Tekashi was arrested on Sunday, Nov. 18 by the Justice Department's Bureau of Alcohol, Tobacco, Firearms, and Explosives in New York City, as a result of a reported joint effort by "ATF, NYPD and Homeland Security."
Following his arrest, he was placed in the Metropolitan Detention Center's general population in Brooklyn, as reported by TMZ. According to the celebrity gossip rag, MDC is known for being a "brutal" prison, as inmates are "extremely dangerous, violent, or escape-prone."
Regarding the timing of his arrest, prosecutor Michael Longyear reportedly explained that he had learned that former members of Tekashi's crew may have been planning to "super violate him" after the rapper accused people of turning on him during an interview with radio show The Breakfast Club on Nov. 16, 2018. Longyear reportedly believed that those individuals may have tried to shoot Tekashi, which could have put innocent people in danger. So, when he heard Tekashi was going to travel to a Connecticut casino, he apparently decided to act fast.
Page Six notes that prosecutors showed a federal magistrate judge photos on Monday, Nov. 19 that showed an AK-15 assault rifle that was allegedly found at Tekashi's home in September 2018 and stills from surveillance videos that reportedly showed Tekashi at the scene of several crimes.
Tekashi was reportedly supposed to have a bail hearing on Tuesday, Nov. 20, but it was pushed to Wednesday, Nov. 21.
Tekashi was previously given four years of probation after pleading guilty to one count of Use of a Child in a Sexual Performance from a 2015 case involving a video of him "sexually engaging" with a 13-year-old girl (via E! News). Tekashi was 18 years old at the time. Before his sentencing, the Manhattan District Attorney's Office reportedly recommended that Tekashi receive a three-year prison sentence and be ordered to register as a sex offender, as reported by Pitchfork.
His recent arrest reportedly violated his probation, as the conditions of it included him avoiding contact with gang members and not getting arrested (via Rolling Stone). According to Consequence of Sound, Tekashi could receive four years in prison for his probation violation alone.
Despite his trouble with the law, Tekashi, who first made a name for himself in the music industry with his 2017 release "Gummo," has surprisingly continued to rise in fame, collaborating with the likes of rappers Kanye West and Nicki Minaj on new music.